My friend Tara Grant over at PrimalGirl.com has created an absolute masterpiece of a recipe. She calls it her Paleo/Primal Magic Wonder Dough Recipe. This is actually a pretty apt description. It is a versatile base dough recipe that can be used to make rolls, pizza crust, crackers and tortillas… and probably much more!
[cc_button link="https://www.e-junkie.com/ecom/gb.php?cl=252961&c=ib&aff=236358%22%20target=%22ejejcsingle%22″]Buy the Recipe![/cc_button]
The ingredients list is super clean. It doesn't contain any strange binders or psyllium husk or anything else dodgy. Yes, it is still grain-free, legume-free, nut-free with a primal version that includes dairy and a Paleo version that is dairy-free (includes coconut milk instead). The ingredients are fairly common ingredients and were all things that I could find in my pantry. In fact, if you are on the autoimmune protocol and have successfully reintroduced eggs, this recipe would be something you could enjoy (if you aren't sensitive to tapioca). This recipe could be made in a low FODMAP version, but is not GAPS diet or SCD diet friendly.
When you read the words "nut-free" in a Paleo baked goods recipe, most people think of coconut flour. But, that's not the case. Instead, this recipe uses tapioca flour (one of the secrets to it's amazingness). There's a primal version that includes cheese and cream and a full Paleo (dairy-free) version that is also nut-free (this version would work for someone on the autoimmune protocol if you have successfully reintroduced eggs).
Save 80% Off the Foundations of Health
Expand your health knowledge on a wide range of topics relevant to you, from how to evaluate scientific studies, to therapeutic diet and lifestyle, to leaky gut and gut microbiome health, to sustainable weight loss, and much more!!!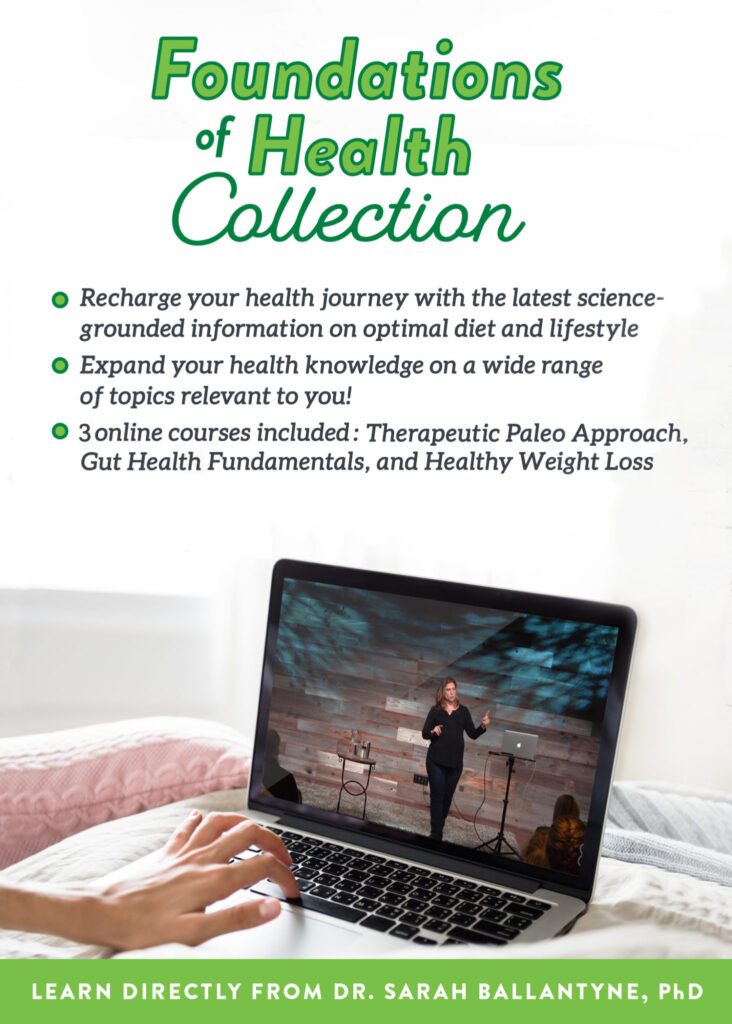 Tara is selling her recipe for $3.95. For this price, you are getting quite a lot more than a simple recipe however. Tara walks you through each ingredient, why it is used, and any little important tidbits you need to know about working with that ingredient. There are two master recipes: a primal version and a Paleo version. The ingredients are measured out by weight rather than volume, to remove variation due to climate, humidity, and ingredients brands (if you don't have a kitchen scale, this might be a bit of a problem; or if your scale only measures in ounces, you'll need to do a calculation to convert since the ingredients are listed in grams–1oz=28g). Each recipe comes with four sets of instructions: one for making pizza crust, one for making rolls, one for making crackers, and one for making tortillas. Tara also gives you ideas for variations and important tips based on the many, many iterations she performed in her kitchen to get these recipes just right.
The dough freezes well so you can make a big batch to keep in the freezer for a quick add-on to a weeknight meal. It also refrigerates well. I made a double batch and cooked it three different ways over three non-consecutive days and the dough baked up just as beautifully four days after making it as it did on day one. I felt like the dough was a little easier to work with cold, but it was okay to work with at room temperature too.
What did I make with Primal Girl's Magic Wonder Dough? Rolls were on the top of my list, and I actually made them twice. Once flattened a little to cut open as mini hamburger buns and once very round to just serve as dinner rolls. Both times the flavor and texture were perfect. They were ridiculously delicious, light, with a crunchy crust and a chewy yet airy (bready) middle. My whole family devoured them. And what few remained were delicious as next day leftovers too.
I also made tortillas with the recipe, following the directions in the recipe. Warm out of the pan, they were soft flour tortilla-like deliciousness (I served them with grilled steak seasoned with truffle salt, arugula, Asian pear and an aged balsamic and macadamia nut oil vinaigrette-OH MY YUM!). The leftovers turned into crunchy taco shell-like like deliciousness when they cooled. Next time I make them, I think I will cool them draped over a glass to turn them into taco bowls for salad! The whole family enjoyed them both soft and crunchy and I would be hard pressed to tell you which I thought was better.
After we ate the tortillas, I had to e-mail Tara to tell her that my kids loved her. She laughed and said that she's been hearing that a lot lately! Tara was originally planning on raising the price of her recipe after an introductory period. Before posting this review, I checked with her on that and this is what she said:
First, I'm not going to raise the price of the recipe after all. I AM, however, writing an entire cookbook based on the dough recipe itself. Since first creating it, I've discovered that it's way more versatile than I previously thought. The recipe download only contains instructions on how to make buns, rolls, crackers, pizza crust and tortillas. I've since deep fried the dough and made both donuts and the best samosas ever, plus I've turned it into quiche crust, pie crust, calzones and more. I'm working on dumplings and a batter for fried chicken right now, and may even have a tweak to turn it into pasta.

I've been working together with some friends on complete meals for the book already, and we're really excited about the different opportunities. I'd love to bring some of you on board! I'm accepting submissions from anyone who wants to experiment with the dough and see what they can come up with. Think outside the box – what do you miss the most? I used to miss pizza, but that problem's solved. Now, I miss egg rolls. And gyoza. All you need to do is support my (and Sarah's!) upcoming trip to the Ancestral Health Symposium by first buying the recipe. 🙂 If your recipe is accepted for the new book, you'll get paid – but those are details I still need to work out with my publishing company. More info on that to come!
I'm excited about a whole recipe book using this recipe. I have a bunch of ideas for it, although very little time to actually do them (ooh, I think this would work so well for bagels!). And I'm glad to see the recipe will be staying at it's current price. This is a fantastic recipe. If you have been missing bread or tortillas or have kids or a spouse or parents who just aren't convinced that they can live without pizza Fridays, I highly recommend this recipe. A perfect tool in your arsenal as school starts and a great emergency food to keep in your freezer for a quick mid-week meal the whole family will love.
[cc_button link="https://www.e-junkie.com/ecom/gb.php?cl=252961&c=ib&aff=236358%22%20target=%22ejejcsingle%22″]Buy the Recipe![/cc_button]