One of the hardest aspects of eating Paleo is the feeling of being deprived of treats. Fortunately, there are hundreds of recipes out there for Paleofied versions of our old favorites: cookies, cakes, ice cream, bread… Most of these recipes rely heavily on almond flour, starchy root vegetable flours, eggs, flaxseed and other nuts and seeds for both flavor and for chemistry. So what about those of us on the Autoimmune Protocol? It is an enormous challenge to create a treat that contains no eggs, no nuts, no seeds, no starchy flour substitutes, only sweetens with honey, and still tastes good! But I've done it! I'm not sure what inspired me to try these cookies in my Food Dehydrator
, but I'm glad I did. They are soft and cakey with a wonderful pumpkin pie flavor. I've tried these both with canned pumpkin and fresh pumpkin puree (I had some in my freezer leftover from last fall). They taste better with fresh pumpkin, although canned was good too. As an alternate to canned pumpkin, and if you can't find fresh pumpkin, you could make these with butternut squash puree (roast or steam until cooked and then blend).
Note: The spices used below are not all AIP spices. Nutmeg is a seed spice, so to make these for the strictest version of the AIP, substitute mace for the nutmeg. Cardamom and allspice are berry/fruit spices. Cinnamon is a great substitute for cardamom and either mace or cinnamon (or a combination) is a good substitute for allspice.
*NEW* The Gut Health Cookbook!
The Gut Health Cookbook is fantastic! Thank you for researching and creating The Gut Health Cookbook! Such wonderful recipes! I'm so excited to try them all! -Sue
The Gut Health Cookbook puts the 20 Keys to Gut Health into practice with:
180+ recipes featuring 61 gut health superfoods

Gut health food lists

Why's behind each gut health superfood
Get instant digital access for $27.99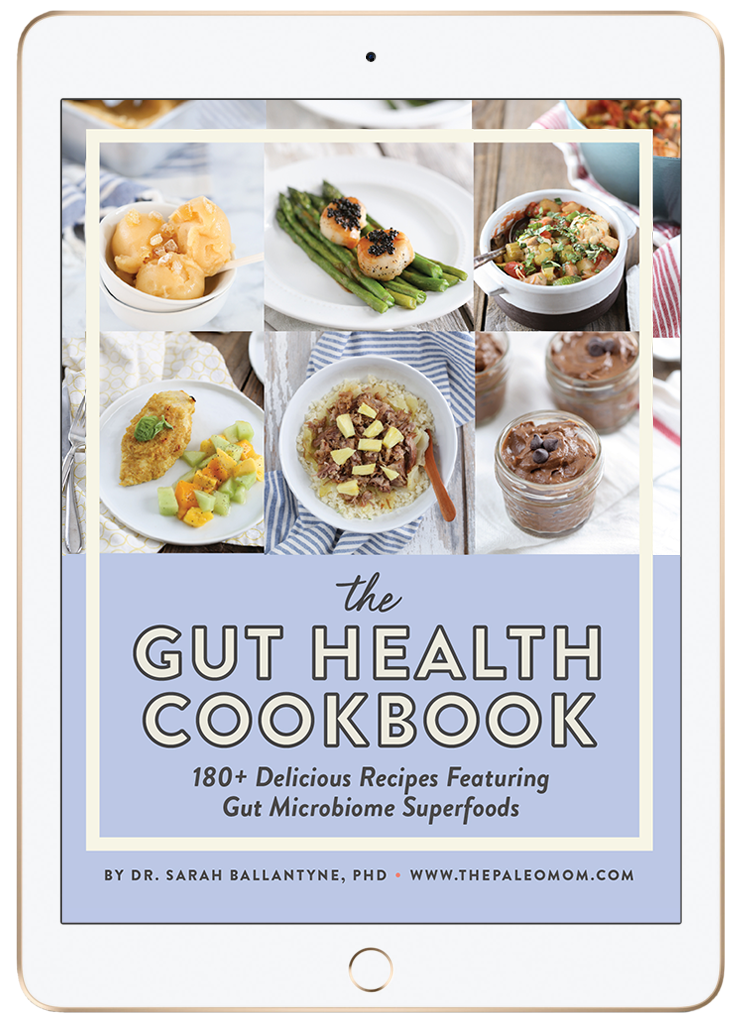 How I make my pumpkin puree: In early November when pumpkins are cheap and everywhere, I buy a bunch. I cut them into quarters, scoop out the seeds and cut off the stems, and then lay them flesh side up on cookie sheets and fill my oven. I bake at 350 until they are cooked (1-1½ hours depending on how big your pumpkins are). I let them cool to room temperature, then scrape the flesh off the rind with a spoon into a big bowl. I either mash by hand with a potato masher or give it a quick blend with an immersion blender. I typically freeze in 1½ to 3 cups servings for baking throughout the year.
A note on coconut cream concentrate: I have used both Tropical Traditions Coconut Cream Concentrate and Let's Do Organic Creamed Coconut
. They are the same thing. I find it easier to use Tropical Traditions simply because it comes in a jar. For either, when you first open your jar/bag, heat the coconut cream concentrate by placing the opened jar (or emptying the contents of the bag into a glass jar) in a big pot of hot water until the creamed coconut is soft enough to mix thoroughly. Remove the jar and store in your pantry. Coconut butter is also another name for the exact same thing.
This recipe makes 12 cookies. I store them in the fridge (but I think they would be fine at room temperature if you were going to eat them within a couple of days).
Ingredients:
The Ultimate Support for Your AIP Journey!
Dr. Sarah Ballantyne has delivered an exceptional course and I highly recommend this to anyone looking to improve their health. There is something for everyone. It was extremely helpful and worth the investment. -Marie Schlichtig
The AIP Lecture Series is the ultimate Autoimmune Protocol educational experience! Learn directly from Dr. Sarah!
6-week online course
42 on-demand video lectures
dozens of printable guides
self-discovery exercises and action steps
online forum and guided discussions
support and guidance from Dr. Sarah Ballantyne!
The next session begins January 18th, 2021.
(Use code AIPLS85 to save $85 and get bonus access to the Gut Health Fundamentals online course!)
1. Mix all ingredients thoroughly in a bowl.
2. Place Fruit Roll Sheets
in your Food Dehydrator
(alternately, you can cut parchment paper and place on your dehydrator trays).
3. Spoon heaping spoons of batter (about 2 Tbsp per cookie) onto your Fruit Roll Sheets
(aiming for 12 cookies per batch). Shape the blobs of batter by flattening out with the back of a spoon until the cookies are about 2" in diameter and about ½" high.
4. Dry for 12-16 hours, until cookies have a slightly crisp outside and cakey inside (or dry longer for a crisper cookie). I prefer to remove the cookies from the fruit roll sheet after 10-12 hours and place the cookies on the dehydrator tray so the bottom dries more evenly.
5. Enjoy!