This is a recipe that makes enough herb butter for about 16 portions of fish. I spoon tablespoons of the herb butter onto a big sheet of tin foil, cover with more tin foil, and freeze until solid. Then I can put all the little balls of herb butter into a plastic container and use them whenever we have this meal. This makes for a very fast and convenient supper and I have even been known to stick completely frozen fish in the oven with herb butter on a day where I am too busy to organize supper beforehand.
*NEW* The Gut Health Cookbook!
The Gut Health Cookbook is fantastic! Thank you for researching and creating The Gut Health Cookbook! Such wonderful recipes! I'm so excited to try them all! -Sue
The Gut Health Cookbook puts the 20 Keys to Gut Health into practice with:
180+ recipes featuring 61 gut health superfoods

Gut health food lists

Why's behind each gut health superfood
Get instant digital access for $27.99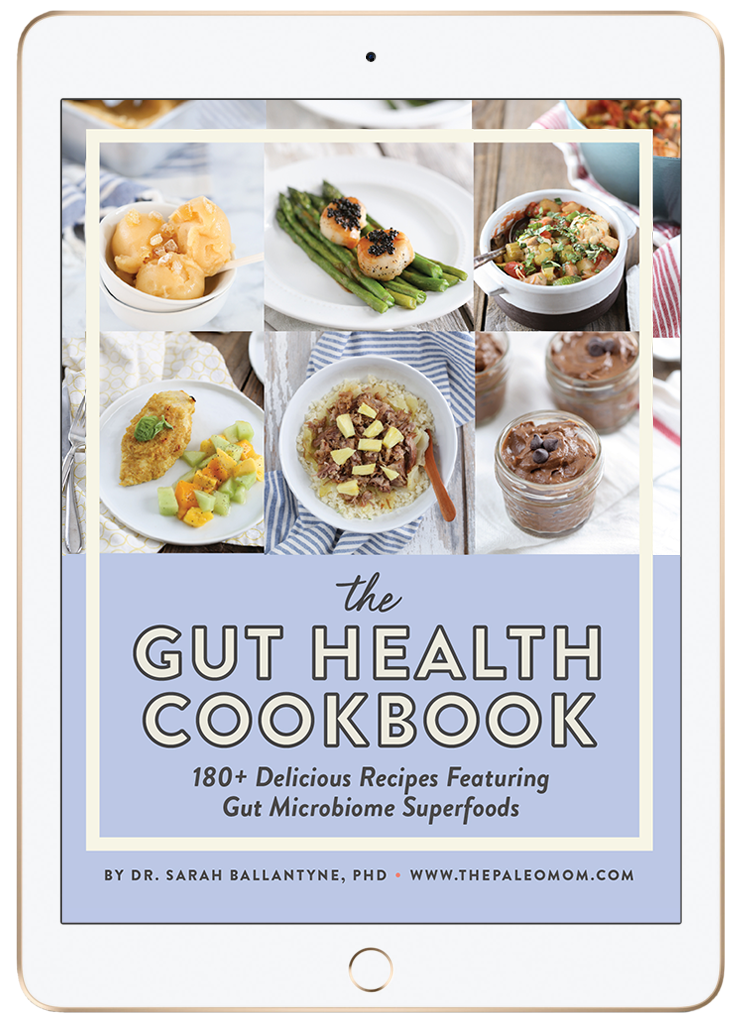 I usually wrap two salmon fillets together in one "parchment envelope" You can wrap as many as will fit on your pan in one envelope (or one giant fillet with several spoons of herb butter) or you can wrap each fillet individually… whatever floats your boat. I actually usually use tinfoil because it's easier to fold. A nice alternative presentation of this dish is to wrap individual pieces of fish in parchment and serve with the top of the parchment torn open slightly (which just isn't as pretty with tinfoil).
For Paleo enthusiasts who avoid all dairy, you could try this with coconut oil. The butter is mostly a vessel for the herbs. To make this autoimmune protocol-friendly, use coconut oil (or other fat of choice) and omit the pepper.
My toddler LOVES this fish, whether I make it with salmon or trout. I think toddlers who like fish in non-fishstick form are in the minority, but I am still going to label this Toddler Friendly!
The Ultimate Support for Your AIP Journey!
Dr. Sarah Ballantyne has delivered an exceptional course and I highly recommend this to anyone looking to improve their health. There is something for everyone. It was extremely helpful and worth the investment. -Marie Schlichtig
The AIP Lecture Series is the ultimate Autoimmune Protocol educational experience! Learn directly from Dr. Sarah!
6-week online course
42 on-demand video lectures
dozens of printable guides
self-discovery exercises and action steps
online forum and guided discussions
support and guidance from Dr. Sarah Ballantyne!
The next session begins January 18th, 2021.
(Use code AIPLS85 to save $85 and get bonus access to the Gut Health Fundamentals online course!)
Ingredients:
1 cup unsalted butter, softened
Rind of a whole lemon, either zested fine or ground in a food processor
4 cloves garlic, crushed
1/2 cup fresh dill
1/3 cup fresh parsley
1/2 tsp salt
1/4 tsp fresh ground pepper, to taste
A 6-8oz fillet of salmon or trout

per person

(larger pieces of fish can work, but adjust cooking time accordingly).
1. Combine lemon zest and herbs in a small food processor and pulse until very finely chopped.
2. Add herb mix to butter in a bowl and mix with a fork until well combined.
3. Preheat oven to 350F
4. Prepare the parchment envelope for the fish. Place a large sheet of tinfoil or parchment paper on a baking sheet (I actually find tinfoil much easier to use in this recipe). The parchment paper should measure a little over twice the length of your fish fillets placed side by side.
5. Place fish on one half of parchment paper, leaving 3-4 inches of space (in addition to one long side) around it for folding parchment paper over. Spoon a healthy Tablespoon full of herb butter onto each fillet. Also add approximately 1 Tbsp of water around the fillets. Fold over long side of parchment paper to cover the fish than triple fold all three open sides to form a seal.
6. Place in oven (still on baking sheet) and bake for 20 minutes, or until fish is opaque throughout and segments flake apart easily.
7. Store leftover herb butter in the fridge for up to a week or in the freezer for up to 6 months.