I have never liked croutons on Caesar salad. I never saw the point of those overly crunchy, salty, chunks of stale bread. So, making a Paleo Caesar salad without them was easy: some homemade bacon bits add a lovely little bit of salty crunch and add alot more flavor than stale bread ever does! My big challenge with this salad was making a creamy dressing flavorful enough that you don't miss the typical buttermilk or sour cream and parmesan cheese ingredients (although, if you follow a primal or lacto-Paleo diet, you could still top this salad with some coarse grated parmesan, but it isn't necessary). I had a very tough crowd to please in my husband, because Caesar salad is his all-time favorite. But, I finally got it right. This is delicious as a side dish or with grilled chicken or shrimp added to make it a dinner salad. Serves 4-5 as a side salad or 2 as a dinner salad.
Prep time: 10 minutes
*NEW* The Gut Health Cookbook!
The Gut Health Cookbook is fantastic! Thank you for researching and creating The Gut Health Cookbook! Such wonderful recipes! I'm so excited to try them all! -Sue
The Gut Health Cookbook puts the 20 Keys to Gut Health into practice with:
180+ recipes featuring 61 gut health superfoods

Gut health food lists

Why's behind each gut health superfood
Get instant digital access for $27.99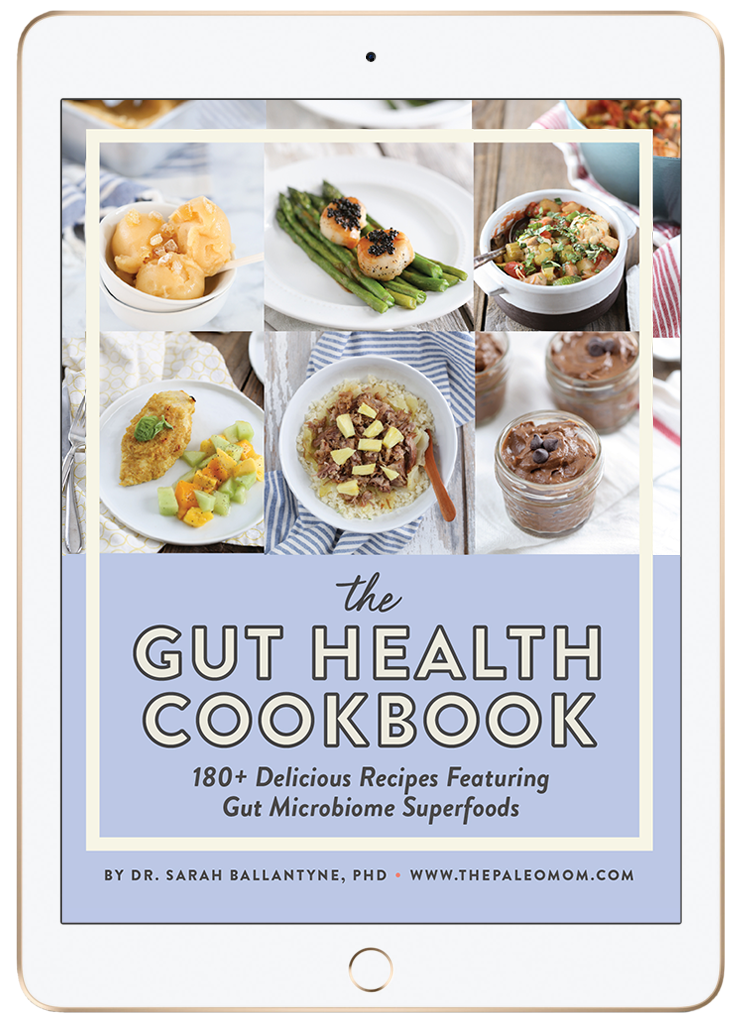 Cook time: 0 minutes
Serves: 4-5
Ingredients:
1. Fry bacon in a frying pan (or bake in the oven) until crisp. Drain on paper towel. When cool, break into small pieces.
2. Whisk Paleo mayo, lemon juice, crushed garlic, anchovy paste and pepper together.
3. Tear or chop romaine lettuce into large bite-size pieces. Wash and dry (use a Salad Spinner
or paper towels).
4. Toss lettuce with dressing until evenly coated. Top with bacon and more cracked pepper, to taste. Enjoy!
The Ultimate Support for Your AIP Journey!
Dr. Sarah Ballantyne has delivered an exceptional course and I highly recommend this to anyone looking to improve their health. There is something for everyone. It was extremely helpful and worth the investment. -Marie Schlichtig
The AIP Lecture Series is the ultimate Autoimmune Protocol educational experience! Learn directly from Dr. Sarah!
6-week online course
42 on-demand video lectures
dozens of printable guides
self-discovery exercises and action steps
online forum and guided discussions
support and guidance from Dr. Sarah Ballantyne!
The next session begins January 18th, 2021.
Register now to get bonus instant access to the Gut Health Fundamentals online course!