I have played with homemade chewy granola bar recipes for about a year. I never did master my oat-based recipe, so I didn't have the best of starting points for a Paleo version. Very few of my recipes have required this many iterations to perfect. But I desperately needed to create a granola bar recipe for my kids. Granola bars are our "go-to" travel food, perfect for a drive during snack time or a picnic. But granola bars are a very lofty goal for the Paleo baker. They have to have the right chewy with some crunch texture, hold together, travel well, and taste great! I finally got it right and am happy to share the very successful recipe with you!
Note: This recipe is very sensitive to small changes in the wet to dry ingredient ratio. Please measure carefully.
*NEW* The Gut Health Cookbook!
The Gut Health Cookbook is fantastic! Thank you for researching and creating The Gut Health Cookbook! Such wonderful recipes! I'm so excited to try them all! -Sue
The Gut Health Cookbook puts the 20 Keys to Gut Health into practice with:
180+ recipes featuring 61 gut health superfoods

Gut health food lists

Why's behind each gut health superfood
Get instant digital access for $27.99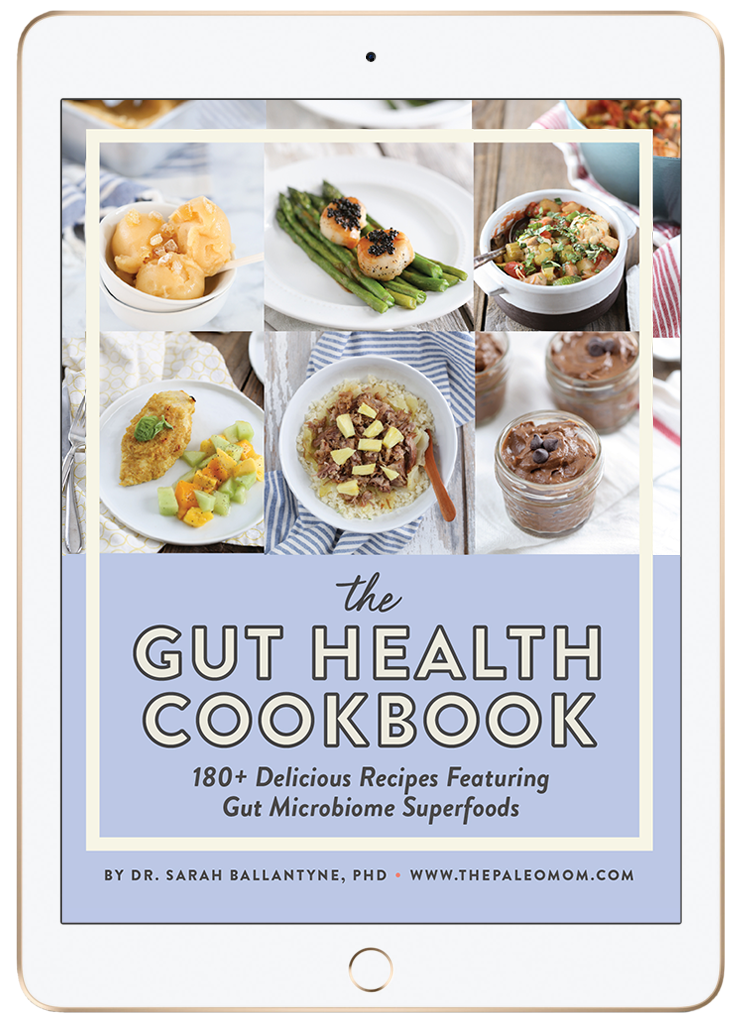 Ingredients:
1. Preheat oven to 325F. Grease a 9"x13" baking pan with coconut oil.
2. Mix ground flax seed with water and let sit for 3-4 minutes.
3. Pulse pepitas in a food processor a couple of times to break up to the size of sunflower seeds.
4. Add coconut oil, almond butter, honey and vanilla to flax goop and mix well.
5. Add almond flour and baking soda and stir to combine.
6. Add slivered almonds, shredded coconut, pepitas, sunflower seeds, sesame seeds and chocolate chips or dried fruit. Stir to combine.
7. Spoon batter into prepared baking pan. Spread out and flatten well with your hand or the back of a spatula.
8. Bake for 22-23 minutes, until golden brown. They will puff up slightly while baking, so immediately after removing from the oven, flatten the bars with the back of a spatula (or something else heat resistant and flat).
9. Let cool completely in pan before cutting into bars (I actually like to refrigerate before cutting). Cut into bars (I usually get 18-20) and wrap individual bars in plastic wrap for easy travel (optional). I prefer to store these in the refrigerator.
The Ultimate Support for Your AIP Journey!
Dr. Sarah Ballantyne has delivered an exceptional course and I highly recommend this to anyone looking to improve their health. There is something for everyone. It was extremely helpful and worth the investment. -Marie Schlichtig
The AIP Lecture Series is the ultimate Autoimmune Protocol educational experience! Learn directly from Dr. Sarah!
6-week online course
42 on-demand video lectures
dozens of printable guides
self-discovery exercises and action steps
online forum and guided discussions
support and guidance from Dr. Sarah Ballantyne!
The next session begins January 18th, 2021.
(Use code AIPLS85 to save $85 and get bonus access to the Gut Health Fundamentals online course!)