Sometimes being forced to improvise is a good thing. In the case of this soup, it's a great thing! As I stared into my fridge hoping for inspiration, I could see that the only thing I really had ingredients for was a dinner salad. That's not normally such a bad thing. I like salad, especially with meat or seafood in it. But it was cold outside and I knew that a cold dinner was just not going to satisfy. So I started to pursue ideas for soup. I happened to have a couple bags of really nice crispy, sweet fresh baby carrots. Aha! Inspiration! A simple soup (because I had so few ingredients in my fridge!) that is absolutely delightful! I hope you enjoy it as much as we did! Serves 3-4
Grab Your Spot for the AIP Lecture Series Online Course
The AIP Lecture Series is the ultimate Autoimmune Protocol educational experience! Learn directly from Dr. Sarah!
In this 6-week, video-based, interactive, intensive online course, Dr. Sarah provides individualized guidance and support as she teaches you the scientific foundation for the diet and lifestyle tenets of the Autoimmune Protocol, plus helps you with implementation, refinement, reintroductions and troubleshooting!
The next session begins March 9th, 2020. (This will be the only session this year.)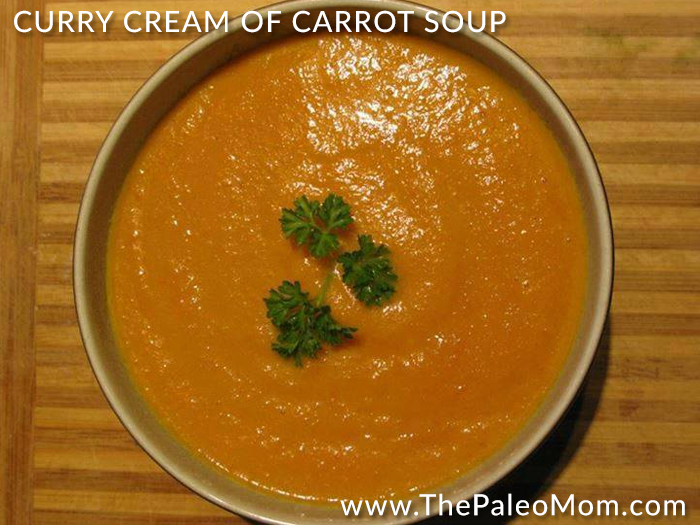 Ingredients:
1. Bring chicken broth to a rolling simmer over medium high heat. Add onion and carrots and let simmer until carrots are extremely soft, about 35-40 minutes.
2. Add ginger and curry and let cook another 5 minutes.
3. Blend soup with an immersion blender until it is a smooth puree (you could also use a countertop model, being careful not to burn yourself).
4. Add creamed coconut (I find it easiest to slice through the package with a sharp knife, and then store any leftovers in my fridge).