Sometimes being forced to improvise is a good thing. In the case of this soup, it's a great thing! As I stared into my fridge hoping for inspiration, I could see that the only thing I really had ingredients for was a dinner salad. That's not normally such a bad thing. I like salad, especially with meat or seafood in it. But it was cold outside and I knew that a cold dinner was just not going to satisfy. So I started to pursue ideas for soup. I happened to have a couple bags of really nice crispy, sweet fresh baby carrots. Aha! Inspiration! A simple soup (because I had so few ingredients in my fridge!) that is absolutely delightful! I hope you enjoy it as much as we did! Serves 3-4
2020 New Year Sale!
Jump into the New Year with 30% off two great resources for your 2020 health journey!
Dr. Sarah Ballantyne, PhD created these two e-books to be accessible, practical-focused resources that provide complimentary information on the Paleo and AIP diets and lifestyles.
The Paleo Template e-book

Paleo Practical Printables bonus

The Autoimmune Protocol e-book

AIP Practical Printables bonus
Get instant digital access for $27.99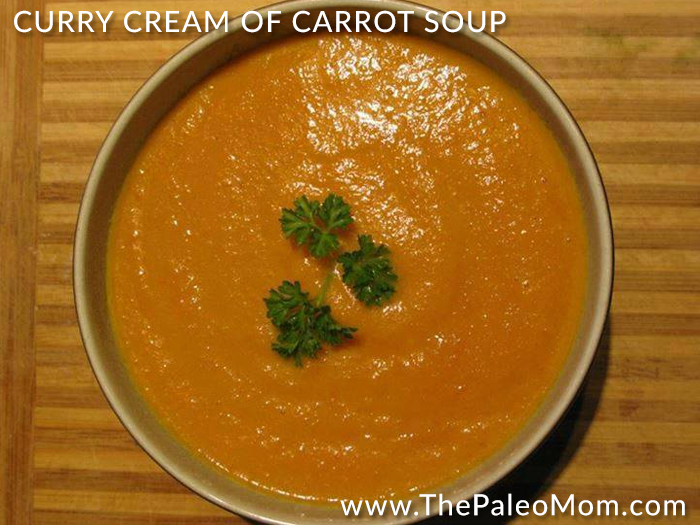 Ingredients:
1. Bring chicken broth to a rolling simmer over medium high heat. Add onion and carrots and let simmer until carrots are extremely soft, about 35-40 minutes.
2. Add ginger and curry and let cook another 5 minutes.
3. Blend soup with an immersion blender until it is a smooth puree (you could also use a countertop model, being careful not to burn yourself).
4. Add creamed coconut (I find it easiest to slice through the package with a sharp knife, and then store any leftovers in my fridge).