Or maybe these could be better named Chocolate Chip "Multi-grain" Cookies, since that is actually the cookie that they are designed to emulate. Chocolate chip multi-grain cookies were one of my greatest recipe successes in my pre-Paleo days. Many iterations had modified a typical oatmeal cookie into a whole grain powerhouse. And the cookies were delicious. Well, now I know that whole grains are not good for you! But as my kids' favorite cookies, I had to create something similar with Paleolithic ingredients. This cookie is very chewy, holds together brilliantly, and tastes so similar to my old recipe you'd think for sure I had used some neolithic ingredients. I suggest processing the different nuts separately since they require a different number of pulses to achieve the desired textures. I found some great gluten-free, dairy-free, soy-free mini chocolate chips at Whole Foods (Enjoy Life
brand). These cookies are great for a picnic or sending in your kid's lunch (they travel very well). Yield: 30 cookies.
Ingredients:
*NEW* The Gut Health Cookbook!
The Gut Health Cookbook is fantastic! Thank you for researching and creating The Gut Health Cookbook! Such wonderful recipes! I'm so excited to try them all! -Sue
The Gut Health Cookbook puts the 20 Keys to Gut Health into practice with:
180+ recipes featuring 61 gut health superfoods

Gut health food lists

Why's behind each gut health superfood
Get instant digital access for $27.99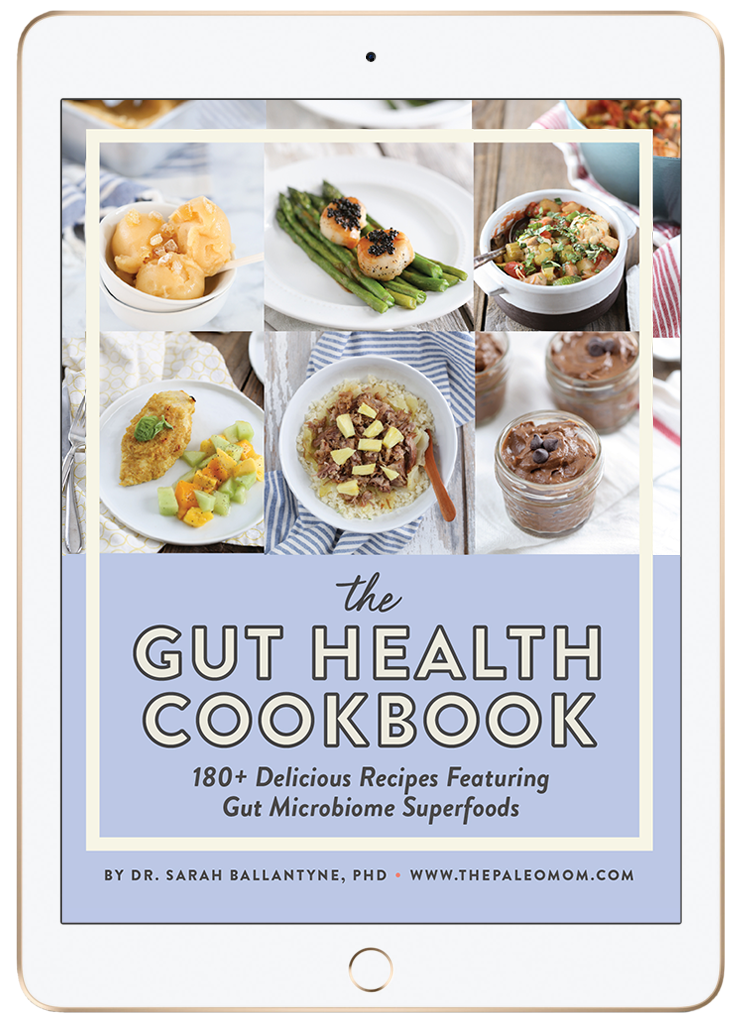 1. Preheat oven to 350F.
2. Mix coconut oil, sugar, egg and vanilla in a medium bowl.
3. Add almond flour, baking soda, cream of tartar and salt and mix well.
4. Pulse macadamia nuts in a food processor until they resemble coarse sand. Pulse pecans to similar texture. Pulse sunflower seeds to similar texture. Pulse almonds to a slightly coarser texture, resembling quick oats.
5. Add shredded coconut, sesame seeds and processed macadamia nuts, sunflower seeds, almonds and pecans. Stir to combine.
6. Incorporate mini chocolate chips or raisins.
7. Drop 1" balls of dough onto a cookie sheet. Bake for 9-10 minutes, until slightly underdone. Let cool completely on cookie sheet. Enjoy!