My family loves to barbecue even when it's freezing out, but you could always cook this chicken under the broiler or on an indoor grill. The best part about this chicken is that it's just as good as leftovers as it is hot off the grill, so we always make enough for at least two meals. The seasoning mix is inspired by a recipe in Alton Brown's I'm Just Here for the Food: Version 2.0
My toddler actually loves this chicken and will easily eat an entire thigh by herself.
Arugula pesto is very easy to make and is delicious with a variety of meats, or mixed into some mashed cauliflower, or tossed with some roasted vegetables… I like it with this grilled chicken and I hope you like it too!
*NEW* The Gut Health Cookbook!
The Gut Health Cookbook is fantastic! Thank you for researching and creating The Gut Health Cookbook! Such wonderful recipes! I'm so excited to try them all! -Sue
The Gut Health Cookbook puts the 20 Keys to Gut Health into practice with:
180+ recipes featuring 61 gut health superfoods

Gut health food lists

Why's behind each gut health superfood
Get instant digital access for $27.99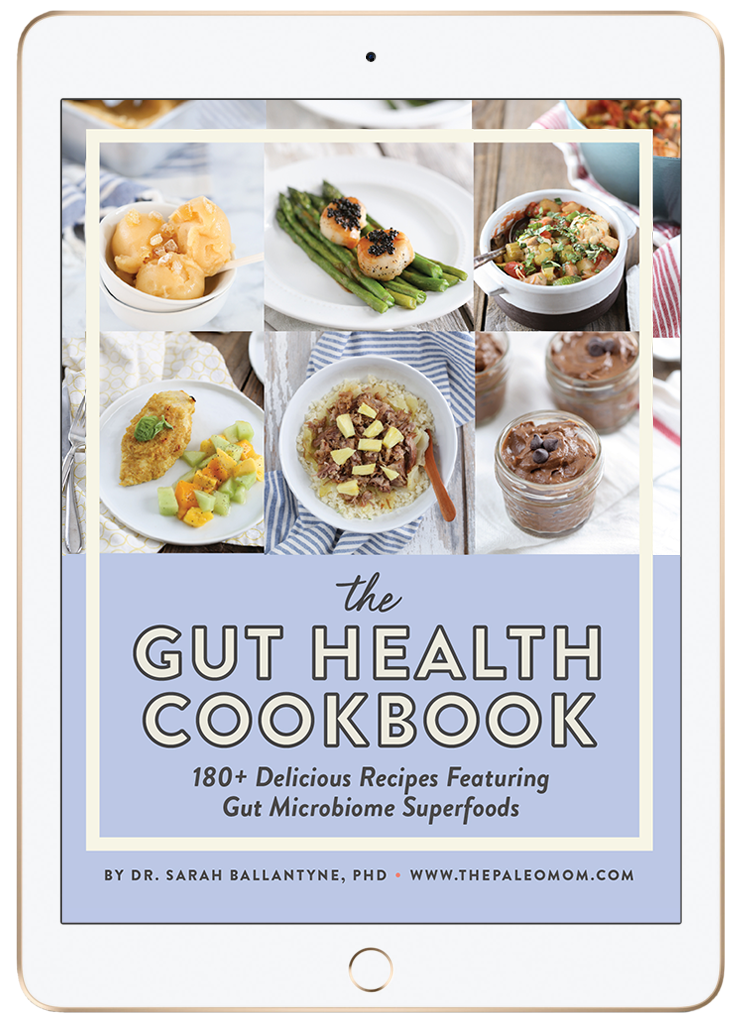 Ingredients (Arugula Pesto):
1.Heat a non-stick skillet or well-seasoned cast iron skillet over medium heat. Add garlic still in the peel to the pan. Stir or shake the pan frequently so the garlic rotates and cooks on all side. Cook until garlic is starting to brown and is feeling fairly soft to touch, about 7-8 minutes.
2.Let garlic cool, then peel. Place in a blender or food processor with the other ingredients. Pulse until it's a paste. Enjoy!
Ingredients (Barbecued Chicken):
1. Mix spices in a bowl. Toss with chicken and rub around with your hands to thoroughly coat (don't forget to wash well afterward!).
2. Place on a hot grill. Cook approximately 10 minutes on the first side and 8 minutes on the second side, or until completely cooked. You may have to adjust your cooking time depending on the heat of your barbecue.
The Ultimate Support for Your AIP Journey!
Dr. Sarah Ballantyne has delivered an exceptional course and I highly recommend this to anyone looking to improve their health. There is something for everyone. It was extremely helpful and worth the investment. -Marie Schlichtig
The AIP Lecture Series is the ultimate Autoimmune Protocol educational experience! Learn directly from Dr. Sarah!
6-week online course
42 on-demand video lectures
dozens of printable guides
self-discovery exercises and action steps
online forum and guided discussions
support and guidance from Dr. Sarah Ballantyne!
The next session begins January 18th, 2021.
Register now to get bonus instant access to the Gut Health Fundamentals online course!