I had to create a Paleo version of the Whole Foods peanut butter chocolate chip cookie for my daughters. They love the chewy, soft texture, the sweetness, the nutty flavor, the chocolate chips, and the giant size. It is fairly common for them to each consume a whole cookie (which are roughly the size of their heads) before I'm finished my shopping. This is the recipe I have created, and while it isn't particularly modest to say so, these cookies are perfect. It is astounding to know that such a delightful food could have been created in my little kitchen. You will never miss wheat or peanut butter again with these cookies. Makes 15 large or 30 regular (texture is equally wonderful whichever you choose).
A note on chocolate chips: You need to read the ingredients list. Some brands of chocolate chips contain dairy and even wheat ingredients. I generally don't worry about a little soy lecithin (usually very small quantities). I have found some very good chocolate chips at Whole Foods and at Trader Joe's.
*NEW* The Gut Health Cookbook!
The Gut Health Cookbook is fantastic! Thank you for researching and creating The Gut Health Cookbook! Such wonderful recipes! I'm so excited to try them all! -Sue
The Gut Health Cookbook puts the 20 Keys to Gut Health into practice with:
180+ recipes featuring 61 gut health superfoods

Gut health food lists

Why's behind each gut health superfood
Get instant digital access for $27.99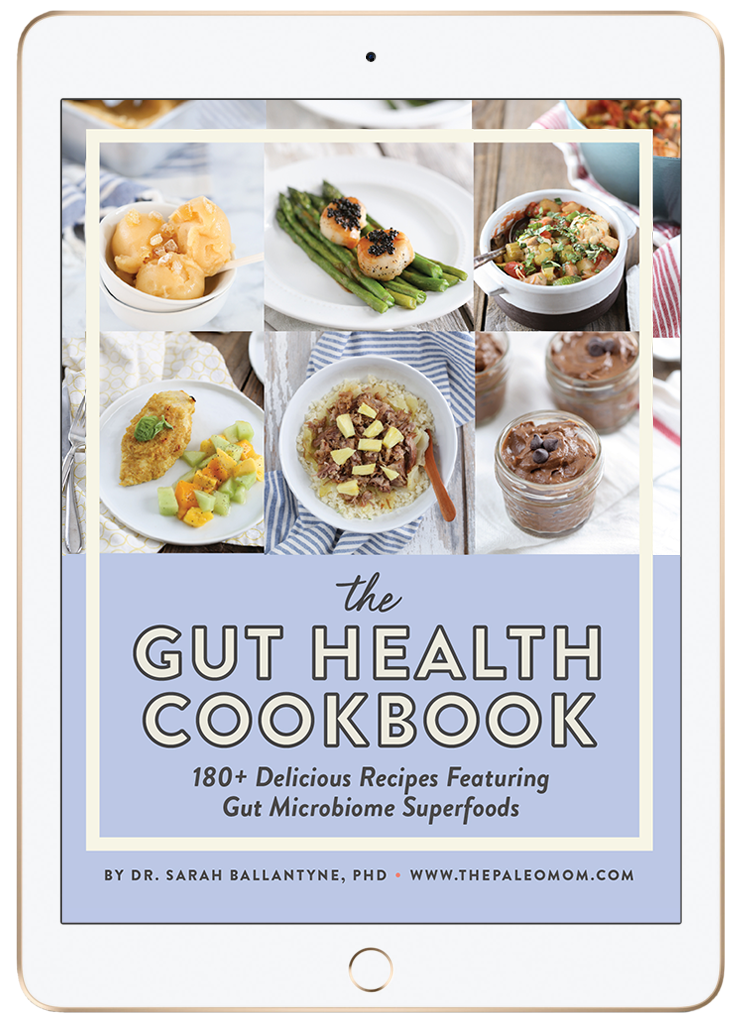 Ingredients:
1. Preheat oven to 350F.
2. Pulse walnuts in a food processor until the texture of coarse sand.
3. Combine coconut oil, almond butter, sugar, egg, and walnuts in a medium bowl. Mix well.
4. In a separate small bowl, combine almond flour, salt, baking soda and cream of tartar. Add to wet ingredients and stir to combine.
5. Add chocolate chips and stir to combine. Let dough cool in the refrigerator for 20-30 minutes (or more, don't skip this step!).
6. For regular sized cookies, make 1" balls of dough and place on cookie sheet. Flatten slightly and bake for 8-9 minutes.
7. For extra-large cookies (roughly the size of your child's head), make 2" diameter balls of dough and place on cookie sheet, spaced well apart. Flatten slightly and bake for 12-13 minutes.
8. Let cool on the baking sheet for a few minutes before removing to a cooling rack. Store in a plastic container at room temperature.


Do you need help finding any ingredients? Check out Important Pantry Items for the Paleo Baker.
The Ultimate Support for Your AIP Journey!
Dr. Sarah Ballantyne has delivered an exceptional course and I highly recommend this to anyone looking to improve their health. There is something for everyone. It was extremely helpful and worth the investment. -Marie Schlichtig
The AIP Lecture Series is the ultimate Autoimmune Protocol educational experience! Learn directly from Dr. Sarah!
6-week online course
42 on-demand video lectures
dozens of printable guides
self-discovery exercises and action steps
online forum and guided discussions
support and guidance from Dr. Sarah Ballantyne!
The next session begins January 18th, 2021.
(Use code AIPLS85 to save $85 and get bonus access to the Gut Health Fundamentals online course!)