If you haven't already read my epic review of Real Life Paleo by Matthew McCarry and Stacy Toth, then I encourage you to read my full (and yes, epic) review here.  The Cliff Notes:  Real Life Paleo is an amazing resource book and an amazing cookbook.  It's perfect for newbies, people who have struggled sticking to Paleo in the past, and those of us who have it mastered–yes, everyone will love this book.
Real Life Paleo launched yesterday and as of this moment, it has nothing but 5-star reviews (not a shock–this book is AMAZING!) and is currently the #1 New Release in the Paleo Books category on Amazon!  Also, not a surprise!  People are loving this book!  One Paleo Parents fan received her preordered copy of Real Life Paleo yesterday and then immediately ordered four additional copies because she was so impressed! This book is going straight to the top!  Congratulations Matt and Stacy!
If you read my review on Monday, you also know that I was in happy town last week when I let my family choose 5 recipes out of Real Life Paleo for us to cook for dinner.  The entire meal was just one big dopamine response to food.  And every single member of my family loved every single recipe we made. Two stars emerged though:  the Restaurant Steaks were star #1 and this recipe for Snickerdoodle Whoopie Pies was star #2.
Nutrivore Weekly Serving Matrix
An easy-to-use and flexible weekly checklist
to help you maximize nutrient-density.
The Weekly Serving Matrix is very helpful! I've been eating along these lines but this really helps me know where to focus vs. which foods serve a more secondary role. It's super helpful and has taken a lot of worry out of my meal planning. Thanks!

Jan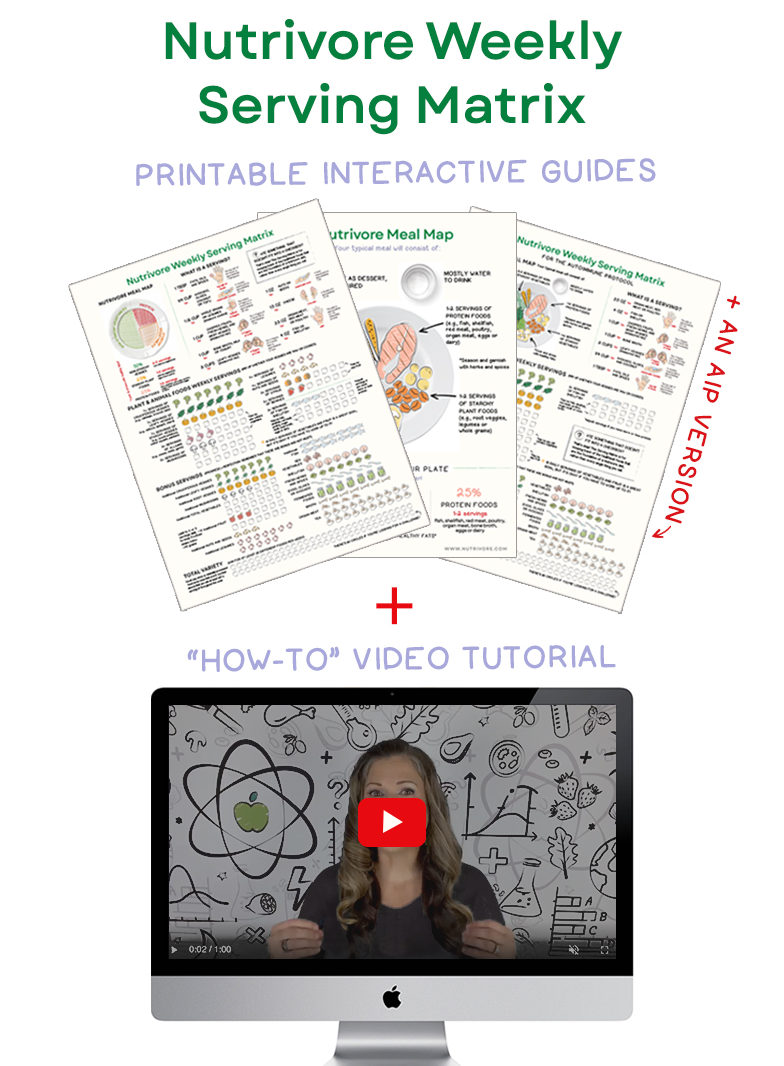 I'm so excited to be able to share this special Sneak Peek from Real Life Paleo with you!  I asked for permission to share this recipe because to me, this recipe tells you a lot about what Real Life Paleo is all about.  Not to sound flippant, but this book is to help you fit a Paleo diet into your real life.  Whether you're just transitioning, or you've been on-and-off Paleo for years, or you're a seasoned pro, you're going to fall in love with this book.
This recipe was simple to make. In fact, my 4-year old did most of the work.  It was a joy to make with my daughter because it was such an easy recipe for her to contribute to.  This is part of Paleo Parent's signature style.  Not only are their recipes the most dependable Paleo recipes out there, but they are crafted with family in mind, from picking ingredients out at the store, to incorporating your kids into the cooking, to the exquisite flavors you get to enjoy once the dish is made.  Don't have kids?  Don't worry:  adults can play too.
The snickerdoodle cookies themselves have a wonderful cakey texture (but not crumbly or fall-apart, just cakey instead of chewy or crunchy).  They were minimally sweetened which paired perfectly with the slightly sweeter frosting.  The frosting was dangerously good.  If I didn't have 24 cookies to turn into cookie sandwiches, I probably would have slowly consumed the whole bowl, one finger dip at a time.
I'm glad I went through with the original plan and actually completed the Snickerdoodle Whoopie Pies though.  They were such a delicious and decadent treat.  They kept very well and didn't lose texture or flavor through storage.
They were quite simply fantastic.  My kids were going crazy while I was trying to take a photo before they were allowed to have one!
So, if you've been thinking about getting Real Life Paleo and just aren't completely sure, check out this recipe and then head over to Amazon who has it on sale for 35% off the cover price!!!!
Prep Time: 30 minutes
Cook Time: 10 minutes
Yields 12 whoopie pies
Ingredients (Cookies)

Ingredients (Topping)
Preheat the oven to 350°F. Line 3 baking sheets with parchment paper or grease them with palm shortening.
In a large bowl, beat together the shortening, almond butter, maple syrup, eggs, and vanilla until smooth.
In a separate bowl, whisk together the flour, baking soda, and cinnamon. 4. While beating the wet mixture, slowly add the dry mixture until combined. The dough will be wet and sticky.
Drop tablespoons of the dough several inches apart onto the prepared baking sheets, 8 per sheet. Using the back of a spoon or a spatula and a circular motion, spread the cookies into flat disks, about 1⁄2 inch thick.
In a small bowl, combine the ingredients for the topping. Sprinkle the topping over the cookies, about 1⁄8 teaspoon per cookie.
Bake the cookies for 8 to 10 minutes, until the edges are golden brown and the centers are still slightly wet-looking and spongy and bounce back if you press on them. (If baking 2 sheets at once, swap the sheets between the racks midway through baking.)
Let the cookies rest on the baking sheet for 10 minutes, and then transfer them to a cooling rack. Let cool thoroughly, at least an hour. You can store unfrosted cookies in an airtight container at room temperature for up to a week.
Once the cookies are cool, spread about a tablespoon of the frosting onto the flat side of one cookie and then top with a second cookie to create a whoopie pie. Repeat with the remaining cookies and frosting. Store the whoopie pies in an airtight container in the refrigerator for up to 2 weeks. Allow to come to room temperature before serving.
Ingredients (Cinnamon Ginger Frosting)
To make with a high-speed blender, grind the sugar to a powder. Add the rest of the ingredients except the coconut or almond milk to the blender and blend until smooth. Then slowly add the coconut or almond milk, a little at a time, until the desired consistency is reached. (Depending on the humidity and altitude, the frosting may need a touch more or less liquid, which is why it's important to work slowly.)
To make with a coffee grinder or spice grinder, grind the sugar to a powder, working in batches as needed. Transfer the powder to a mixing bowl. Add the rest of the ingredients except the coconut or almond milk to the bowl and whip with a hand-held electric mixer until smooth. Then, while whipping, slowly add the coconut or almond milk, a little at a time, until the desired consistency is reached. (Depending on the humidity and altitude, the frosting may need a touch more or less liquid, which is why it's important to work slowly.)
Store leftover frosting in the refrigerator. Because the frosting will stiffen when cooled, we recommend making it when the cake or other treat is cool and ready to be iced. Frosted treats should be removed from the refrigerator 20 minutes before serving to let the frosting soften at room temperature.

Become a Member for FREE!
The Paleo Mom Members' Area is resource central!  
You'll get FREE, unlimited access to dozens of quality resources, including introductory series, downloadable e-books, exclusive recipes, printables, videos and guides!
You may enjoy these related posts:
Halloween, and indeed any food-centered holiday, can feel like a challenge for …