Lately, I've been experimenting with more complex flavor combinations, with balancing acidity and umami, and combining different textures.   I guess it's been a while since I've gone to a fancy restaurant, and figuring out how to cook more complex dishes seems like less work to me than hiring a babysitter and then having to explain all my complicated food sensitivities to my server.  Of course, I'm also don't like making anything that's really high-maintenance in the kitchen, so when I say that I'm experimenting with complex flavors, that most assuredly does not mean complex cooking techniques!
The idea for this particular combination just popped into my head one morning.  I can't say that I had any particular inspiration, other than having all of the ingredients in my fridge.  And, holy moly, was I and my family in heaven when we ate this!
Even though this recipe is a 3-for-1, it's very straightforward to make.  You can make the pickled shallots in the morning when you season the pork and put it into the oven.  You can make the pesto any time during the day, or during the last half hour of cooking for the pork.  You can purchase or make flour tortillas to wrap them in if you like (the recipe is here – start about an hour before you plan to serve the meal, or check out Siete Cassava and Coconut Flour Tortillas) or wrap in lettuce like I did!  You can also do what my husband did and wrap them in lettuce and then a flour tortilla!  Or don't bother wrapping them at all and just serve as a salad!
Lime basil tastes much like it's name implies, a lime-infused version of basil!  Lemon basil is also very similar.  Don't worry if you can't find either of these basil varieties though, holy basil, thai basi or regular ol' sweet basil will all work just fine!  You can also mix it up and use different varieties of mint, or peppery greens like arugula!  They all seem to work with this dish!
You can also just as easily use red or sweet yellow (eg. vidallia onions) for the pickled shallots instead!
Autoimmune protocol variation:  The only part of this recipe that isn't AIP-friendly is the pine nuts in the pesto.  Simply omit the pine nuts and reduce the olive oil to 6 Tbsp instead.
Prep time: 30 minutes
Cook time: 8-10 hours (up to 24 hours for the pickled shallots)
Servings:  10-16
Ingredients (Pickled Shallots):
Slice shallots into half moons, as thinly as you have patience for.  Place in a pint size mason jar.
Mix vinegar and lime juice.  Add salt and stir to dissolve.
Pour over shallots.  Top up the jar with water (up to the very brim).  Place lid on jar and shake well.
Leave on counter top for at least 8 hours, 24 is better.  Refrigerate for long-term storage.
Ingredients (Pork Shoulder):
Preheat oven to 250F.
Combine all salt, garlic powder, oregano and onion powder.  Rub all over entire surface of pork shoulder.
Place on a roasting pan and roast, uncovered, for 8 – 10 hours.
Remove from oven and let rest 10 minutes.  Slice or pull.  To pull, place pork shoulder in a large casserole dish. Use two sturdy forks to pull the meet apart into strands, by pulling each fork in opposite directions.
Ingredients (Pesto):
Heat a well-seasoned cast iron skillet over medium heat.  Add garlic still in the peel to the pan.  Stir or shake the pan frequently so the garlic rotates and cooks on all side.  Cook until garlic is starting to brown and is feeling fairly soft to touch, about 7-8 minutes.
Remove the garlic from the pan and add the pine nuts.  Again, stir or shake the pan frequently so the pine nuts toast on all sides.  Cook until starting to brown and become fragrant, about 5-6 minutes.
Remove the pine nuts from the pan and let cool.  Peel the now cooled garlic. Place in a blender or food processor with the other ingredients.  Pulse until it's a paste.
To serve, you'll need:
Pork shoulder, sliced or pulled
1 batch pickled shallots
1 batch lime basil pesto
large lettuce leaves
homemade tortillas, or pre-made tortillas (optional)
Place a healthy serving of pork into your lettuce leaf or tortilla, dribble pesto sparingly on top, add a spoonful or pickled shallots.  Wrap it all together and enjoy!!!!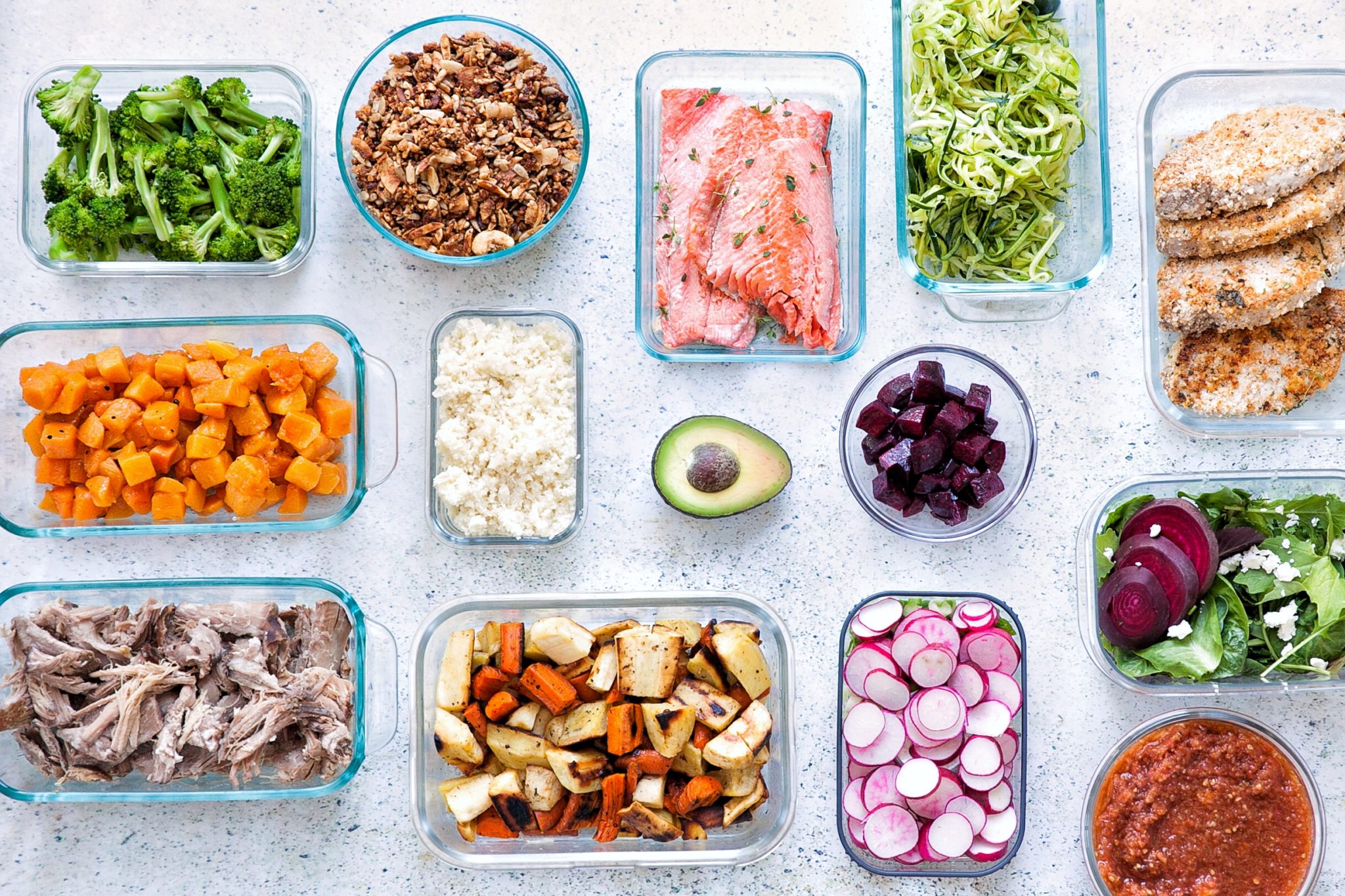 The #1 Tool for Paleo and AIP success!
Create completely customizable and versatile meal plans with thousands of top-notch recipes; make shopping a breeze with the app, and even get reminders for meal prep timing! Get all my recipes from ThePaleoMom.com for just $1 more when you sign up for meal planning with Real Plans!
Want to track what you are eating? Check out the NEW Real Plans Macro Tracker!
You may enjoy these related posts:
A 30-day challenge can be a fantastic on-ramp into healthy eating and there's no …