Description
Our gut microbes perform many different essential functions that help us to stay healthy. These include digestion, vitamin production, detoxification, control of gut barrier integrity, regulation of cholesterol metabolism, providing resistance to pathogens, immune regulation, neurotransmitter regulation, regulation of gene expression, and more! In fact, every human cell is impacted by the activities of our gut microbes. A healthy gut microbial community is essential for our health.
In fact, about 90% of all disease can be traced back to the health of the gut and our gut microbiomes. To date, an aberrant gut microbiome has been linked to conditions as wide-ranging as cancer, obesity, diabetes, cardiovascular disease, anxiety, depression, neurodegenerative diseases, autism, autoimmune disease, ulcers, IBD, liver disease, gout, PCOS, osteoporosis, systemic infections, allergies, asthma, and more!
The good news is that our gut bacteria composition is very sensitive to both our short-term choices and long-term habits, particularly when it comes to diet and lifestyle—meaning there's a metric ton we can do starting today to support a healthy gut microbiome (and therefore a healthy us).
The Gut Health Guidebook is the culmination of 6 years of research, unveiling 20 essential keys to gut health, the majority of which have yet to permeate any health-conscious community. In this 300+ page e-book, Dr. Sarah builds a new diet for general health, from the ground up, based on the gut microbiome, that merges everything the science currently tells us is healthful into one comprehensive approach.
The unprecedented deep dive into gut health, examines:
The features of a healthy gut microbiome
How a healthy gut microbiome benefits our overall health
How proteins, fats, and carbohydrates impact the gut microbiome
How vitamins, minerals and phytochemicals impact the gut microbiome
How sleep, circadian rhythms, fasting, stress, and activity impact the gut microbiome
Essential gut health superfoods
Optimal diet and lifestyle for the gut microbiome
The 20 keys to gut health
and so much more!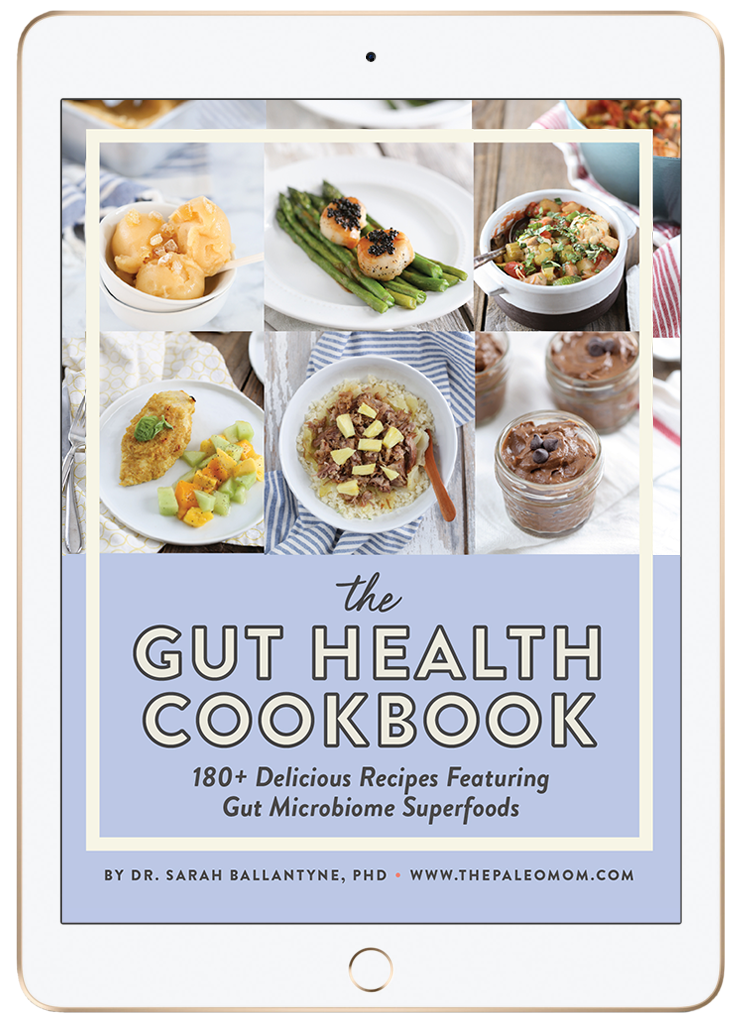 The Gut Health Cookbook puts theory into practice with 180+ recipes that each center on at least one of 61 gut health superfood ingredients. This 400+ page e-cookbook is organized by gut health superfood, including a 1- to 3-page summary of each superfood's benefits to overall health and the gut microbiome, followed by 3 recipes that highlight that ingredient and pair it with other superfoods. From reimagined decadent desserts to wholesome breakfasts to one-pot meals, this e-book is designed to show you just how easy and delicious eating for your gut microbiome can be!
This practical resource delivers:
180+ recipes featuring gut health superfoods
20 keys to gut health summary
Why's behind all 61 gut health superfoods
Food lists for gut health
Tips for storing vegetables and fruits
and so much more!
This is not just a cookbook of vegetable side dishes and salads! There are breakfasts, breads, muffins, snacks, appetizers, soups, over 30 dessert recipes (yes, desserts that are good for the gut microbiome!) and over 65 of the recipes are main dishes or one-pot meals!
These are not Paleo or AIP e-books. During Dr. Sarah's 6 years of researching for The Gut Health e-books, she made a rule for herself: no preconceived notions on whether a food or lifestyle biohack is good or bad allowed. Instead, Dr. Sarah took the opportunity to build a new optimal diet and lifestyle focused on supporting a healthy and diverse gut microbiome from the ground up. While some of the featured gut microbiome superfoods are not traditionally considered Paleo (like lentils and rice), all of the recipes are gluten-free, approximately 90% are Paleo and about half are AIP compatible. And, for those of you who have all of Dr. Sarah's e-books and cookbooks, a whopping 110 of the recipes in The Gut Health Cookbook are completely new and not available anywhere else, while many of the others have been tweaked to be even better for gut health!
Note: The Gut Health Guidebook and The Gut Health Cookbook are accessed by logging into your ThePaleoMom account. All of your digital purchases from thepaleomom.com are linked to your e-mail address and available to view or download through the "My Account" link at the top right-hand side of the webpage. If you have not yet set up an account, simply put in your e-mail address and click "Forgot Password".  For technical difficulties, see our Technical FAQ.