Lauren Grace Baltic lives in Kansas City, Missouri with her husband, Ivo, and her black lab (and Lauren's Hope office dog!), Zoe. She shares her journey of using AIP to live well with Lupus, Bechets, and food allergies over on Instagram at @lbaltic. Come join her!

Sometimes, in my moments of total desperation, I try to recall in chronological order the events that lead to my diagnosis. Sometimes I sit at my kitchen table, with pen and paper at hand, determined to map out a medical timeline of the last nine years of my life. Sometimes I attempt to remember every trip to the doctor, every stay in the hospital, every procedure I've endured and the surgeries I've spent weeks recovering from that were a direct result of this tiresome, unpredictable disease. Sometimes I'm angry with myself that despite my toughest efforts to summon the entirety of these memories to the forefront of my mind, I never can. Sometimes I'm happy that I always fail. It's easier that way.
In April of this year I was diagnosed with Systemic Lupus Erythematosus (SLE), an autoimmune disease that affects each of its victims in various ways. This chronic condition is defined by the body's immune system mistakenly attacking healthy tissues such as the joints, brain, kidneys, skin and other organs. These symptoms usually come and go at differing intervals which is why the average time it takes to get a diagnosis is over 7 years. For me, it meant taking 19 prescription pills a day as early as the age of seventeen to treat the symptoms of a disease I hadn't yet been diagnosed with. It meant spending the majority of my high school and college years outside of class in a bathroom stall. It meant dreading a flight of stairs for the shooting pain that each step would bring to my hips and back. It meant fighting lethargy around my friends for fear of embarrassment. It meant that, no matter how much they reassured me I wasn't, feeling like a financial and emotional burden on my family.
Nutrivore Weekly Serving Matrix
An easy-to-use and flexible weekly checklist
to help you maximize nutrient-density.
The Weekly Serving Matrix is very helpful! I've been eating along these lines but this really helps me know where to focus vs. which foods serve a more secondary role. It's super helpful and has taken a lot of worry out of my meal planning. Thanks!

Jan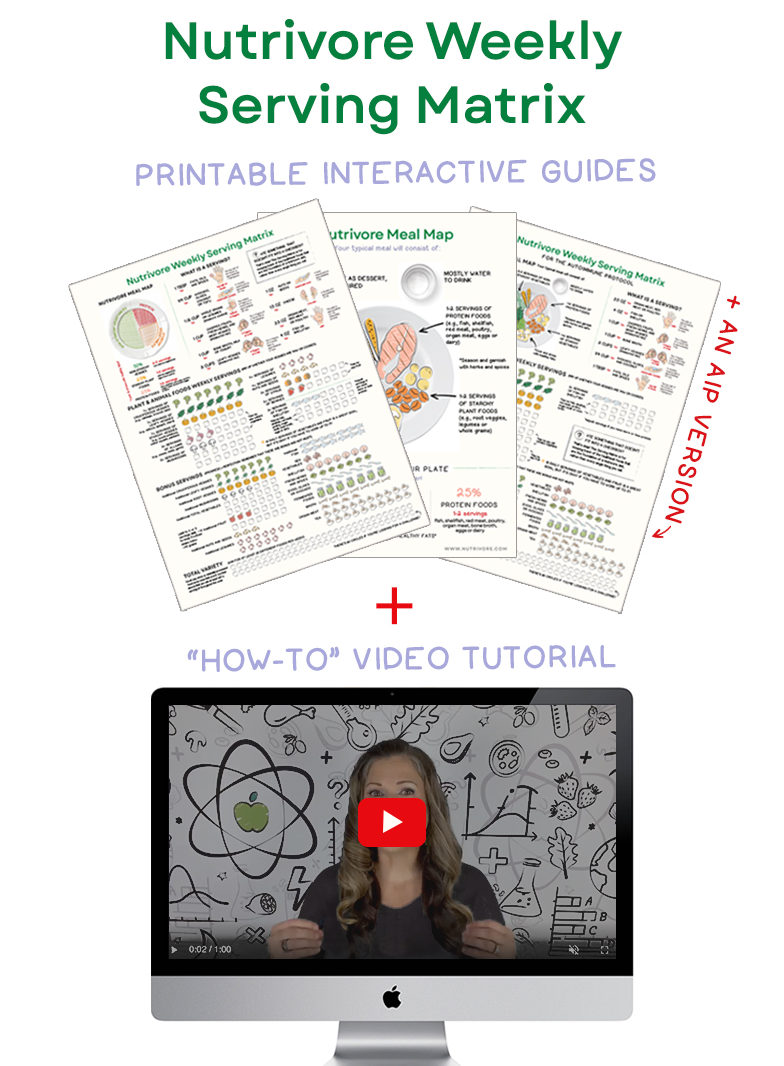 The truth is that I spent those nine years of my life feeling…well, pretty hopeless. It's easy for those spinning in a carousel of medical specialists to assume that it is simply the way their world works. The day I was diagnosed with lupus was the day that, for the first time, I stepped off of that carousel. It was the day that I assumed responsibility for my own health and truly started to heal. It's also the reason why this thus-far depressing blog entry (sorry, mom) is about to get a whole lot happier.
After my release from the hospital in April I had come to a point where the smell, even the sight, of my prescription medications would make me ill. While it never jived with me that someone so young could require so many pills, I took this God-sent signal from my body to mean that there simply had to be another way. Immediately, I began researching holistic ways to treat myself. It didn't take too long before landing on the Autoimmune Protocol.
The Autoimmune Protocol (AIP) is an intense six-week diet aimed at eating only anti-inflammatory food and allowing the gut some well-deserved time to heal itself. As it turns out, all autoimmune diseases are caused from inflammation of the intestines, thus, if you can remove those foods from your diet it's safe to assume the possibility to dramatically improve, maybe even cure, your disease. After you complete the first six weeks of the diet you can begin to slowly reintroduce other foods. At this point your slate is wiped clean and it's easy to identify which foods send you into a "flare-up" and which ones don't. I quickly connected with a nutritionist who specialized in this type of clean-eating and began my life with AIP. I haven't looked back.
I don't mean to say that there isn't a place for modern medicine. There are many people all around the world whose lives are saved daily because of medication. I definitely don't want to sound unappreciative of the doctors and surgeons who took time out of their day to assist me. The prescriptions and treatment they provided me offered some relief. However, they weren't the cure.
I like to refer to grocery shopping as "going to war." Yes, maybe my husband would claim I'm a little dramatic. But I take this weekly task seriously. I do research. I plan vigorously before I go.  I opt for healthy substitutes in my most favorite recipes. I always choose organic and I constantly read labels. I fight off temptation and carefully crafted packaging designed to deceive me. I educate the gentleman behind me when he jokes of all the produce bags overtaking my cart. I return home with nutritional and beautiful fruits and vegetables and responsibly-raised, antibiotic-free meat that I use to fuel and nourish those who mean the most to me. I am some sort of cavewoman bringing home all kinds of wholesome goodness in the way God intended. I take pride in that. We are healthy. I am victorious.
Let me tell you what my life looks like now.
My dad walked me down the aisle this September and I was pain-free. My husband and I enjoyed a week-long honeymoon in Hawaii and I didn't pack a single medication. My now strictly gluten-free, modified AIP diet has allowed me to run, jump and play with my beloved black lab and I don't worry about my hips giving out. I no longer plan my day around medication doses that would leave me foggy and exhausted. I can't remember the last time I was held captive to a bathroom stall. I am more present in moments where I need to be and I can relax comfortably in the times when I should. I am a walking, talking public service announcement for clean eating. I pray I am a catalyst in helping others experience the same freedom AIP has provided for me.
An autoimmune diagnosis is scary. But a diagnosis also means you have the opportunity to make some educated choices. And that, my friends, is power.
Lauren's Hope is offering 10% off your order until 11/20 with Code: PALEOMOM10

Become a Member for FREE!
The Paleo Mom Members' Area is resource central!  
You'll get FREE, unlimited access to dozens of quality resources, including introductory series, downloadable e-books, exclusive recipes, printables, videos and guides!
You may enjoy these related posts:
Hey there! My name is Alissa and I am a blogger and owner of LissMS. I am a …