Pomegranate molasses is an ingredient used in Lebanese cooking. It is made by simmering pomegranate juice until it's concentrated enough to have a syrup consistency. It has a lovely sweet tang that pairs very well with salmon. If you don't live near a Lebanese grocery store, you can buy pomegranate molasses from amazon (much cheaper per bottle if you buy 4).
*NEW* The Gut Health Cookbook!
The Gut Health Cookbook is fantastic! Thank you for researching and creating The Gut Health Cookbook! Such wonderful recipes! I'm so excited to try them all! -Sue
The Gut Health Cookbook puts the 20 Keys to Gut Health into practice with:
180+ recipes featuring 61 gut health superfoods

Gut health food lists

Why's behind each gut health superfood
Get instant digital access for $27.99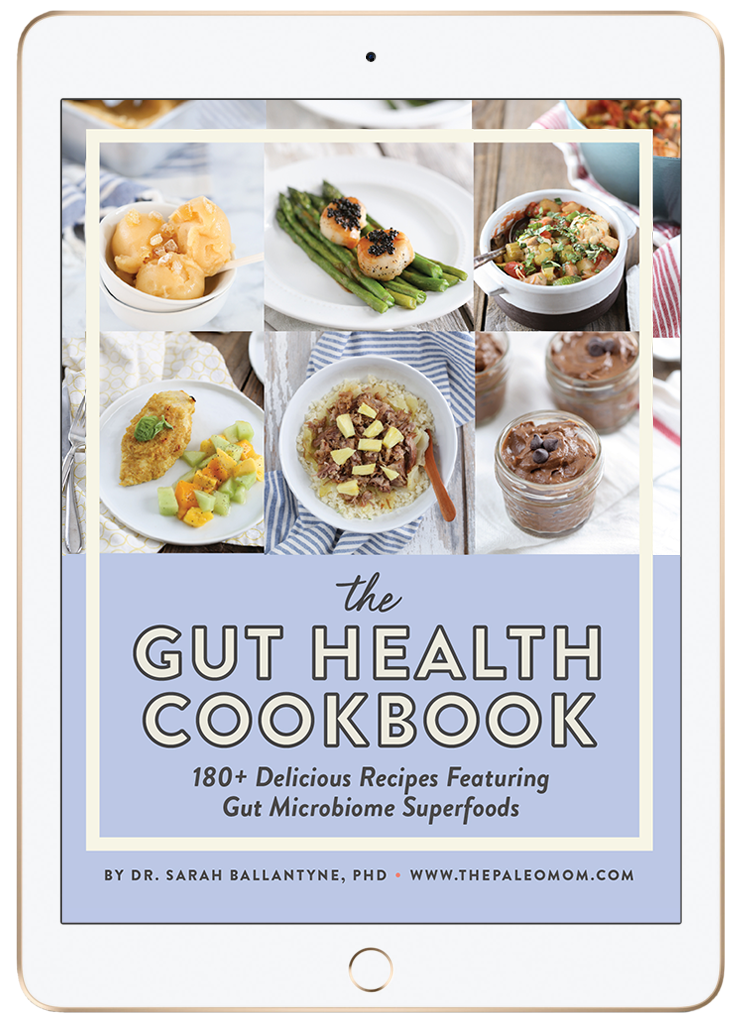 Ingredients:
Combine ginger, garlic, orange juice and 2 Tbsp pomegranate molasses. Pour over salmon and marinate at room temperature for 15 minutes (my preference is to do this in a large ziplock bag because I can just flip the bag over once or twice during the marinating to make sure all of the salmon gets well-seasoned).
Preaheat oven to 425F. Line a baking sheet with parchment paper or tin foil. Lightly grease with coconut oil or other cooking fat (you can skip this step if your salmon has skin).
Remove salmon from marinade and place (skin-side-down if your salmon has skin) on the prepared baking sheet. Discard remaining marinade.
Drizzle a little more pomegranate molasses on the top of each piece of salmon and either spread with a knife, the back of a spoon, your finger or a pastry brush. Careful not to put so much on that it's pouring over the side because any that does will likely burn during cooking (it's not a huge deal if this happens and this is what the parchment/tin foil is for, but it does smell and smoke, which isn't fun). Each salmon fillet will be nicely coated with something like 1-2 tsp of pomegranate molasses.
Bake for 12-15 minutes, until salmon is fully cooked (opaque throughout and segments come apart easily).
Enjoy!