Stacy and Sarah take a moment to check-in and say hello, while Stacy is in full-blown flu recovery mode. Hear the hosts thoughts on the realities of what it means when you get sick, and enjoy a brief teaser for next week's episode!
The Ultimate Support for Your AIP Journey!
Dr. Sarah Ballantyne has delivered an exceptional course and I highly recommend this to anyone looking to improve their health. There is something for everyone. It was extremely helpful and worth the investment. -Marie Schlichtig
The AIP Lecture Series is the ultimate Autoimmune Protocol educational experience! Learn directly from Dr. Sarah!
6-week online course
42 on-demand video lectures
dozens of printable guides
self-discovery exercises and action steps
online forum and guided discussions with Dr. Sarah
personalized support and guidance from Dr. Sarah!
The next session begins September 13th, 2021.
Early-Bird Pricing Ends Sunday! Diversity & Inclusion Scholarships available!
If you enjoy the show, please review it on iTunes!
The Paleo View (TPV), Episode 388: When You Get Sick
Welcome back to The Paleo View listeners! (0:40)
Stacy is using all the energy she has to welcome you to this week's podcast.
Over the last few days, Stacy has been working hard to take care of herself as she recovers from being sick.
She has turned off her phone, taking lots of time to rest and she honestly does feel so much better.
This is now day 3 of what Stacy thinks is the flu.
The Gut Health Guidebook!
The depth of information, practical tips, and the accessible way Dr. Sarah shows me how to apply complex science to improve my health is truly remarkable. -Wendy
The Gut Health Guidebook is the culmination of 6 years of research. This unprecedented deep dive into the gut microbiome delivers:
A new diet for gut health, built from the ground up

Essential gut microbiome superfoods

20 Keys to gut health
Get instant digital access for $27.99
Stacy thinks a recent trip for work is what exposed her to get sick.
The day this episode was recorded was Matt and Stacy's 18 year anniversary.
Sarah has also been fighting off a head and chest cold.
While Sarah knows it is very early on in the cold and flu season, she feels that her family has been very fortunate so far.
The Realities of Getting Sick
When you get sick it doesn't mean you have failed as a human, it just happens.
Eating a really healthy diet and having a really dialed in lifestyle does not actually make you impervious to infectious organisms.
There is this myth that if you do all the things you won't ever get sick.
Sarah thinks that this really ignores the fundamental nature of modern life.
There is no way to have an immune system that is functioning so spectacularly that nothing ever gets through its defenses.
*NEW* The Gut Health Cookbook!
The Gut Health Cookbook is fantastic! Thank you for researching and creating The Gut Health Cookbook! Such wonderful recipes! I'm so excited to try them all! -Sue
The Gut Health Cookbook puts the 20 Keys to Gut Health into practice with:
180+ recipes featuring 61 gut health superfoods

Gut health food lists

Why's behind each gut health superfood
Get instant digital access for $27.99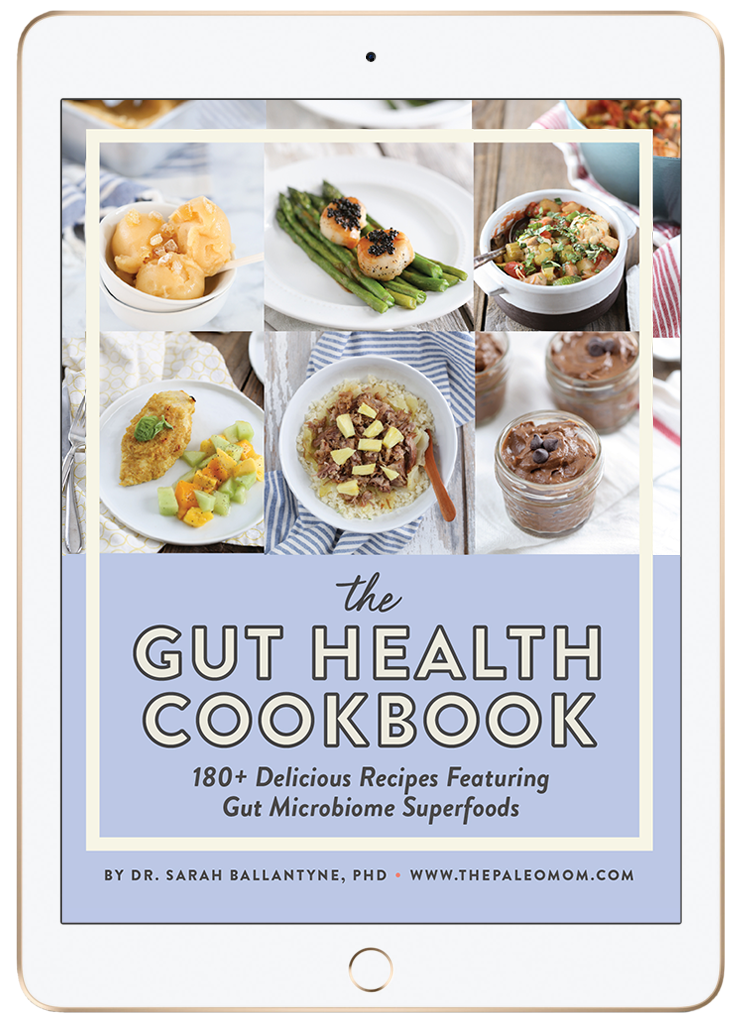 Some are absolutely more resilient than others with regards to infectious organisms, and there is definitely a genetic component here.
When we get sick it is partly related to the mutations in the virus that is going around and where you are in the cycle of the virus spreading.
It also depends on your stress levels and how in sync you are living with the sun and how much sleep you are getting.
Yes, nutrient density matters, but it is like a helmet.
It won't necessarily stop you from falling off your bike, but it will protect you from damage.
Doing all these diet and lifestyle things will definitely add a protective layer when it comes to infectious organisms.
However, it is not wearing full body armor on a bike.
Last Week's Episode
Stacy did want to take a moment to apologize for last week's delayed episode.
We had a snafu with our ability to load the podcast audio file to our host.
There was a delay.
The people who reached out and were concerned about Stacy and Sarah, thank you for being so kind and thoughtful.
The Gut Health Collection!
I love Dr. Sarah's passion for educating people and helping everyone on their journey to wellness!! -Mindy
The Gut Health Guidebook delivers a comprehensive deep dive into gut health, building a new diet for optimal health from the ground up, based on the gut microbiome.
The Gut Health Cookbook puts the scientific framework into practice with 180+ delicious recipes that each center on at least one of 61 gut health superfood ingredients.
Save $10 with the Gut Health Collection!
Closing
And thank you for your patience with Stacy this week while she continues to take the time to heal.
Sarah has already done the research in preparation for next week's show and it is going to be a very interesting one.
We all wish Stacy a speedy recovery!
Apparently it is bad luck to cross both fingers for good luck. You can only cross your fingers on one hand.
Thanks so much listeners!
Stacy and Sarah will be back next week with good info! (12:00)