Every time we talk about the chemicals that are allowed in personal care products (which includes soaps, hair care, lotions, makeup, deodorant, household cleaners, etc) on the podcast, I feel really frustrated. For so many super common chemical ingredients, there's a ton of science showing endocrine disruptor effects and carcinogenic effects. But on this week's The Whole View, Stacy and I get to share good news! A new pair of bills about to pass in California require more transparency and ban the 12 worst offenders completely! We talk about the details of the bills, the effects of the dozen banned chemicals, racial disparities in exposure, and things you can do to advocate for similar legislation where you live!
If you enjoy the show, please review it on iTunes!
The AIP Lecture Series
RETIREMENT SALE! SAVE 70% OFF!
I am loving this AIP course and all the information I am receiving. The amount of work you have put into this is amazing and greatly, GREATLY, appreciated. Thank you so much. Taking this course gives me the knowledge I need to understand why my body is doing what it is doing and reinforces my determination to continue along this dietary path to heal it. Invaluable!

Carmen Maier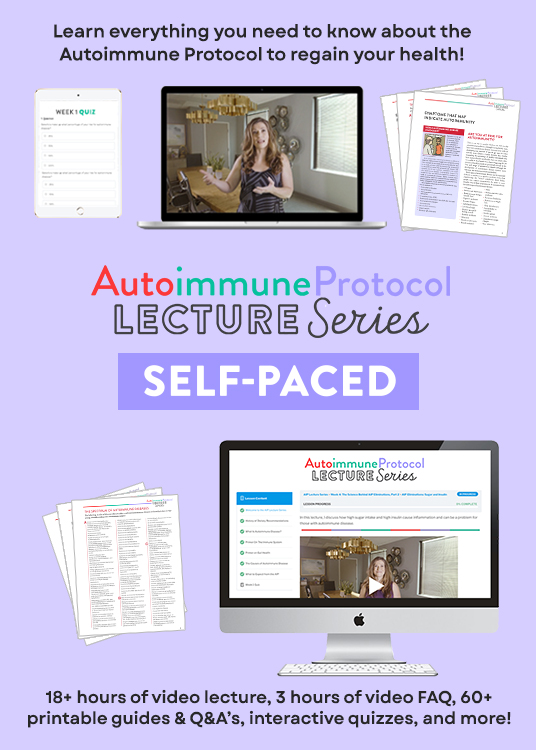 Recommended Reading and Listening
Citations
Parks CG, De Roos AJ. Pesticides, chemical and industrial exposures in relation to systemic lupus erythematosus. Lupus. 2014 May;23(6):527-36. doi: 10.1177/0961203313511680. PMID: 24763537; PMCID: PMC4020505.
Environmental Health and People of Color
*NEW* Nutrivore Weekly Serving Matrix
An easy-to-use and flexible weekly checklist
to help you maximize nutrient-density.
The Weekly Serving Matrix is very helpful! I've been eating along these lines but this really helps me know where to focus vs. which foods serve a more secondary role. It's super helpful and has taken a lot of worry out of my meal planning. Thanks!

Jan