This week on The Whole View Podcast, Stacy and I answer listener Sandy's question about feeling overwhelmed by food restrictions. We first discuss some of the mindset challenges of elimination diets like the Autoimmune Protocol and share some strategies to shift to a more positive outlook, as well as food exploration, recipe resources, treat mentality, simple swaps, knowing your currency, and the learning curve aspect. We also discuss some of the common pitfalls that lead to too many unnecessary restrictions to help you avoid them!
If you enjoy the show, please review it on iTunes!
LAST CHANCE to get the AIP Lecture Series!
RETIREMENT SALE! SAVE 70% OFF!
This online course is being retired on January 31st!
I am loving this AIP course and all the information I am receiving. The amount of work you have put into this is amazing and greatly, GREATLY, appreciated. Thank you so much. Taking this course gives me the knowledge I need to understand why my body is doing what it is doing and reinforces my determination to continue along this dietary path to heal it. Invaluable!

Carmen Maier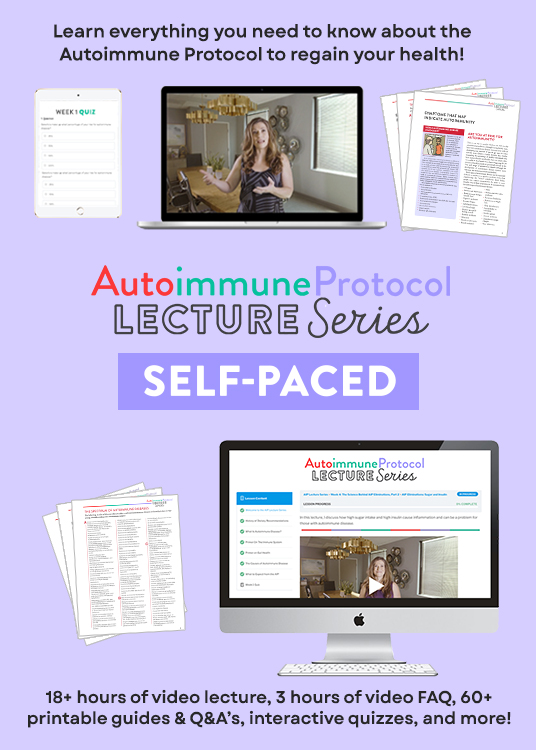 Recommended Reading and Listening
The

Autoimmune Protocol

e-book.

The Paleo Approach Cookbook

by Sarah Ballantyne, PhD

The Healing Kitchen

by Sarah Ballantyne, Ph.D. and Alaena Haber, OTC

Paleo Principles

by Sarah Ballantyne, PhD

The Autoimmune Paleo Cookbook

by Mickey Trescott, NTP

Alternative Autoimmune Cookbook

by Angie Alt, NTC

Nourish

by Rachael Bryant

The Autoimmune Protocol Comfort Food Cookbook

by Michelle Hoover

The Autoimmune Protocol Meal Prep Cookbook

by Sophie Van Tiggelen

Simple French Paleo

by Sophie Van Tiggelen

He Won't Know It's Paleo

by Bre'anna Emmitt

Autoimmune Protocol Made Simple Cookbook

by Sophie Van Tiggelen

The Nutrient-Dense Kitchen

by Mickey Trescott, NTP

The Autoimmune Protocol Reintroduction Cookbook

by Kate Jay, FNTP

AIP Indian Fusion

by Indira Pulliadath, MS, NTP

The Paleo Gut Healing Cookbook

by Alison Marras, NTP