I get asked all the time about what supplements to take on the Autoimmune Protocol; but here's the cool thing: the AIP is a set of best practices for diet and lifestyle framed in the context of chronic and autoimmune illnesses, and is devised such that there's no one supplement that is needed across the board. That's why there's no AIP supplement line! The AIP diet is varied, whole-food-based and nutrient-sufficient, providing ample and synergistic quantities of every essential and non-essential nutrient. And, the AIP lifestyle priorities help to regulate the immune system, improve gut health, and regulate hormones. But, just because there isn't an AIP supplement protocol doesn't mean that there isn't a place for informed and judicious use of supplements in conjunction with the AIP.
So, in this week's episode of The Whole View podcast, Stacy and I answer our listener Sarah's question with a detailed discussion four categories of supplements to consult with your doctor about while following the AIP:
LAST CHANCE to get the AIP Lecture Series!
RETIREMENT SALE! SAVE 70% OFF!
This online course is being retired on January 31st!
I am loving this AIP course and all the information I am receiving. The amount of work you have put into this is amazing and greatly, GREATLY, appreciated. Thank you so much. Taking this course gives me the knowledge I need to understand why my body is doing what it is doing and reinforces my determination to continue along this dietary path to heal it. Invaluable!

Carmen Maier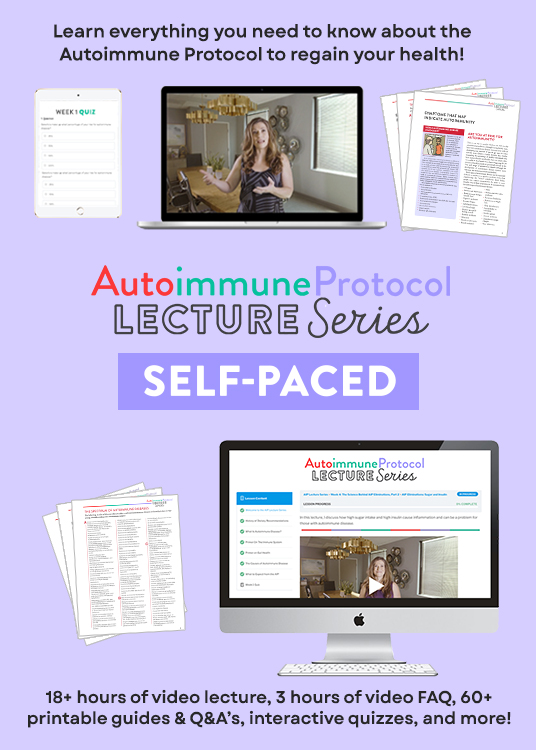 supplements that make up for something that was in food in "the olden days" but that is diminished or absent in the modern food supply (like dirt and soil-based organisms);
food-based supplements for nutrient-dense superfoods that someone might have barriers to getting enough of (like liver pills or veggie powders);
targeted supplementation for severe nutrient deficiency (like taking vitamin D in response to test results showing low vitamin D levels); and
targeted supplementation for other purposes (like taking digestive support supplements or adaptogens, again in response to testing).
If you enjoy the show, please review it on iTunes!
Recommended Reading and Listening
*NEW* Nutrivore Weekly Serving Matrix
An easy-to-use and flexible weekly checklist
to help you maximize nutrient-density.
The Weekly Serving Matrix is very helpful! I've been eating along these lines but this really helps me know where to focus vs. which foods serve a more secondary role. It's super helpful and has taken a lot of worry out of my meal planning. Thanks!

Jan