In this week's episode, Stacy takes the reigns as resident science nerd, unmasking the dark side of conventional cleaning products, the disturbing ways they impact your health, and how you can easily transition your home to use non-toxic cleaning supples.
Click here to listen in iTunes
The AIP Lecture Series
RETIREMENT SALE! SAVE 70% OFF!
I am loving this AIP course and all the information I am receiving. The amount of work you have put into this is amazing and greatly, GREATLY, appreciated. Thank you so much. Taking this course gives me the knowledge I need to understand why my body is doing what it is doing and reinforces my determination to continue along this dietary path to heal it. Invaluable!

Carmen Maier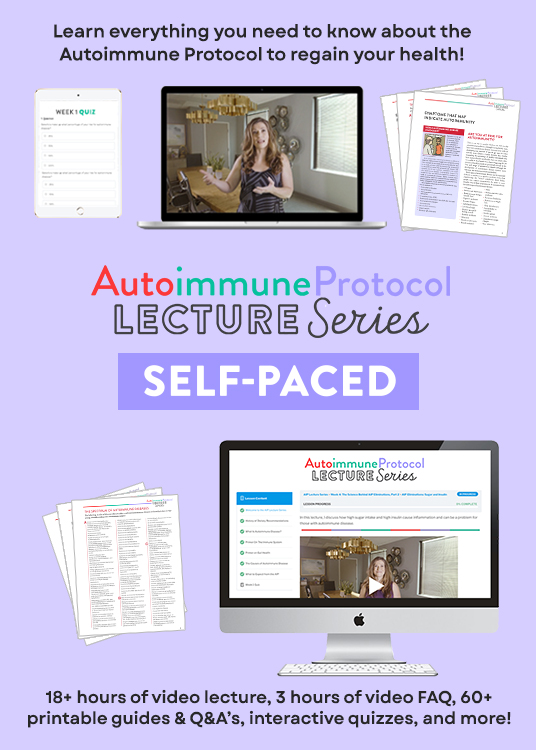 or download and listen by clicking the PodBean Player below
If you enjoy the show, please review it in iTunes!
The Paleo View (TPV), Episode 331: Safer Cleaning Products
(0:00) Intro

(0:40) News and views

Stacy is taking the reigns on today's show! She recently researched and wrote an extensive blog post, 7 Safer Cleaning Swaps, and is going to share what she found out.
Stacy's husband, Matt, is a clean freak and was obsessed with Clorox Wipes until she showed him the research.
Swapping out your cleaning products can be an overwhelming task, but Stacy and Sarah are here to help you ease into what works for you.

A huge thanks to our show sponsor, Branch Basics. Stacy has fallen in love with their safer cleaning products!

Their "Starter Kit + Oxygen Boost" makes it so easy to clean up your cleaning products! Once you receive the non-toxic concentrate and cleaning bottles, you simply add specific amounts of concentrate and water to each bottle to create multiple cleaning formulas!
The Environmental Works Group recommends Branch Basics, rating their concentrate and Oxygen Boost "A" (which is the highest rating)!
Get 15% off Branch Basics' Starter Kit at https://branchbasics.com/partner/paleoview with code PALEOVIEW15.

(11:16) The Problem with Conventional Cleaning Products

Like personal care products, cleaning products are also full of known carcinogenic and other toxic chemicals that haven't been tested.
85,000 chemicals in existence and only 200 have been tested by the EPA.
The use the EWG app to scan a product barcode and find out its safety rating.
Ingredients to avoid:

1,4-Dioxane

2-Bromo-2-Nitropropane-1,3-Diol

Alkyl Dimethyl Benzyl Ammonium Chloride

Alkyl Dimethyl Ethylbenzyl Ammonium Chloride

Borax and boric acid

Didecyldimethylammonium Chloride

Diethanolamine

Diethylene glycol monomethyl ether (DEGME)

Dioctyl Dimethyl Ammonium Chloride

Distearyldimonium Chloride

DMDM Hydantoin

Ethanolamine

Formaldehyde

Fragrance**

Glutaral

Monoethanolamine Citrate

Quaternary ammonium compounds, or "quats," such as benzalkonium chloride (Quaternium-15 and Quaternium-24)

Bleach and ammonia (sodium hypochlorite, sodium hypochlorite, and ammonium hydroxide)

Sulfuric Acid

Triethanolamine

volatile organic compounds, or VOCs – include pine- and citrus-based cleaners contain a class of volatile chemicals known as terpenes which combine with ozone to form formaldehyde

** this is the one I so commonly see in products marked as "natural" or cleaner ingredients – it's also where brands hide ingredients under the "fragrance loophole"

These products emit fumes, which we then breath in and that can have a profound effect on your health.
Avoid products that include "fragrance" in the ingredients list! This is where unregulated, health-harming chemicals can be hiding.
We also want to be mindful of not killing our good bacteria with anti-bacterial wipes. Stacy and Matt compromised with Seventh Generation Disinfecting Wipes because they still kill flu bacteria, but via a plant-based method.
Be weary of products scented with essential oils. Just because it's "natural" doesn't mean its been studied and is safe.

Get your questions in! We want to hear from you! And there's no end to questions we can answer and topics we can address!
Engage on social media! That's how we get feedback!
Thank you for listening
*NEW* Nutrivore Weekly Serving Matrix
An easy-to-use and flexible weekly checklist
to help you maximize nutrient-density.
The Weekly Serving Matrix is very helpful! I've been eating along these lines but this really helps me know where to focus vs. which foods serve a more secondary role. It's super helpful and has taken a lot of worry out of my meal planning. Thanks!

Jan