On this episode of The Whole View, Stacy and I discuss a very hot topic among many people in the autoimmune community, but also with chronic illness and food sensitivities as a whole: elimination diets and reintroductions! Aside from being one of the phases of the Autoimmune Protocol (Phase 2 – Reintroductions), the protocol for elimination and reintroduction diets has a much wider applicability and is the gold standard for determining true food intolerances. Many practitioners ranging from the very conventional to the functional and holistic medicine practitioners use this structure. In this episode, I walk through how an elimination and reintroduction protocol is accomplished, and I give some science as to why they work so well with less error margins than the current testing procedures.
It is often easier said than done to enter into an elimination and reintroduction protocol, so Stacy and I spend some time discussing our first hand experience, and the mental aspects of reintroduction. Stacy discusses some of her personal reactions, and how she can tell there are peppers in a dish, even after she's been assured they are not! And I reflect on how I went through a phase of not reintroducing foods for a while, only to realize that it was time to try again (and thank goodness I did, because: COFFEE!!!). If you are ready for reintroductions on the AIP, or if you are struggling with how to determine a food intolerance, this is a good place for you to start.
Nutrivore Weekly Serving Matrix
An easy-to-use and flexible weekly checklist
to help you maximize nutrient-density.
The Weekly Serving Matrix is very helpful! I've been eating along these lines but this really helps me know where to focus vs. which foods serve a more secondary role. It's super helpful and has taken a lot of worry out of my meal planning. Thanks!

Jan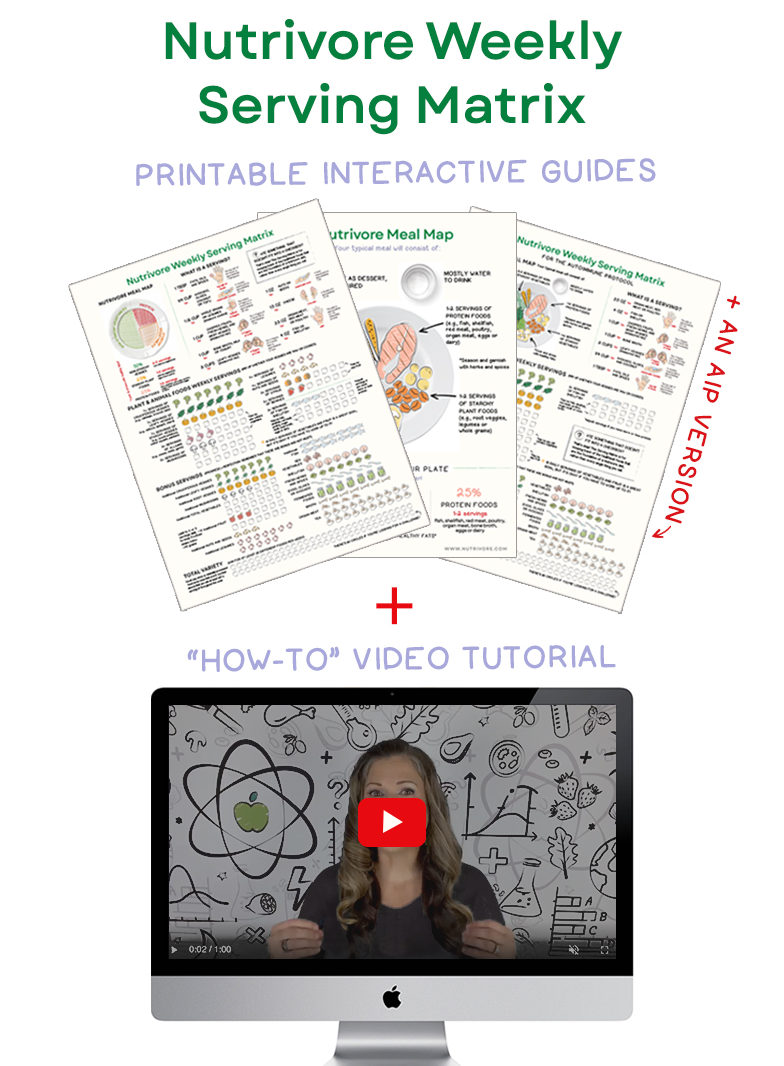 If you enjoy the show, please review it on iTunes!
Listener Question from Meghan
What foods have you been able to reintroduce, Dr. Sarah? What are common foods that people succeed with? I've been working with the AIP for a little over a year now, and the autoimmune community is so supportive and helpful with eliminations. Now that my doctor and I have made so much progress with correcting my dysbiosis, its almost time for starting the reintroduction process, but nobody talks very much about this part! For me, I've been reacting to almost everything that's removed on the AIP and the crucifer and umbellifer families besides. I want to know what others have successfully reintroduced but there's not much talk about that online. I know that every body is different, but how much can someone expect to expand their diet? What are the areas that most people have trouble in? Reintroduction feels lonely right now! – Meghan
Key Takeaways
The Autoimmune Protocol has three phases: Elimination, Reintroduction and Maintenance
The Reintroduction Phase is your opportunity to truly understand your body's needs, identify your trigger foods, and hone in on your personalized optimal diet for lifelong health.
An elimination and challenge protocol (which is really what we're talking about when we say "reintroductions") is the gold standard for identifying food allergies, sensitivities, and intolerances. So, this isn't just helpful for people on the AIP, but everyone is looking to understand better how their bodies are reacting to foods.
Elimination and challenge protocols work because protective mechanisms are downregulated during elimination, so a reaction is exaggerated upon challenge, making it easier to identify personally problematic foods.
As long as you see improvements in your health thanks to your diet and lifestyle changes, you can try some reintroductions after three to four weeks of elimination.
If you aren't seeing improvements after following the Elimination Phase of the AIP for 3 to 4 months, consider working with an AIP Certified Coach or functional medicine doctor to troubleshoot, rather than continuing to bang your head against the proverbial wall.
It's important to be methodical with reintroductions. It's best to keep a food and symptom journal throughout the process.
More details on the reintroduction procedure and symptoms to watch for can also be found in The Reintroduction Phase of the AIP
There are four stages to reintroductions on the AIP based on both the nutritional value of the eliminated food and the likelihood of a reaction. However, an argument can also be made for reintroducing the foods you miss the most!
Don't be afraid of reintroductions! While a successful reintroduction is fantastic, even a failed one gives you valuable knowledge to help you navigate future situations!
Recommended Reading and Listening

Become a Member for FREE!
The Paleo Mom Members' Area is resource central!  
You'll get FREE, unlimited access to dozens of quality resources, including introductory series, downloadable e-books, exclusive recipes, printables, videos and guides!
You may enjoy these related posts:
One aspect of the Autoimmune Protocol that causes a lot of confusion is herbs …