In episode 489 of The Whole View podcast, Stacy and Dr. Sarah talk about how to focus New Year's Resolutions on health-related goals that are independent of weight loss goals, diet culture and the guilt cycle.
If you enjoy the show, please review it on iTunes
Listener Question from Beth
Hello to Stacy and Dr. Sarah! Thank you for all the work you both do to help keep us all in the know! I really was touched by your recent shows on weight issues. I'm not 100% there yet but I have heard you! I would love a show that is a 'How-to' on this topic. If our physical size is no longer a good marker, what should the goal be? How do we REALLY find a way to not care about our weight? I just feel very overwhelmed and confused after so many years of using my weight as my goal post, the one that keeps moving on me! I love the whole idea of body positivity, but how do we even start that process? What are your priorities when focusing on your health and not your weight? I think I just need to know what this looks like day to day. – Beth
Key Takeaways
Dr. Sarah and Stacy love this question because there's so much predatory marketing this time of year! As discussed at length in episodes 471 &472, science shows that losing weight does not make you healthier. Healthy habits make you healthier!
The most popular New Year's resolutions for 2021 were: exercising more and improving fitness (50% of participants), losing weight (48%), saving money (44%), and eating healthier (39%).
Studies show what we know intuitively: most New Year's resolutions fail. In a 1989 study, 33% of participants gave up on their resolutions after one week, 45% gave up after one month, 57% gave up after three months, 60% gave up after six months, and 81% had given up by two years.
So, we want to encourage our listeners to think about New Year's resolutions a bit differently: habit centered, rather than goal centered, and with a healthy mindset!
Healthy mindset starts with positive self talk, viewing our choices through the lens of nurturing and looking after ourselves. Dr. Sarah finds that taking pride in each individual good choice (rather than achieving milestones towards a goal) is super helpful.
The main priorities for Dr. Sarah and Stacy are: eating breakfast, eating a Nutrivore diet that includes tons of veggies, living an active lifestyle, getting enough sleep on a consistent basis, managing stress, and self-care.
Join Our Patreon!
Come join our Patreon family! You can support The Whole View podcast and hear what Dr. Sarah and Stacy really think about this topic in this week's exclusive and uncensored behind-the-scenes bonus audio. We love connecting with our Patrons! It's a direct line to submit your questions for upcoming shows, plus you also get access to some cool features like weekly bonus episodes and quarterly live video Q&As where you can ask Dr. Sarah and Stacy anything!
Recommended Reading and Listening
Citations
Eric R. Spangenberg, Ioannis Kareklas, Berna Devezer, David E. Sprott. A meta-analytic synthesis of the question-behavior effect. J Consumer Psychology. 2015 Jul; 26(3):441-458 doi: 10.1016/j.jcps.2015.12.004
Larkin M. Have a healthy new year: easy to say, hard to do. Lancet. 2000 Dec 23-30;356(9248):2164. doi: 10.1016/S0140-6736(05)67248-0.
Norcross JC, Ratzin AC, Payne D. Ringing in the new year: the change processes and reported outcomes of resolutions. Addict Behav. 1989;14(2):205-12. doi: 10.1016/0306-4603(89)90050-6.
Norcross JC, Mrykalo MS, Blagys MD. Auld lang syne: success predictors, change processes, and self-reported outcomes of New Year's resolvers and nonresolvers. J Clin Psychol. 2002 Apr;58(4):397-405. doi: 10.1002/jclp.1151.
Oscarsson M, Carlbring P, Andersson G, Rozental A. A large-scale experiment on New Year's resolutions: Approach-oriented goals are more successful than avoidance-oriented goals. PLoS One. 2020 Dec 9;15(12):e0234097. doi: 10.1371/journal.pone.0234097.
*NEW* Guide to Nutrivore E-Book!
Nutrivore is the simple yet revolutionary concept:
Choose foods to meet the body's nutritional needs!
I'm very excited about the Nutrivore information! Thank you so much for all your research and hard work you put into this kind of information for all of us to use!! -Debbie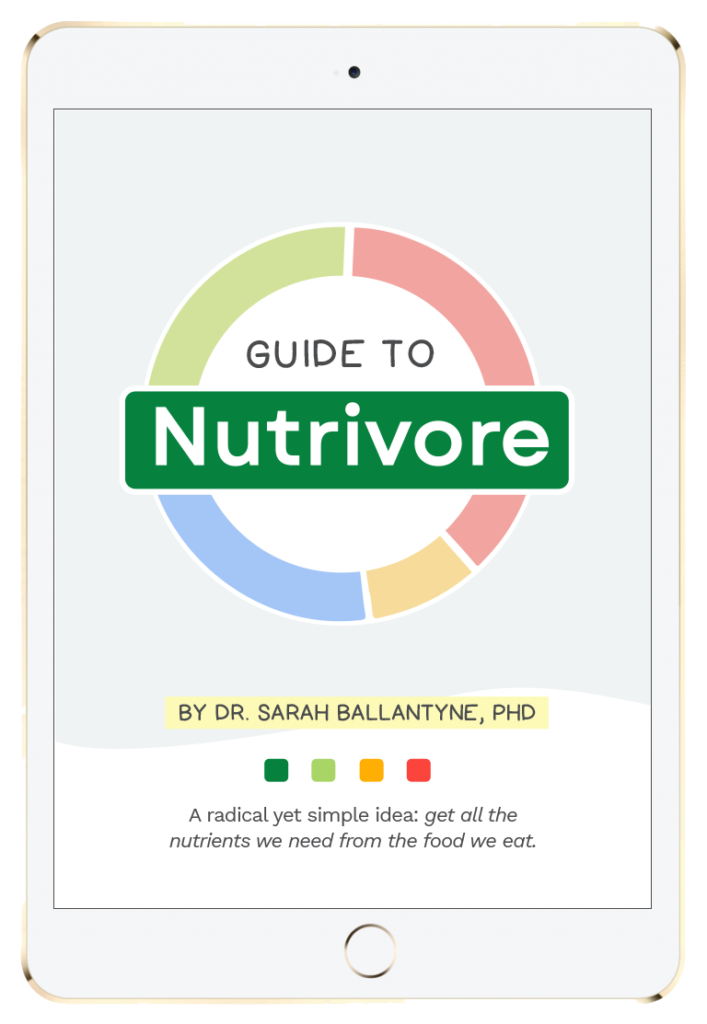 Norcross JC, Vangarelli DJ. The resolution solution: longitudinal examination of New Year's change attempts. J Subst Abuse. 1988-1989;1(2):127-34. doi: 10.1016/s0899-3289(88)80016-6. PMID: 2980864.
Yougov US_New_Years_Resolutions_2020.xlsx – Group