We received an awesome listener question about the possible link between Irritable Bowel Syndrome and osteoporosis. So on this weeks' episode of The Whole View, Stacy and I discussed what a diagnosis of IBS entails and means (and how it's different from IBD), the causes of IBS, clinical trials using therapeutic diets for IBS, the links between gut health and bone health, and foods and lifestyle choices that help address both!
If you enjoy the show, please review it on iTunes!
Nutrivore Weekly Serving Matrix
An easy-to-use and flexible weekly checklist
to help you maximize nutrient-density.
The Weekly Serving Matrix is very helpful! I've been eating along these lines but this really helps me know where to focus vs. which foods serve a more secondary role. It's super helpful and has taken a lot of worry out of my meal planning. Thanks!

Jan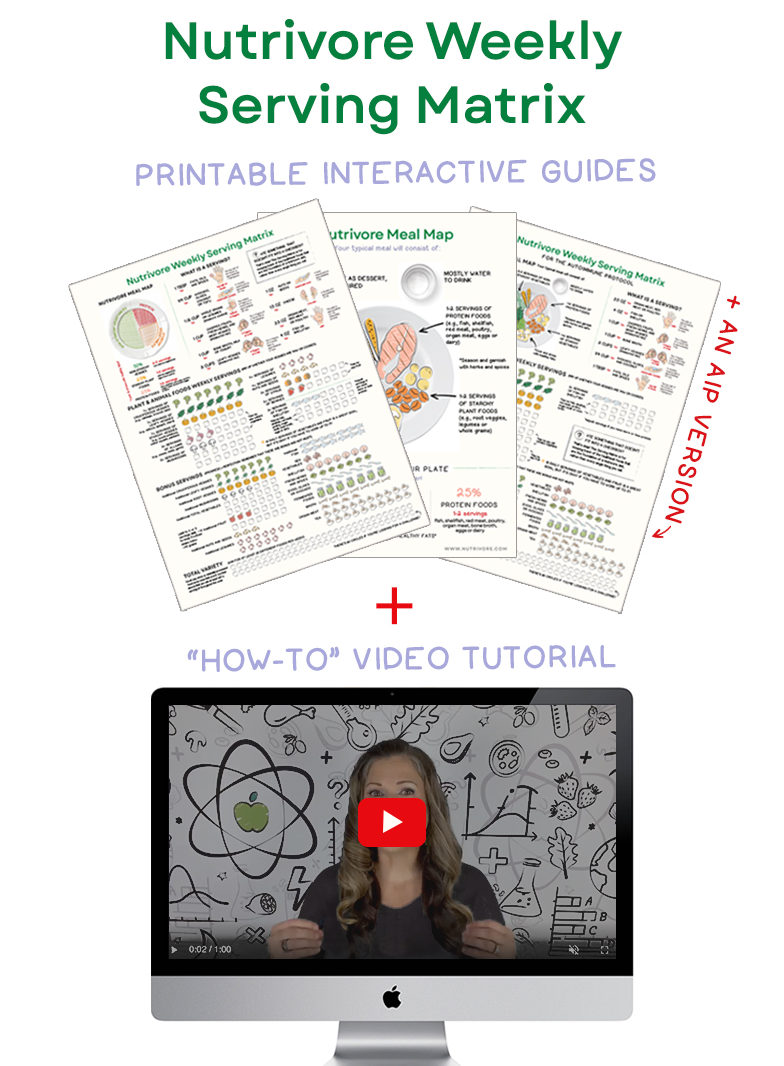 Recommended Reading and Listening
Citations
Chey WD, Kurlander J, Eswaran S. Irritable bowel syndrome: a clinical review. JAMA. 2015 Mar 3;313(9):949-58. doi: 10.1001/jama.2015.0954. PMID: 25734736.
Hadjivasilis A, Tsioutis C, Michalinos A, Ntourakis D, Christodoulou DK, Agouridis AP. New insights into irritable bowel syndrome: from pathophysiology to treatment. Ann Gastroenterol. 2019 Nov-Dec;32(6):554-564. doi: 10.20524/aog.2019.0428. Epub 2019 Oct 22. PMID: 31700231; PMCID: PMC6826071.
Menees S, Chey W. The gut microbiome and irritable bowel syndrome. F1000Res. 2018 Jul 9;7:F1000 Faculty Rev-1029. doi: 10.12688/f1000research.14592.1. PMID: 30026921; PMCID: PMC6039952.
Bennet SMP, Böhn L, Störsrud S, Liljebo T, Collin L, Lindfors P, Törnblom H, Öhman L, Simrén M. Multivariate modelling of faecal bacterial profiles of patients with IBS predicts responsiveness to a diet low in FODMAPs. Gut. 2018 May;67(5):872-881. doi: 10.1136/gutjnl-2016-313128. Epub 2017 Apr 17. PMID: 28416515.

Become a Member for FREE!
The Paleo Mom Members' Area is resource central!  
You'll get FREE, unlimited access to dozens of quality resources, including introductory series, downloadable e-books, exclusive recipes, printables, videos and guides!
You may enjoy these related posts:
In this week's episode of The Whole View, Stacy and I share recent science …