On this week's show, Stacy and Sarah talk about how to heal and connect as a family in frugal and impactful ways. The hosts share ideas and suggestions, point listeners to their favorite activities, and discuss the science behind connectivity and rest. Enjoy!
The Ultimate Support for Your AIP Journey!
Dr. Sarah Ballantyne has delivered an exceptional course and I highly recommend this to anyone looking to improve their health. There is something for everyone. It was extremely helpful and worth the investment. -Marie Schlichtig
The AIP Lecture Series is the ultimate Autoimmune Protocol educational experience! Learn directly from Dr. Sarah!
6-week online course
42 on-demand video lectures
dozens of printable guides
self-discovery exercises and action steps
online forum and guided discussions with Dr. Sarah
personalized support and guidance from Dr. Sarah!
The next session begins September 13th, 2021.
Early-Bird Pricing Ends Sunday! Diversity & Inclusion Scholarships available!
If you enjoy the show, please review it on iTunes!
The Paleo View (TPV), Episode 384: Healthy Strategies for the Whole Family
Hello listeners and welcome back to The Paleo View! (0:40)
It's the last Paleo View episode of 2019.
This episode is being pre-recorded so that Stacy and Sarah can take some time off for the holidays.
Episode 384 was inspired by another great listener question.
Sarah is most looking forward to family time during the kids' time off from school.
The Gut Health Guidebook!
The depth of information, practical tips, and the accessible way Dr. Sarah shows me how to apply complex science to improve my health is truly remarkable. -Wendy
The Gut Health Guidebook is the culmination of 6 years of research. This unprecedented deep dive into the gut microbiome delivers:
A new diet for gut health, built from the ground up

Essential gut microbiome superfoods

20 Keys to gut health
Get instant digital access for $27.99
They planned family adventures for their time together.
On a related cord, on this week's episode, Stacy and Sarah will be discussing how to not just spend time together as a family, but how to also heal together as a family.
This is something very near and dear to Stacy's heart, as they have started to purchase experiences instead of gifts.
The Question
This is a question from an international listener from London. (3:48)
Hey ladies! So I listen to your show every week in the car and I think you are FABULOUS. Real, authentic, informative and on point.
When the whole family has issues and can not afford to see a functional medicine specialist, what whole family strategies would you recommend?
My husband has fibromyalgia and ME, my daughter has autism, vitiligo, and psoriasis; and I have Coeliac and perimenopause
We all have liquid d3, probiotics on rotation, sauerkraut, kefir. Prioritize sleep and relax. We love yoga, walking, breathing and stretching.
My daughter and I love the gym and we all could live in thermal waters forever. My husband and I steam every week.
*NEW* The Gut Health Cookbook!
The Gut Health Cookbook is fantastic! Thank you for researching and creating The Gut Health Cookbook! Such wonderful recipes! I'm so excited to try them all! -Sue
The Gut Health Cookbook puts the 20 Keys to Gut Health into practice with:
180+ recipes featuring 61 gut health superfoods

Gut health food lists

Why's behind each gut health superfood
Get instant digital access for $27.99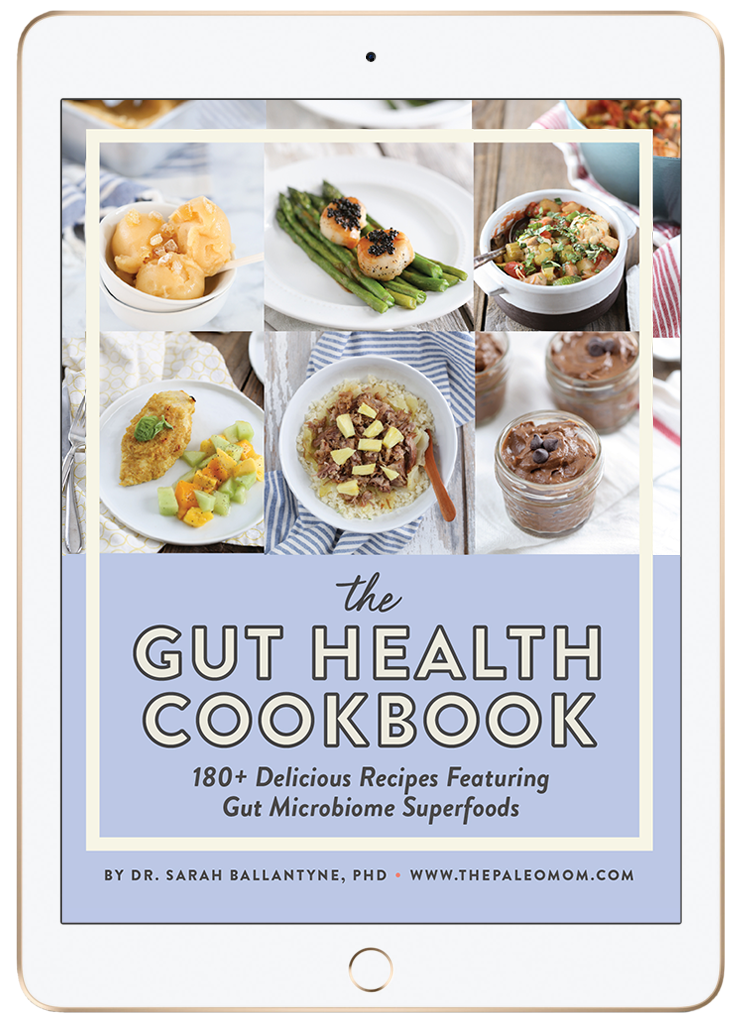 What else can we do?
Sarah loves this family! They are doing so many awesome things already.
Stacy is excited about the opportunity to talk about some of the things that you might not necessarily think of as healing activities but are.
Mark Sisson was on the show years ago to talk about the role of play and social bonding.
A lot of the things that Stacy and Sarah are going to talk about are similar concepts because togetherness, social interaction and time outside are all healing activities.
One of the things that Sarah wants to mention is that this listener's question paints a neat picture where the entire family is playing an active part in their healing journey.
It becomes a challenge of what affordable healing activities can we do together.
Sarah finds this question and this family to be inspirational.
It is easy to tackle your health goals when the entire family is on board.
Ideas & Suggestions
One of the first ideas that Sarah came up with was to plant a vegetable garden. (8:50)
If you don't have a lot of outdoor space, there are a lot of vegetables and fresh herbs that grow really well in containers.
The Gut Health Collection!
I love Dr. Sarah's passion for educating people and helping everyone on their journey to wellness!! -Mindy
The Gut Health Guidebook delivers a comprehensive deep dive into gut health, building a new diet for optimal health from the ground up, based on the gut microbiome.
The Gut Health Cookbook puts the scientific framework into practice with 180+ delicious recipes that each center on at least one of 61 gut health superfood ingredients.
Save $10 with the Gut Health Collection!
You have to be mindful of adding nutrients to the soil, but there are a lot of great resources to help with that piece.
Make sure that the containers also get enough water.
There are lots of great benefits to gardening.
For instance, you get to control the quality of the soil, you get fresh organic produce, you get the probiotics from the soil, and you also get exposed to the various sensory experiences of nature.
When you are doing this as a family activity, it is not that much work because you are dividing the responsibilities.
Time will need to go into weeding, watering, planting and harvesting, and time amending soil.
It is very affordable when you are growing from seeds.
There is a podcast episode that covers plants as purifiers, which you can find here.
Another one that Stacy suggested is getting outside.
Think about your planning from the perspective of a tourist.
If you were visiting your area what would you do? Where would you go? Google the sites and parks in your area.
Geocaching is another activity that Stacy highly recommends.
The Autoimmune Protocol E-Book!
One of my FAVORITE books I used to start the transition to AIP!!! It's so helpful! I printed mine out and spiral bound it. Thank you for this! -Rita Davidson
The Autoimmune Protocol e-book is your up-to-date guide to jump-start your healing with the AIP today.
3oo+ pages of quick-access information on the AIP

4 weeks of meal plans with shopping lists

over 80 family-friendly recipes, all 100% AIP!
Get instant digital access for $19.99
It is basically like a treasure hunt.
Sarah use to geocache before cell phones were a thing.
Bird watching is another great activity that Sarah enjoyed doing as a child.
When you are out and about looking around, it is fascinating to take in your surroundings.
These outings provide learning opportunities.
Exploring Farmer's Markets in another great activity. (21:47)
Stacy has always found great deals at farmer's markets and are a great place to get nutritional goodness.
Sarah loves that farmer's markets allow her to check out new foods that she wouldn't necessarily find at her grocery store.
Seasonal farmer's markets allow you to find new and interesting things to try.
Chop Jr. Jr.
Matt and Stacy have encouraged the kids to learn about nutrient density and food prep through their Chop Jr. Jr. activity.
They have expanded outside of the family and involved the whole neighborhood with this activity.
Stacy has an amazing kitchen set up that allows for more people to work in the kitchen.
The last time they hosted this, they had four teams of two.
This activity has allowed Stacy and Matt to encourage the boys to try new things because there is always something weird in a Chop basket.
The kids are learning cooking, flavors, independence, autonomy, and walk away so proud of their work.
The Paleo Template E-Book!
Thank you, for pushing the best, most relevant research, for making it relatable to anyone who does not speak the language of scientific research. -Meghan
The Paleo Template e-book is your accessible, practical-focused Paleo diet and lifestyle resource.
250+ pages of quick-access information on the Paleo template

4 weeks of meal plans with shopping lists

over 90 family-friendly recipes!
Get instant digital access for $19.99
They usually give the teams 30 minutes and extend it by another 10 to 15 minutes.
Stacy does have a video explaining how this all works in you are interested.
More Ideas
One of Sarah's other ideas is to take family time and do something that is meditative, like coloring. (30:49)
There are a lot of craft projects that involve coloring, like 3D puzzle sets.
Jigsaw puzzles are very meditative.
There are a lot of studies that show these types of activities changes the blood flow in our brain in a way that is similar to mindfulness practice.
Taking our focus away from a screen and turning that time into something intimately social is hugely beneficial.
Nurturing our close family relationships is very rewarding on many levels.
Stacy's family also plays a ton of board games.
The neighborhood kids now come over to play the actual Pokemon card game.
Stacy cannot recommend a digital detox for both yourself and the family enough.
The creativity, kindness, and thoughtfulness that she sees in her kids when they are off screens is huge.
The boardgame Coup is a very popular one in their household.
Wesley really likes the game called Superfight.
Stacy has a group of women that she plays MahJong with.
Sunday afternoons are Sarah's family board game time, and they opt to play Settlers of Catan.
Carcassonne and Apples to Apples are two other popular games in Sarah's household.
These aren't digital-free activities, but Stacy's family also really loves to do Pokemon Go and Wizarding together.
Finding mini-library boxes has been another fun find through outdoor exploring.
Day trips are another great activity, and can often be planned using very little money.
One of the things that Sarah's family is trying to do right now, is to take even half a day to drive somewhere that is outside of there usual stops.
They often look for day trips that include outdoor activities.
Rest Time
Staying wanted to note that part of healing is resting and making time for human touch. (50:29)
Getting out and doing things is great, but there is something to be said for listening to your body and getting rest when you need that or human touch.
Stacy's family takes intentional family snuggle pile days.
Holding hands, laying together on a sofa, or taking a nap with the dog can all be restorative and healing activities.
Getting a dog was very healing for Stacy's family.
Closing Thoughts
There is a lot of research showing mental health benefits to learning a new skill. (53:06)
Research shows that it can help to maintain mental acuity through age, and it reduces inflammation in the brain.
Learning a new language or an instrument are two great activities for this.
Sarah thinks that these would be awesome family activities to do together.
Russ's family uses an app to use a new language together called DuoLingo.
Stacy suggests utilizing these show notes as you are thinking of your goals for the new year ahead.
Please be sure to leave a review so that others can find this show and utilize the resources that are shared here.
Stacy and Sarah so appreciate your support!
And please be sure to connect on social media as well, as Stacy and Sarah love to connect with listeners.
Thanks for listening – we will be back next year! (58:05)