This week on The Whole View, Stacy and I rev up the outrage machine to do a deep dive into PFAS, aka "forever chemicals." We cover what they are (a group of 9,000 man-made chemicals of which the best known are PFOA, PFOS, and PTFE), why our bodies can't detox them, the many ways we get exposed, the well-established health detriments and mechanisms thereof, their environmental impacts, their super dodgy history, and where we are currently in terms of regulation. We also share some action-items like how to reduce your personal exposure and advocate for their use to be banned.
If you enjoy the show, please review it on iTunes
Recommended Reading and Listening
Nutrivore Weekly Serving Matrix
An easy-to-use and flexible weekly checklist
to help you maximize nutrient-density.
The Weekly Serving Matrix is very helpful! I've been eating along these lines but this really helps me know where to focus vs. which foods serve a more secondary role. It's super helpful and has taken a lot of worry out of my meal planning. Thanks!

Jan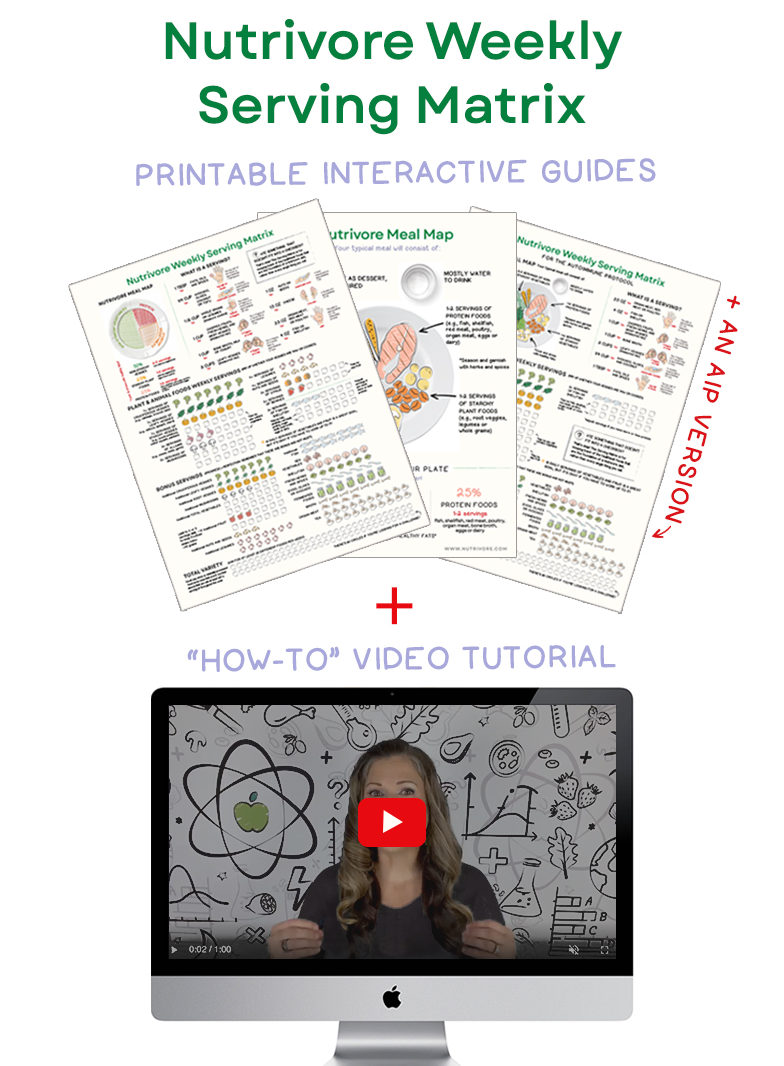 Citations
PFAS chemical exposure | ATSDR
Scientific Basis for Managing PFAS as a Chemical Class | Environmental Science & Technology Letters
A Review of the Pathways of Human Exposure to Poly- and Perfluoroalkyl Substances (PFASs) and Present Understanding of Health Effects – PMC
Activation of human nuclear receptors by perfluoroalkylated substances (PFAS)
Binding of perfluorinated fatty acids to serum proteins
A critical review of perfluorooctanoate and perfluorooctanesulfonate exposure and immunological health conditions in humans – PMC
Dermal penetration potential of perfluorooctanoic acid (PFOA) in human and mouse skin
Per- and Polyfluoroalkyl Substances and Obesity, Type 2 Diabetes and Non-alcoholic Fatty Liver Disease: A Review of Epidemiologic Findings – PMC
Serum polyfluoroalkyl chemicals are associated with risk of cardiovascular diseases in national US population
PFAS exposure and overweight/obesity among children in a nationally representative sample
Frontiers | Diet as an Exposure Source and Mediator of Per- and Polyfluoroalkyl Substance (PFAS) Toxicity
Per- and Polyfluoroalkyl Substances (PFAS) in Breast Milk: Concerning Trends for Current-Use PFAS | Environmental Science & Technology
Per and Polyfluoroalkyl Substances (PFAS) in Cosmetics | FDA
Forever Chemicals Are Widespread in US Drinking Water – Scientific AmericanPFAS in the US population | ATSDR