In episode 486 of The Whole View podcast, Stacy and Dr. Sarah answer three listener questions about vaccine boosters for pregnant people, and safety and efficacy of the Pfizer covid-19 mRNA vaccine for children aged 5 to 11.
If you enjoy the show, please review it on iTunes
Listener Questions
I am wondering if there is any information around boosters with pregnant or breastfeeding Moms? – Sahiba
Hi Dr. Sarah and Stacy! I love your show. I've been listening for about 2 years now and have listened to so many of your shows multiple times, plus many of your archives. And I love Patreon and the inside scoop over here. I'm sure you're really hoping not to do anymore COVID shows, and I totally appreciate that. However I trust your analysis of the science so much that I was really hoping to hear about the vaccine for kids: What is the science saying so far? I'd like to hear the science, as well as your opinion as a mom regarding the benefits and safety please. I look forward to learning more and appreciate your show for the factual, scientific evidence it bring on on things health and nutrition related. Thanks for all the work you both do to bring this show to us each week, I'm a dedicated and avid fan and always look forward to each new release. -Jaclyn
Hi to you both. I love the show and am so grateful for the resources you share. I have a question that I'm not sure where to go for answers and thought it might be up your alley- so here goes: I have heard of many women experiencing issues with their period post COVID vaccine. I am vaccinated and now that my 7 year old can be I am looking for research on why the vaccine impacted some women's periods and if it could impact fertility or menstruation for young kids as they hit puberty? Due to quarantines and wanting to protect my kids I do want to get them vaccinated but also am hoping there is some science on this point? Thank you!! -Katie
Key Takeaways
Dr. Sarah and Stacy share their personal experience with the booster shot, both of whom had side effects comparable to their second shots of the Moderna vaccine.
Pregnant people are at higher risk of severe covid-19 or death from covid-19 as well as pregnancy complications as a result of covid-19 infection. The vaccines have been shown to be safe and effective for pregnant and lactating people, and in fact, some of those protective antibodies are passed on to the fetus or to the baby through breastmilk. Pregnant people can receive any of the currently FDA-approved or FDA-authorized COVID-19 vaccines as a booster dose.
There is a benefit to mixing and matching which vaccine you get as a booster compared to your initial course. If you received a Johnson & Johnson/Janssen vaccine for your initial course, studies show you'll get a much better boost of neutralizing antibody production if you get either the Pfizer/BioNTech or the Moderna mRNA vaccine booster, with Moderna being the best boost by a slim margin. If you received either the Pfizer/BioNTech or the Moderna mRNA vaccine for your initial course, studies show that the boost of neutralizing antibody production is comparable regardless of which vaccine you get as a booster, with Moderna being the best boost by a slim margin (followed by Pfizer, followed by J&J).
The side effects from the booster shot are comparable to the second vaccine dose. On average, Pfizer had the lowest frequency of Grade 2 side effects and very very few Grade 3 side effects. If you had really bad side effects from the first series, consider Pfizer. It's no guarantee, of course. Moderna has the highest frequency of Grade 3 side effects on average, followed by J&J, then Pfizer.
The Pfizer/BioNTech mRNA vaccine has been approved at a lower dose (10μg compared to 30μg for people over 12 years and older) for children aged 5 to 11. The clinical trials showed that the vaccines are safe and effective in this age group. The most common side effects are pain at the injection site, fatigue, headache, muscle pain and chills. No serious adverse events were reported, including no cases of myocarditis or pericarditis. The vaccine prevented 90.7% of symptomatic infections at a time when the more contagious Delta variant was dominant, which is great news!
Getting any vaccine can cause transient menstrual irregularities because cortisol is increased when the immune system is activated and there's crosstalk between the HPA axis and sex hormones that regulate the menstrual cycle. While there are studies underway to study this effect further, the most important thing to know is that it's a normal side effect of the covid-19 vaccines and that periods will return to normal. If you are a person who could get pregnant but who would prefer not to, it's important to take precautions against pregnancy since the timing of ovulation may be impacted. There is no reason to expect that this would impact puberty onset.
Join Our Patreon!
Come join our Patreon family! You can support The Whole View podcast and hear what Dr. Sarah and Stacy really think about this topic in this week's exclusive and uncensored behind-the-scenes bonus audio. We love connecting with our Patrons! It's a direct line to submit your questions for upcoming shows, plus you also get access to some cool features like weekly bonus episodes and quarterly live video Q&As where you can ask Dr. Sarah and Stacy anything!
Recommended Reading and Listening
Citations
Atmar RL, Lyke KE, Deming ME, Jackson LA, Branche AR, El Sahly HM, Rostad CA, Martin JM, Johnston C, Rupp RE, Mulligan MJ, Brady RC, Frenck Jr. RW, Bäcker M, Kottkamp AC, Babu TM, Rajakumar K, Edupuganti S, Falsey AR, Posavad CM, Archer JI, Crandon S, Nayak SU, Szydlo D, Zemanek J, Dominguez Islas CP, Brown ER, Suthar MS, McElrath MJ, McDermott AB, O'Connell SE, Montefiori DC, Eaton A, Neuzil KM, Stephens DS, Roberts PC, Beigel JH, the DMID 21-0012 Study Group. Heterologous SARS-CoV-2 Booster Vaccinations – Preliminary Report. medRxiv 2021.10.10.21264827; doi: 10.1101/2021.10.10.21264827
Li K, Chen G, Hou H, Liao Q, Chen J, Bai H, Lee S, Wang C, Li H, Cheng L, Ai J. Analysis of sex hormones and menstruation in COVID-19 women of child-bearing age. Reprod Biomed Online. 2021 Jan;42(1):260-267. doi: 10.1016/j.rbmo.2020.09.020.
Schmidt T, Klemis V, Schub D, Mihm J, Hielscher F, Marx S, Abu-Omar A, Schneitler S, Becker SL, Gärtner BC, Sester U, Sester M. Immunogenicity and reactogenicity of a heterologous COVID-19 prime-boost vaccination compared with homologous vaccine regimens. medRxiv 2021.06.13.21258859. doi: 10.1101/2021.06.13.21258859
*NEW* Guide to Nutrivore E-Book!
Nutrivore is the simple yet revolutionary concept:
Choose foods to meet the body's nutritional needs!
I'm very excited about the Nutrivore information! Thank you so much for all your research and hard work you put into this kind of information for all of us to use!! -Debbie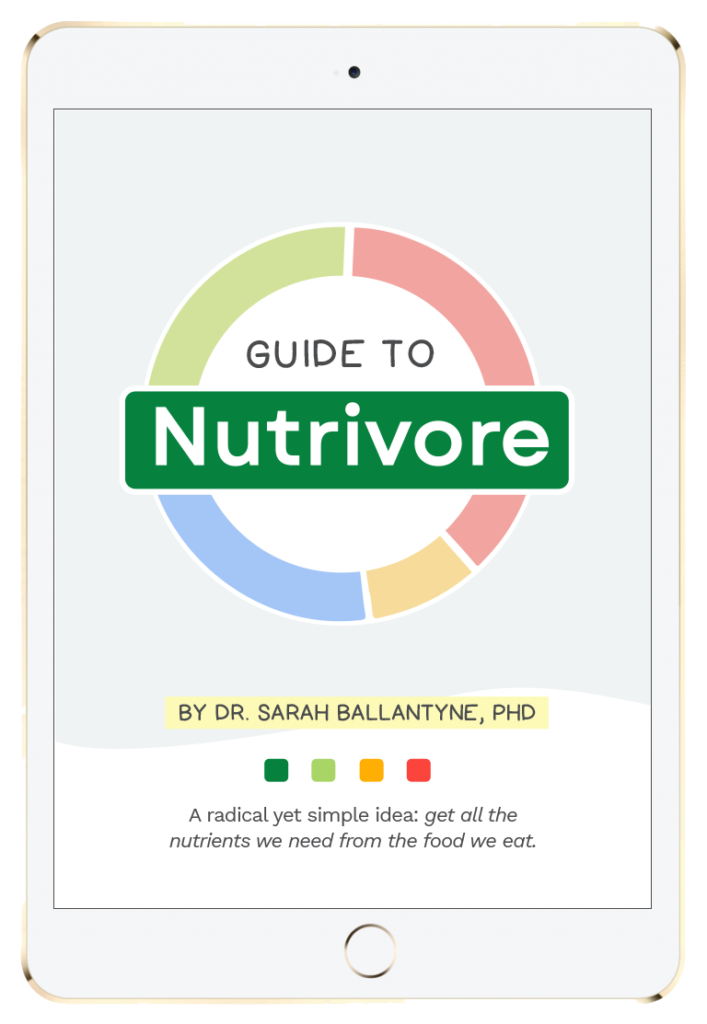 Zambrano LD, Ellington S, Strid P, Galang RR, Oduyebo T, Tong VT, Woodworth KR, Nahabedian JF 3rd, Azziz-Baumgartner E, Gilboa SM, Meaney-Delman D; CDC COVID-19 Response Pregnancy and Infant Linked Outcomes Team.
Update: Characteristics of Symptomatic Women of Reproductive Age with Laboratory-Confirmed SARS-CoV-2 Infection by Pregnancy Status – United States, January 22-October 3, 2020
. MMWR Morb Mortal Wkly Rep. 2020 Nov 6;69(44):1641-1647. doi: 10.15585/mmwr.mm6944e3.
Call for more research on vaccination and menstruation
FDA Briefing Document from Pfizer for approval in children aged 5 to 11