Full disclosure: this one isn't fun and cheary.  On this week's episode of The Whole View podcast, Stacy and I discuss the newest science on covid-19 reinfections, including how long immunity is likely to last based on other coronaviruses, long-haulers and what the likely explanations are for continued symptoms, as well as the risk for long-term complications and organ damage as a result of covid-19 infection, including involvement of heart, lungs, kidneys and brain.  These various potential long-term impacts are important to understand as we continue to navigate this pandemic, but the news mostly isn't good. The main takeaway: it's still important to practice social distancing, proper hygiene, avoid indoor gatherings and wear face masks, and we are in this together!
If you enjoy the show, please review it on iTunes!
Nutrivore Weekly Serving Matrix
An easy-to-use and flexible weekly checklist
to help you maximize nutrient-density.
The Weekly Serving Matrix is very helpful! I've been eating along these lines but this really helps me know where to focus vs. which foods serve a more secondary role. It's super helpful and has taken a lot of worry out of my meal planning. Thanks!

Jan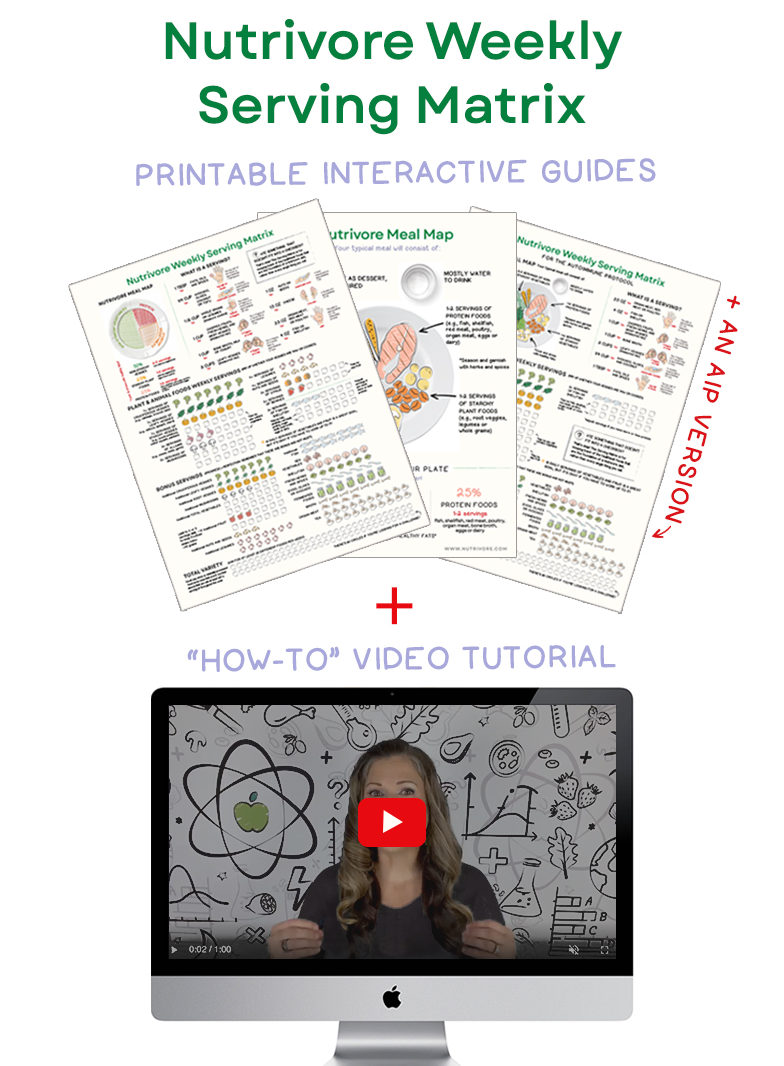 Recommended Reading and Listening
Citations
Edridge AWD, Kaczorowska J, Hoste ACR, Bakker M, Klein M, Loens K, Jebbink MF, Matser A, Kinsella CM, Rueda P, Ieven M, Goossens H, Prins M, Sastre P, Deijs M, van der Hoek L. Seasonal coronavirus protective immunity is short-lasting. Nat Med. 2020 Nov;26(11):1691-1693. doi: 10.1038/s41591-020-1083-1. Epub 2020 Sep 14. PMID: 32929268.
Peng H, Yang LT, Wang LY, Li J, Huang J, Lu ZQ, Koup RA, Bailer RT, Wu CY. Long-lived memory T lymphocyte responses against SARS coronavirus nucleocapsid protein in SARS-recovered patients. Virology. 2006 Aug 1;351(2):466-75. doi: 10.1016/j.virol.2006.03.036. Epub 2006 May 11. PMID: 16690096; PMCID: PMC7111820.
Fan YY, Huang ZT, Li L, Wu MH, Yu T, Koup RA, Bailer RT, Wu CY. Characterization of SARS-CoV-specific memory T cells from recovered individuals 4 years after infection. Arch Virol. 2009;154(7):1093-9. doi: 10.1007/s00705-009-0409-6. Epub 2009 Jun 13. PMID: 19526193; PMCID: PMC2796960.
Tang F, Quan Y, Xin ZT, Wrammert J, Ma MJ, Lv H, Wang TB, Yang H, Richardus JH, Liu W, Cao WC. Lack of peripheral memory B cell responses in recovered patients with severe acute respiratory syndrome: a six-year follow-up study. J Immunol. 2011 Jun 15;186(12):7264-8. doi: 10.4049/jimmunol.0903490. Epub 2011 May 16. PMID: 21576510.
Elrashdy F, Aljaddawi AA, Redwan EM, Uversky VN. On the potential role of exosomes in the COVID-19 reinfection/reactivation opportunity. J Biomol Struct Dyn. 2021 Sep;39(15):5831-5842. doi: 10.1080/07391102.2020.1790426. Epub 2020 Jul 9. PMID: 32643586; PMCID: PMC7441802.
Shah VK, Firmal P, Alam A, Ganguly D, Chattopadhyay S. Overview of Immune Response During SARS-CoV-2 Infection: Lessons From the Past. Front Immunol. 2020 Aug 7;11:1949. doi: 10.3389/fimmu.2020.01949. PMID: 32849654; PMCID: PMC7426442.
Roy S. COVID-19 Reinfection: Myth or Truth? SN Compr Clin Med. 2020;2(6):710-713. doi: 10.1007/s42399-020-00335-8. Epub 2020 May 29. PMID: 32838134; PMCID: PMC7255905.
Alizargar J. Risk of reactivation or reinfection of novel coronavirus (COVID-19). J Formos Med Assoc. 2020 Jun;119(6):1123. doi: 10.1016/j.jfma.2020.04.013. Epub 2020 Apr 23. PMID: 32340768; PMCID: PMC7177092.
Gousseff M, Penot P, Gallay L, Batisse D, Benech N, Bouiller K, Collarino R, Conrad A, Slama D, Joseph C, Lemaignen A, Lescure FX, Levy B, Mahevas M, Pozzetto B, Vignier N, Wyplosz B, Salmon D, Goehringer F, Botelho-Nevers E; in behalf of the COCOREC study group. Clinical recurrences of COVID-19 symptoms after recovery: Viral relapse, reinfection or inflammatory rebound? J Infect. 2020 Nov;81(5):816-846. doi: 10.1016/j.jinf.2020.06.073. Epub 2020 Jun 30. PMID: 32619697; PMCID: PMC7326402.
Rubin R. As Their Numbers Grow, COVID-19 "Long Haulers" Stump Experts. JAMA. 2020 Oct 13;324(14):1381-1383. doi: 10.1001/jama.2020.17709. PMID: 32965460.
Morris SB, Schwartz NG, Patel P, Abbo L, Beauchamps L, Balan S, Lee EH, Paneth-Pollak R, Geevarughese A, Lash MK, Dorsinville MS, Ballen V, Eiras DP, Newton-Cheh C, Smith E, Robinson S, Stogsdill P, Lim S, Fox SE, Richardson G, Hand J, Oliver NT, Kofman A, Bryant B, Ende Z, Datta D, Belay E, Godfred-Cato S. Case Series of Multisystem Inflammatory Syndrome in Adults Associated with SARS-CoV-2 Infection – United Kingdom and United States, March-August 2020. MMWR Morb Mortal Wkly Rep. 2020 Oct 9;69(40):1450-1456. doi: 10.15585/mmwr.mm6940e1. PMID: 33031361; PMCID: PMC7561225.
Ronco C, Reis T. Kidney involvement in COVID-19 and rationale for extracorporeal therapies. Nat Rev Nephrol. 2020 Jun;16(6):308-310. doi: 10.1038/s41581-020-0284-7. PMID: 32273593; PMCID: PMC7144544.
Sulzer D, Antonini A, Leta V, Nordvig A, Smeyne RJ, Goldman JE, Al-Dalahmah O, Zecca L, Sette A, Bubacco L, Meucci O, Moro E, Harms AS, Xu Y, Fahn S, Ray Chaudhuri K. COVID-19 and possible links with Parkinson's disease and parkinsonism: from bench to bedside. NPJ Parkinsons Dis. 2020 Aug 20;6:18. doi: 10.1038/s41531-020-00123-0. PMID: 32885037; PMCID: PMC7441399.
Fotuhi M, Mian A, Meysami S, Raji CA. Neurobiology of COVID-19. J Alzheimers Dis. 2020;76(1):3-19. doi: 10.3233/JAD-200581. PMID: 32538857; PMCID: PMC7660990.
As evidence builds that COVID-19 can damage the heart, doctors are racing to understand it
Coronavirus: Kidney Damage Caused by COVID-19

Become a Member for FREE!
The Paleo Mom Members' Area is resource central!  
You'll get FREE, unlimited access to dozens of quality resources, including introductory series, downloadable e-books, exclusive recipes, printables, videos and guides!
You may enjoy these related posts:
The covid-19 Delta variant is the most contagious yet, driving a surge of …