In episode 487 of The Whole View podcast, Stacy and Dr. Sarah discuss the many health benefits of chocolate, how much and how often to eat chocolate for health improvements, what to look for in terms of quality, and ingredients to avoid.
If you enjoy the show, please review it on iTunes
Key Takeaways
Just in time for the holidays, Dr. Sarah and Stacy are here to share that even low-quality chocolate can improve our health when consumed in moderation!
A really awesome study showed that the participants who ate the most chocolate had a 10% reduced risk of developing heart disease, a 16% lower risk of stroke, and an 18% lower risk of type 2 diabetes compared to the participants who ate the least chocolate. Other studies have shown similar magnitudes of effect, with benefits up to seven to ten 1-ounce chocolate servings per week.
The greatest risk reduction for developing type 2 diabetes was with two 1-ounce servings of chocolate per week. Those participants had a 25% lower risk of developing diabetes than participants who rarely ate chocolate. Eating up to six servings per week was protective!
This study did not correct for chocolate quality, so we can expect these benefits even from consuming low-quality chocolate.
Dark chocolate is even healthier! A prospective study had diabetic participants consume 25 grams (about 1 ounce) of dark chocolate every day for eight weeks and they saw improvements to their insulin sensitivity, blood sugar regulation and reduced inflammation!
The health benefits of chocolate are attributable to the high polyphenol content of chocolate solids. Cocoa butter is fairly neutral in terms of health effects.
The Nutrivore Score of unsweetened cocoa powder (not Dutch processed) is a whopping 1049! The Nutrivore Score of dark chocolate (70-85% cocoa) is 190, semi-sweet chocolate (60-69% cocoa) is 148, and milk chocolate (45-59% cocoa) is 127.
Dutch processed cocoa (also called "processed with alkali") has much lower polyphenols content than unprocessed cocoa! If possible, avoid Dutch processed.
Additives and unnecessary ingredients that are often found in chocolate include: dairy, artificial sweeteners, emulsifiers, vegetable fats, colorings and flavorings. Look for chocolate that has a simple list of ingredients, such as cocoa solids or cacao, cocoa butter, and organic cane sugar or coconut sugar.
Join Our Patreon!
Come join our Patreon family! You can support The Whole View podcast and hear what Dr. Sarah and Stacy really think about this topic in this week's exclusive and uncensored behind-the-scenes bonus audio. We love connecting with our Patrons! It's a direct line to submit your questions for upcoming shows, plus you also get access to some cool features like weekly bonus episodes and quarterly live video Q&As where you can ask Dr. Sarah and Stacy anything!
Recommended Reading and Listening
Citations
Andres-Lacueva C, et al. "Flavanol and flavonol contents of cocoa powder products: influence of the manufacturing process." J Agric Food Chem. 2008 May 14;56(9):3111-7. doi: 10.1021/jf0728754.
Baba S, et al. "Plasma LDL and HDL cholesterol and oxidized LDL concentrations are altered in normo- and hypercholesterolemic humans after intake of different levels of cocoa powder." J Nutr. 2007 Jun;137(6):1436-41. doi: 10.1093/jn/137.6.1436.
Denke MA. "Effects of cocoa butter on serum lipids in humans: historical highlights." Am J Clin Nutr. 1994 Dec;60(6 Suppl):1014S-1016S. doi: 10.1093/ajcn/60.6.1014S.
Gianfredi V, et al. "Can chocolate consumption reduce cardio-cerebrovascular risk? A systematic review and meta-analysis." Nutrition. 2018 Feb;46:103-114. doi: 10.1016/j.nut.2017.09.006.
Gong F, et al. "Chocolate Consumption and Risk of Heart Failure: A Meta-Analysis of Prospective Studies." Nutrients. 2017 Apr 20;9(4):402. doi: 10.3390/nu9040402.
Denke MA & Grundy SM. "Effects of fats high in stearic acid on lipid and lipoprotein concentrations in men." Am J Clin Nutr. 1991 Dec;54(6):1036-40. doi: 10.1093/ajcn/54.6.1036.
*NEW* Guide to Nutrivore E-Book!
Nutrivore is the simple yet revolutionary concept:
Choose foods to meet the body's nutritional needs!
I'm very excited about the Nutrivore information! Thank you so much for all your research and hard work you put into this kind of information for all of us to use!! -Debbie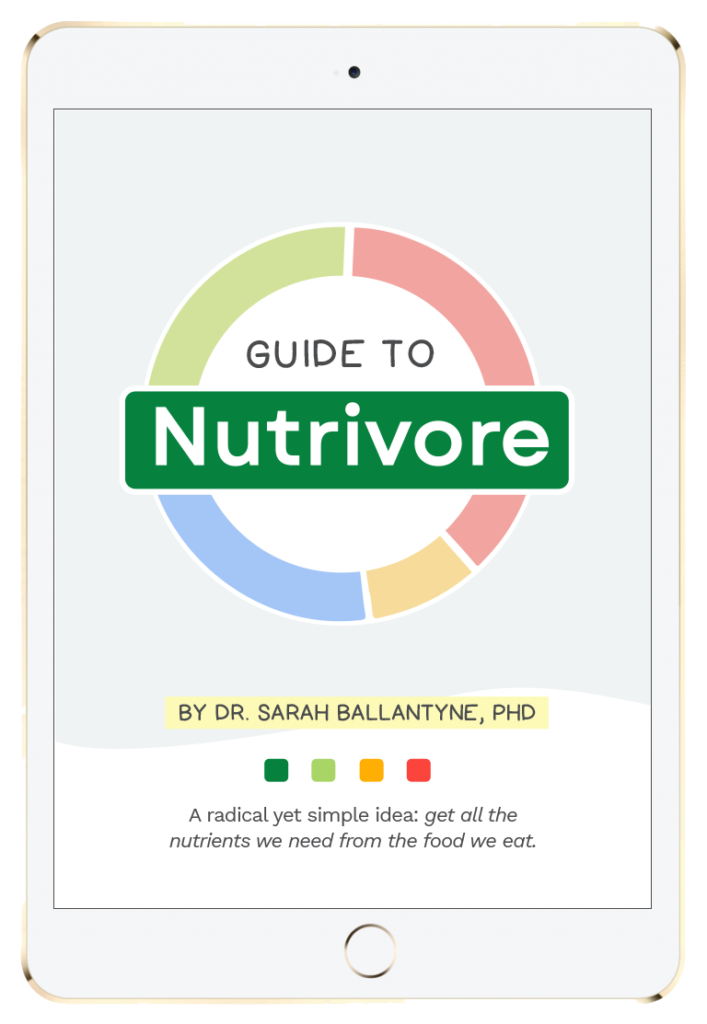 Gu L, et al. "Procyanidin and catechin contents and antioxidant capacity of cocoa and chocolate products." J Agric Food Chem. 2006 May 31;54(11):4057-61. doi: 10.1021/jf060360r.
Kord-Varkaneh H, et al. "Does cocoa/dark chocolate supplementation have favorable effect on body weight, body mass index and waist circumference? A systematic review, meta-analysis and dose-response of randomized clinical trials." Crit Rev Food Sci Nutr. 2019;59(15):2349-2362. doi: 10.1080/10408398.2018.1451820. Epub 2018 Apr 12.
Kris-Etherton PM, et al. "Chocolate feeding studies: a novel approach for evaluating the plasma lipid effects of stearic acid." Am J Clin Nutr. 1994 Dec;60(6 Suppl):1029S-1036S. doi: 10.1093/ajcn/60.6.1029S.
Massot-Cladera M, et al. "Cocoa modulatory effect on rat faecal microbiota and colonic crosstalk." Arch Biochem Biophys. 2012 Nov 15;527(2):105-12. doi: 10.1016/j.abb.2012.05.015.
Mensink RP. "Fatty acids: Health effects of saturated fatty acids." Encyclopedia of Human Nutrition (Third Edition) 2013:215-219.
Miller KB, et al. "Impact of alkalization on the antioxidant and flavanol content of commercial cocoa powders." J Agric Food Chem. 2008 Sep 24;56(18):8527-33. doi: 10.1021/jf801670p.
The Gut Health Guidebook!
Diet and lifestyle to nurture your gut microbiome and heal leaky gut!
The depth of information, practical tips, and the accessible way Dr. Sarah shows me how to apply complex science to improve my health is truly remarkable. -Wendy
Ried K, et al. "Effect of cocoa on blood pressure." Cochrane Database Syst Rev. 2017 Apr 25;4(4):CD008893. doi: 10.1002/14651858.CD008893.pub3.
Rostami A, et al. "High-cocoa polyphenol-rich chocolate improves blood pressure in patients with diabetes and hypertension." ARYA Atheroscler. 2015 Jan;11(1):21-9.
Schewe T, et al. "How do dietary flavanols improve vascular function? A position paper." Arch Biochem Biophys. 2008 Aug 15;476(2):102-6. doi: 10.1016/j.abb.2008.03.004.
Shah SR, et al. "Use of dark chocolate for diabetic patients: a review of the literature and current evidence." J Community Hosp Intern Med Perspect. 2017 Sep 19;7(4):218-221. doi: 10.1080/20009666.2017.1361293.
Tholstrup T, et al. "Dietary cocoa butter or refined olive oil does not alter postprandial hsCRP and IL-6 concentrations in healthy women." Lipids. 2011 Apr;46(4):365-70. doi: 10.1007/s11745-011-3526-4.
Tombola F, et al. "Plant polyphenols inhibit VacA, a toxin secreted by the gastric pathogen Helicobacter pylori." FEBS Lett. 2003 May 22;543(1-3):184-9. doi: 10.1016/s0014-5793(03)00443-5.
Tzounis X, et al. "Prebiotic evaluation of cocoa-derived flavanols in healthy humans by using a randomized, controlled, double-blind, crossover intervention study." Am J Clin Nutr. 2011 Jan;93(1):62-72. doi: 10.3945/ajcn.110.000075. Epub 2010 Nov 10.
Yuan S, et al. "Chocolate Consumption and Risk of Coronary Heart Disease, Stroke, and Diabetes: A Meta-Analysis of Prospective Studies." Nutrients. 2017 Jul 2;9(7):688. doi: 10.3390/nu9070688.
The Gut Health Cookbook!
180+ delicious recipes featuring 61 gut health superfoods!
The Gut Health Cookbook is fantastic! Thank you for researching and creating The Gut Health Cookbook! Such wonderful recipes! I'm so excited to try them all! -Sue