Welcome to episode 453 of The Whole View! This week, Stacy and Sarah look back at an old show and dive into the updated science behind eating breakfast at 8:30am.
The Autoimmune Protocol E-Book!
One of my FAVORITE books I used to start the transition to AIP!!! It's so helpful! I printed mine out and spiral bound it. Thank you for this! -Rita Davidson
The Autoimmune Protocol e-book is your up-to-date guide to jump-start your healing with the AIP today.
3oo+ pages of quick-access information on the AIP

4 weeks of meal plans with shopping lists

over 80 family-friendly recipes, all 100% AIP!
Get instant digital access for $19.99
If you enjoy the show, please review it on iTunes!
The Whole View, Episode 453:
Should We Eat Breakfast Before 8:30am?
Welcome back to episode 453! (0:28)
Stacy reminds listeners that science is an evolutionary process and, like life, things are constantly changing and growing.
The Whole View has years of shows that may contain outdated science. Both Stacy and Sarah feel it's important to bring some of these episodes back to the forefront and re-examine how science has changed.
So in honor of revisiting some of our favorite shows with the updated science, Sarah decided to start with re-examining the science behind eating (or not eating) breakfast before 8:30am.
The Gut Health Guidebook!
The depth of information, practical tips, and the accessible way Dr. Sarah shows me how to apply complex science to improve my health is truly remarkable. -Wendy
The Gut Health Guidebook is the culmination of 6 years of research. This unprecedented deep dive into the gut microbiome delivers:
A new diet for gut health, built from the ground up

Essential gut microbiome superfoods

20 Keys to gut health
Get instant digital access for $27.99
See Episode 381: Is Breakfast the Most Important Meal of the Day? for more notes from the last episode!
Updates
Stacy reminds listeners that when you go through long periods of not eating (intermittently fasting), it signals to your body that it's time to rest. This can mess with your circadian rhythm. (58:26)
Studies link eating breakfast can lower stress levels, help manage mental health, and improve physical health.
Stacy also reminds listeners that coffee doesn't count as breakfast and can actually inflame stomach issues.
You can also spread out breakfast throughout the morning "breakfast" window by eating a series of small things.
Endocrinology Conference: Breakfast Before 8:30am
The study was designed to look at restricted feeding, comparing shorter windows to loger windows. (1:04:20)
Previous studies have found that time-restricted eating, which consolidates eating to a shortened time frame each day, has consistently demonstrated improved metabolic health.
But research shows that an early time-restricted feeding window is better:
Researchers analyzed data from 10,575 adults who participated in the National Health and Nutrition Examination Survey.
*NEW* The Gut Health Cookbook!
The Gut Health Cookbook is fantastic! Thank you for researching and creating The Gut Health Cookbook! Such wonderful recipes! I'm so excited to try them all! -Sue
The Gut Health Cookbook puts the 20 Keys to Gut Health into practice with:
180+ recipes featuring 61 gut health superfoods

Gut health food lists

Why's behind each gut health superfood
Get instant digital access for $27.99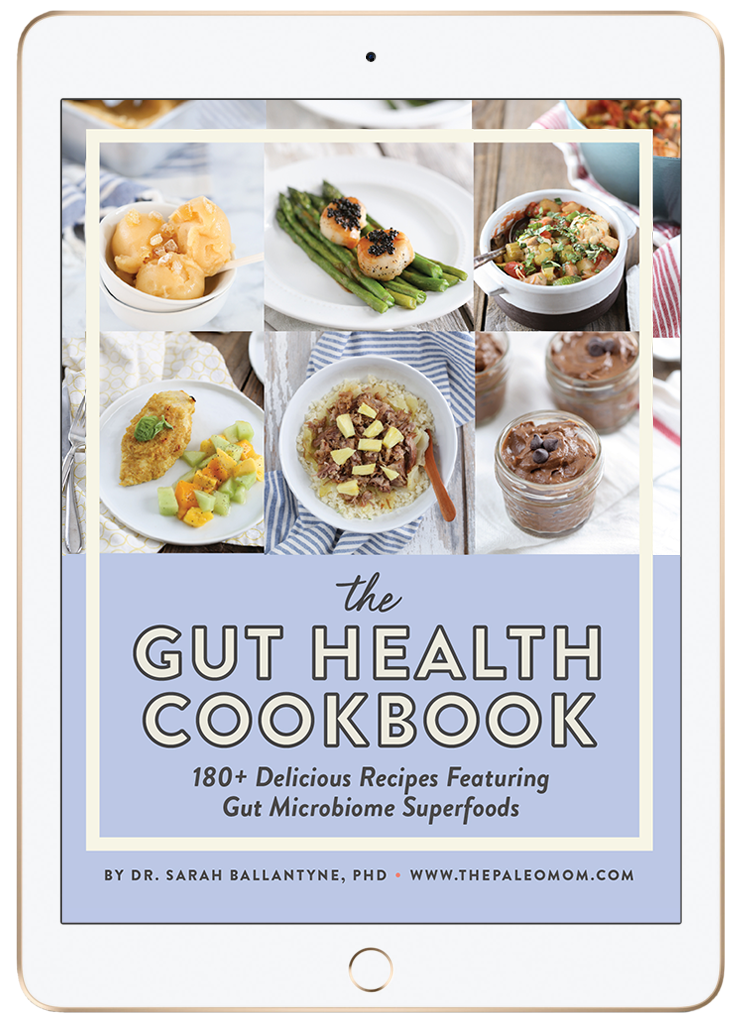 They divided participants into three groups depending on the total duration of food intake: less than 10 hours, 10-13 hours, and more than 13 hours per day.
Then, they created six subgroups based on eating duration start time (before or after 8:30 am).
They analyzed this data to determine if eating duration and timing were associated with fasting blood sugar levels and estimated insulin resistance.
Fasting blood sugar levels did not differ significantly among eating interval groups.
Insulin resistance was higher with shorter eating interval duration but lower across all groups with an eating start time before 8:30am.
What they discovered instead was that eating breakfast early reduced insulin resistance, and feeding window didn't matter.
People who start eating before 8:30 am had lower blood sugar levels and less insulin resistance. This could reduce the risk of developing type 2 diabetes.
Sarah surmises that it makes sense from a cortisol vs. insulin perspective!
The Gut Health Collection!
I love Dr. Sarah's passion for educating people and helping everyone on their journey to wellness!! -Mindy
The Gut Health Guidebook delivers a comprehensive deep dive into gut health, building a new diet for optimal health from the ground up, based on the gut microbiome.
The Gut Health Cookbook puts the scientific framework into practice with 180+ delicious recipes that each center on at least one of 61 gut health superfood ingredients.
Save $10 with the Gut Health Collection!
Breakfast & Cortisol
Stress, breakfast cereal consumption, and cortisol: recent research has shown that regular breakfast cereal consumption is associated with lower stress levels and reports of better physical and mental health.
The present study examined this issue using an objective indicator of stress, salivary cortisol.
Results showed that stress was associated with higher cortisol levels, and daily consumption of breakfast cereal was associated with lower cortisol levels.
Meal Timing Regulates the Human Circadian System and affects glucose tolerance, substrate oxidation and circadian-related variables: A randomized, crossover trial.
Another study showed female breakfast-skippers display a disrupted cortisol rhythm and elevated blood pressure.
Not to mention, chronic stress is associated with indicators of diet quality in habitual breakfast skippers.
New Science About Breakfast Before 8:30am
Skipping breakfast is also associated with cancer-related and all-cause mortality in a national cohort of United States adults.
Data associates habitual nightly fasting duration, eating timing, and eating frequency with cardiometabolic risk in women.
Association between Breakfast Consumption and Depressive Symptoms among Chinese College Students: A Cross-Sectional and Prospective Cohort Study.
The ORs (95% CI) for depressive symptoms with decreasing breakfast consumption frequency were 1.00 (reference) for ≥6 times/week, 2.045 (1.198, 3.491) for 2-5 times/week, and 2.722 (0.941, 7.872) for ≤1 time/week (p for trend: 0.005).
Final Thoughts
Changing any sort of habit can be difficult, and Stacy reminds the audience that it won't be the easiest fix if you're not a breakfast person. (1:13:50)
She tries planning ahead by hard boiling eggs to grab and go in the morning. Stacy also makes a lot of smoothies in the morning using whole fruit.
The Paleo Template E-Book!
Thank you, for pushing the best, most relevant research, for making it relatable to anyone who does not speak the language of scientific research. -Meghan
The Paleo Template e-book is your accessible, practical-focused Paleo diet and lifestyle resource.
250+ pages of quick-access information on the Paleo template

4 weeks of meal plans with shopping lists

over 90 family-friendly recipes!
Get instant digital access for $19.99
If you haven't joined Patreon yet, now is a great time! It supports this show and gives you behind-the-scenes content, including how Sarah and Stacy really feel about these revisiting episodes.
Thanks so much for listening, and we will see you next week!