Not only are these waffles completely Paleo, but they avoid many of the pit-falls of Paleo adaptations of grain-based foods; namely, they don't rely on nut flours (see The Pros and Cons of Almond Flour: Rebuttal to "5 Reasons To Avoid Almond Flour") or expensive specialty ingredients. Really, they're just green plantains (a very starchy and neutral-flavored fruit in the same family as bananas) and eggs, with a little bit of coconut oil (you can use any fat your like in substitute, I just like the flavor best with coconut oil), vanilla, salt and baking soda.
Green plantains are also getting easier and easier to find. Locally, I can find them on a fairly regular basis at Whole Foods, Sprouts, Kroger, and Walmart. They're also called raw bananas, cooking bananas, or cooking plantains. The greener the plantain, the better, for these waffles, but even if they're starting to yellow, the recipe works just fine. The flavor is a bit weird with fully yellow plantains (I think they're maybe just a bit too sweet, and they tend to singe a bit on the outside) and the texture doesn't work at all with ripe plantains. If you can't find green plantains, but can find extremely green bananas (so green, you can barely peel them and they taste ridiculously disgusting… I can sometimes find them this green at my local Sprouts), those work too, but you need double or triple the number, depending on how big they are. If you can't find green plantains in local grocery stores, start checking out cultural markets: They're a staple food of much of Central and South America as well as West and Central Africa.
*NEW* The Gut Health Cookbook!
The Gut Health Cookbook is fantastic! Thank you for researching and creating The Gut Health Cookbook! Such wonderful recipes! I'm so excited to try them all! -Sue
The Gut Health Cookbook puts the 20 Keys to Gut Health into practice with:
180+ recipes featuring 61 gut health superfoods

Gut health food lists

Why's behind each gut health superfood
Get instant digital access for $27.99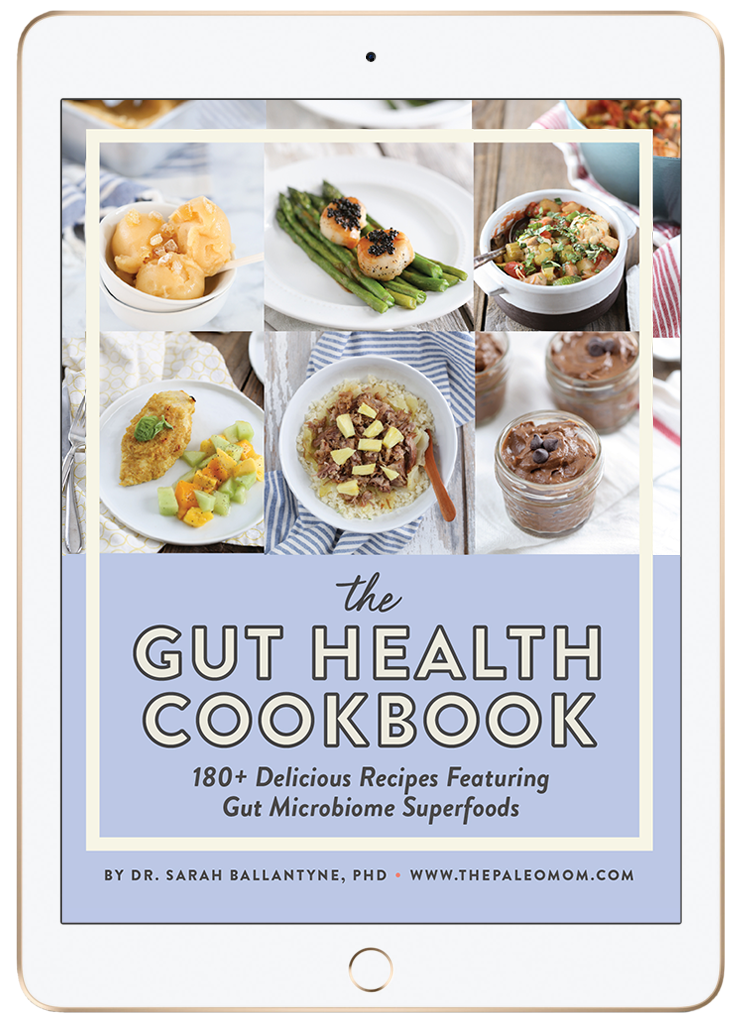 Waffle Makers: Any non-stick waffle maker will work with this recipe, but if you're (rightly!) dubious of Teflon coatings, you've got two great options. First is an old-fashioned cast-iron stovetop waffle iron. These have to be well-seasoned (see Going Back to Cast-Iron for instructions) before first use and you'll need to spray a thin coating oil before each waffle. I have found through much trial and error that olive oil (see Olive Oil Redemption: Yes, It's a Great Cooking Oil!) works best to keep the waffles from sticking. (I love using an oil mister for this so I can fill it with my own high-quality olive oil rather than buying olive oil spray in pressurized cans). I'm also very happy to see the increased number of options for ceramic-coated waffle makers, a better alternative to Teflon, available for very affordable prices. According to manufacturer instructions, these also need to be sprayed with a very light coating of oil for each use.
Batch Cook and Freeze Tip: I cook a double batch of these waffles almost every week and store them in my freezer for an easy addition to breakfasts during the week. The good news: this recipe doubles perfectly! If you happen to have pretty large plantains, or smallish eggs, go ahead and add an extra egg when you double the recipe. Like all baked goods made with plantains, these waffles tend to dry out when stored in the fridge. So, even if you plan to eat them the next day, I recommend freezing. First, let the waffles cool on a cooking cooling rack, or similar. Then, place in a single layer on a baking sheet (I line mine with a silicone liner first, but you can also use parchment or wax paper) and place in the freezer. If you're going to have more than one layer, add a silicone liner or parchment between the layers. Freeze for 4-6 hours or overnight. Remove from the baking sheet and place in a freezer bag for long term storage. Reheat from frozen in the microwave for 30-45 seconds (see Are Microwaves Safe to Use?) or in a toaster or toaster oven, if you enjoy them crispy.
Easy Morning Tip: You can make this batter the night before, excluding the baking soda, and just put the whole blender jar in your fridge over night. In the morning, blend in the baking soda while your waffle maker is heating up!
Serving Suggestions: Of course, you may choose to go with the classic Grade B Maple Syrup in moderation, but fresh berries, coconut cream, and Coconut Milk Kefir "Yogurt" are all amazing! My oldest actually prefers these plain and my youngest likes them straight out of the freezer!
Prep time: 5 minutes
Cook time: 10-15 minutes
Makes: 8-10 4″ square Belgian-style (thick) waffles
The Ultimate Support for Your AIP Journey!
Dr. Sarah Ballantyne has delivered an exceptional course and I highly recommend this to anyone looking to improve their health. There is something for everyone. It was extremely helpful and worth the investment. -Marie Schlichtig
The AIP Lecture Series is the ultimate Autoimmune Protocol educational experience! Learn directly from Dr. Sarah!
6-week online course
42 on-demand video lectures
dozens of printable guides
self-discovery exercises and action steps
online forum and guided discussions
support and guidance from Dr. Sarah Ballantyne!
The next session begins January 18th, 2021.
(Use code AIPLS85 to save $85 and get bonus access to the Gut Health Fundamentals online course!)
Ingredients:
Peel plantains (I find it easier to quarter them before I peel them) and place pieces in your blender (preferred) or food processor (okay) with the eggs. Blend to form a smooth batter (if your blender has a smoothie function, that works well here).
Add the rest of the ingredients to the blender or food processor and process on high for an additional minute (or 2-3 minutes with a food processor to get a really good smooth batter).
Heat your waffle maker on high. Pour batter into your waffle maker and cook, according to the manufacturer's directions, about 4 1/2 minutes for Belgian-style (thick waffles). Remove from waffle maker and serve!
Repeat with remaining batter.