If you celebrated Thanksgiving this year, I hope it was filled with love, laughter and very little stress. And I hope you have plenty of leftovers! Leftovers are one of my favorite parts of the holidays because I always appreciate a night off cooking (even if cooking for 3.5 straight hours on Thanksgiving Day was the down-payment on that time off! lol). Plus, leftovers are an incredible source of inspiration for me! There's something about finding unique and creative ways to make leftovers into something new that feels similar to finding money in my wallet; "Wow, look what I've got! This is great!". Okay, maybe not everyone feels that way about reinventing leftovers, but I'm sure we can all agree that it's still pretty great! And luckily for us, my blogging peers are pretty creative in this regard. The ideas below should provide us all with a bit inspiration for the turkey, side dishes or whatever else our traitorous families refused to help us finish (or take home with them!). I'd love to hear about your Thanksgiving leftover traditions, too!
The Autoimmune Protocol E-Book!
One of my FAVORITE books I used to start the transition to AIP!!! It's so helpful! I printed mine out and spiral bound it. Thank you for this! -Rita Davidson
The Autoimmune Protocol e-book is your up-to-date guide to jump-start your healing with the AIP today.
3oo+ pages of quick-access information on the AIP

4 weeks of meal plans with shopping lists

over 80 family-friendly recipes, all 100% AIP!
Get instant digital access for $19.99
---
Breakfast
This traditional English dish from my friend Russ Crandall (with whom I've spent many a Thanksgiving!) is perfect for using up leftover mashed potatoes AND leftover roasted veggies! You can sub any mashed root veggie for potatoes! Serve it for dinner or as a hearty Black Friday Breakfast
My one-skillet egg recipe is an idea recipe to use up leftover meat and veggies for breakfast! Plus, it's a great way to get back on track with some veggie nutrients early in your day!
The Gut Health Guidebook!
The depth of information, practical tips, and the accessible way Dr. Sarah shows me how to apply complex science to improve my health is truly remarkable. -Wendy
The Gut Health Guidebook is the culmination of 6 years of research. This unprecedented deep dive into the gut microbiome delivers:
A new diet for gut health, built from the ground up

Essential gut microbiome superfoods

20 Keys to gut health
Get instant digital access for $27.99
Ok, this may not be your ideal breakfast, but I love sipping a cup of broth first thing in the morning. Plus, I love freezing broth to have on hand for recipes. Alternatively, you can freeze your turkey bones and save them to make broth at a later time!
---
Lunch
Paleo Thanksgiving Leftovers Sandwich
Why not do the thing right with this epic creation from Steph at Stupid Easy Paleo? It's an incredible tower of sweet potato buns, turkey, cranberry sauce and veggies. This works with any leftovers you happen to have too! In fact, I'm making this for Lunch today!
Once you've made broth, you can throw veggies and turkey meat into a delicious and nourishing soup! Check out this fool-proof template from Real Everything to make your own delicious Thanksgiving soup!
---
Dinner
Paleo Chicken (or Turkey!) Tetrazzini
*NEW* The Gut Health Cookbook!
The Gut Health Cookbook is fantastic! Thank you for researching and creating The Gut Health Cookbook! Such wonderful recipes! I'm so excited to try them all! -Sue
The Gut Health Cookbook puts the 20 Keys to Gut Health into practice with:
180+ recipes featuring 61 gut health superfoods

Gut health food lists

Why's behind each gut health superfood
Get instant digital access for $27.99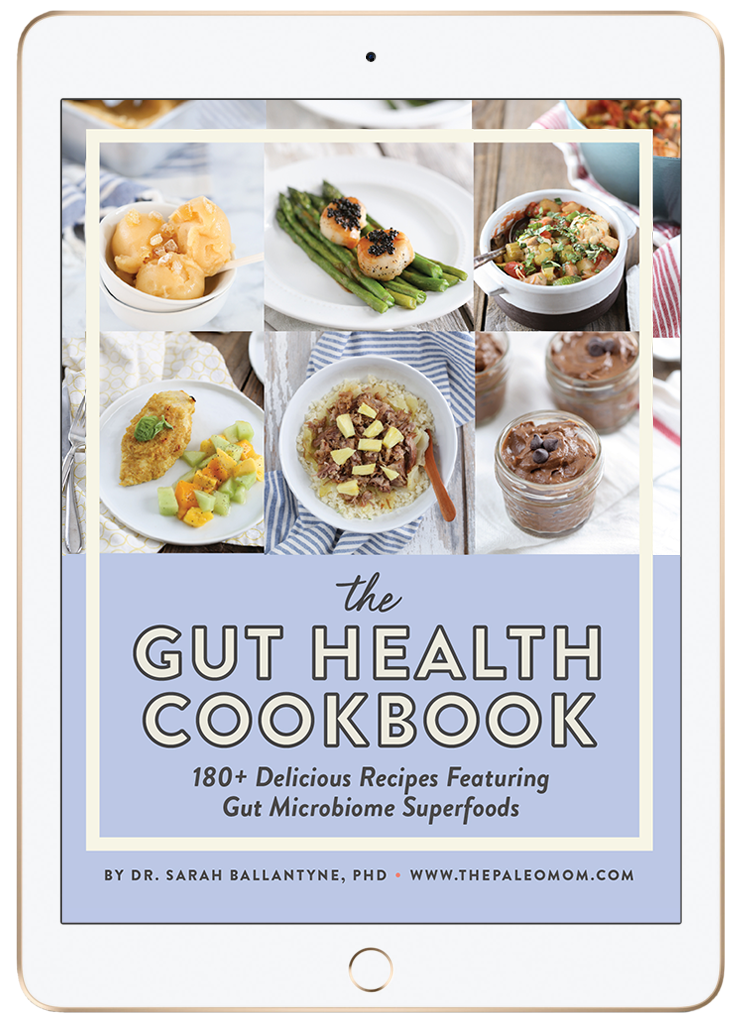 The classic leftover poultry dish gets a Paleo makeover in this recipe from Ditch the Wheat. Try her chicken recipe with your leftover turkey! Yum!
Hot Cranberry and Spinach Salad
Leftover Thanksgiving veggies? Throw them into this hot salad, which makes a perfect side dish to all your leftover turkey! I've made variations of this hot salad with all kinds of leafy greens, chopped leftover meat (like turkey!), bacon, and different nuts too!
I love this idea for a club sandwich using Paleo bread and a few simple, delicious toppings. If you made Paleo rolls and have some leftovers, this is even easier!
The Gut Health Collection!
I love Dr. Sarah's passion for educating people and helping everyone on their journey to wellness!! -Mindy
The Gut Health Guidebook delivers a comprehensive deep dive into gut health, building a new diet for optimal health from the ground up, based on the gut microbiome.
The Gut Health Cookbook puts the scientific framework into practice with 180+ delicious recipes that each center on at least one of 61 gut health superfood ingredients.
Save $10 with the Gut Health Collection!