In this episode, Stacy and Sarah interview Sophie Van Tiggelen about converting to AIP and how she deals with a family that isn't on AIP.
Click here to listen to iTunes
or download and listen by clicking the PodBean Player below
Nutrivore Weekly Serving Matrix
An easy-to-use and flexible weekly checklist
to help you maximize nutrient-density.
The Weekly Serving Matrix is very helpful! I've been eating along these lines but this really helps me know where to focus vs. which foods serve a more secondary role. It's super helpful and has taken a lot of worry out of my meal planning. Thanks!

Jan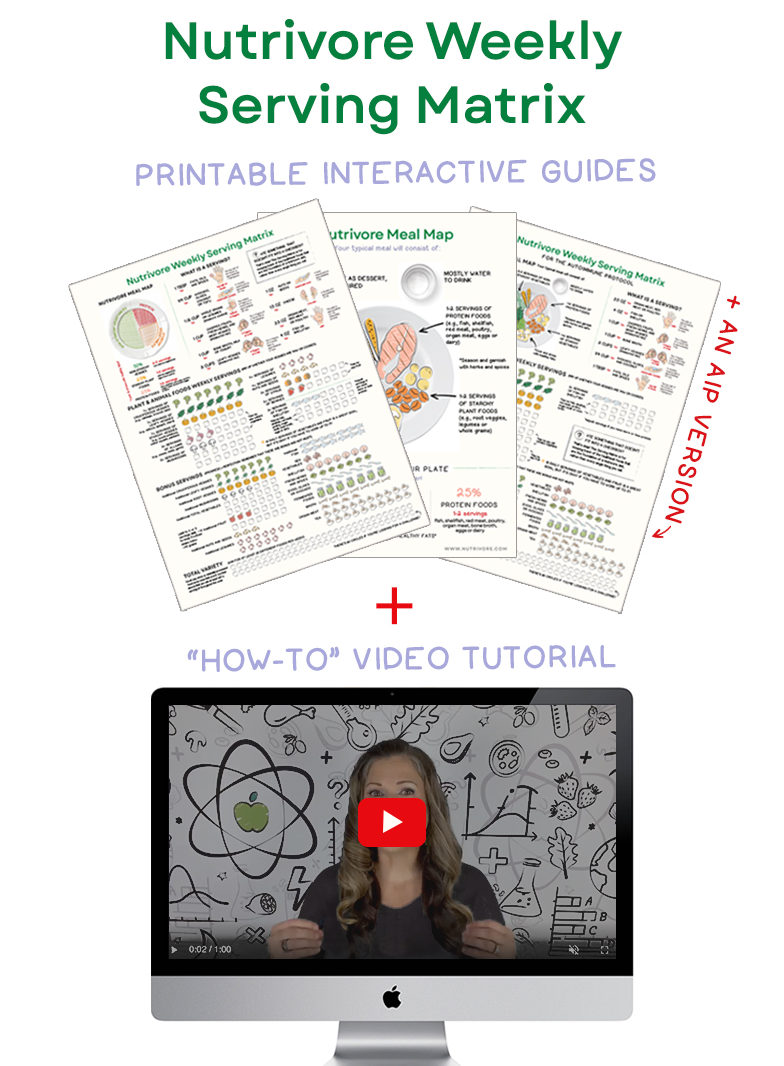 If you enjoy the show, please review it on iTunes!
The Paleo View (TPV), Episode 292: Sophie Van Tiggelen
Intro (0:00)
News and Views (0:40)

Stacy is going to visit Sarah soon!

Sarah is already planning food and her girls are talking about what games they are going to play together.
Stacy's family is having Easter dinner at Sarah's house.

Welcome our guest, Sophie Van Tiggelen from A Squirrel in the Kitchen (3:30)

Stacy loves having someone on the podcast with an accent because Sarah is losing hers.
Sophie is originally from Belgium and moved to Colorado in 2000.

In 2009 she got very sick and was diagnosed with Hashimoto's.

Gluten-free diet didn't work for her.
She found the Autoimmune Protocol (AIP) in 2012, which was life-changing.
She started blogging to share her recipes and results with the world.

Her first book, Simple French Paleo came out two years ago.
Her brand new book, The Autoimmune Protocol Made Simple Cookbook is available for pre-order.

Sarah has had a sneak peak of the book and it is amazing!
Sophie is a master as developing amazing flavor with simple ingredients and cooking techniques.
Sarah highly recommends both of her books!

Sophie wanted to show people that it is possible to eat a nutrient-dense diet with healthful foods in a simple way but that is also creative, accessible, and creative.

Sophie's story is not uncommon- following a specific protocol in a family where not everyone is on board with it.

The answer is not one-size fits all and depends on a lot of variables.
When she started her journey her children were young and she could direct their food choices.
She was in complete control of the kitchen and cooked all the meals.

She cooked one core meal with some additions when necessary.
Sometimes her husband would like rice or quinoa on the side, which was easy to do.
They had the same common meal, which made things easier for her.

They talked as a family and she explained the AIP protocol and why she needed to follow.

They decided as a family that they would not allow gluten in the house.

This was a red line that no one would cross.

The family had their own snacks in the pantry that weren't necessarily AIP.

They were all kept in one place and it was Sophie's responsibility to not get into them.
It was easy at the beginning to avoid non-AIP foods because she was in pain and wanted to get better. It got harder as she felt better.

As Sophie's children grew up, they didn't follow the same way of eating.

They got jobs, and their own money, and started eating outside the home.
Each of their three children went their own way regarding their food choices.

Sophie had to choose her battles.

Outside the home, they could make their own choices.
Inside the home, there would be no gluten allowed.

Stacy has had a similar experience with her oldest son.

They encourage him to make the best choices he can, but it's ultimately his decision.
He knows he doesn't feel well when he eats gluten, and usually chooses not to outside the home.
You can't force kids, but just educated and enable them to make the right decision.

Sophie hopes that if her children ever need to reign-in their eating, they will know how to do that because they saw her doing it at one time.

Sarah struggles with having foods around the house that she shouldn't eat.

Sarah has a history of binge-eating.
Sophie was motivated at the beginning and very strict, which gave her results very quickly.

When she started to feel better, it got harder to be as strict.
She has learned what she can and can't get away with.
Sophie is an abstainer- it's all or nothing and she has a hard time "just having one."

Stacy chooses to use the words "she doesn't" eat something, not that she "can't."

If something has gluten in it, she isn't even tempted by it.
Everyone has their own limitations and should learn to listen to their bodies.

Sarah agrees- the foods that make her violently ill are not tempting to her.

It's the things that don't cause her a lot of distress that she tends to want to overeat.
It is especially hard when her kids and family are eating these things.

If and when you indulge, it is important that you don't beat yourself up. It isn't the end of the world. You may even have a little reaction. It doesn't mean that you failed, or that everything is lost.

It is important to not let an indulgent become a snowball. Or for one bad choice to be permitted to make a lot more bad choices.
The best thing you can do to recover after an indulgence is to turn to nutrient-dense and healing foods.

Sophie has had success with having prepared healthy snacks.

When a craving hit she wasn't telling herself "no," but "yes, eat these healthy things."

Sophie's new book, The Autoimmune Protocol Made Simple Cookbook is releasing in June.

Stacy wants to know what recipe she struggled with the most.

Sophie has had a hard time coming up with dressings and sauces because she doesn't often use them.

Sophie loves how well-rounded and fresh the recipes in this book are!
One of Sophie's favorite recipes are the Tummy-Soothing Popsicles!

You can find Sophie at A Squirrel in the Kitchen.
If you've enjoyed the show, please recommend it to someone who might enjoy it.

We love when you share and when you leave reviews for us! Thanks for listening!

Become a Member for FREE!
The Paleo Mom Members' Area is resource central!  
You'll get FREE, unlimited access to dozens of quality resources, including introductory series, downloadable e-books, exclusive recipes, printables, videos and guides!
You may enjoy these related posts:
This week on The Whole View Podcast, Stacy and I answer listener Sandy's …