In this episode, we update you on how Stacy has been since the last episode we did on her emotional and physical recovery. Plus, we talk about the emotional journey to health and how to learn to love yourself.
Click here to listen in iTunes
LAST CHANCE to get the AIP Lecture Series!
RETIREMENT SALE! SAVE 70% OFF!
This online course is being retired on January 31st!
I am loving this AIP course and all the information I am receiving. The amount of work you have put into this is amazing and greatly, GREATLY, appreciated. Thank you so much. Taking this course gives me the knowledge I need to understand why my body is doing what it is doing and reinforces my determination to continue along this dietary path to heal it. Invaluable!

Carmen Maier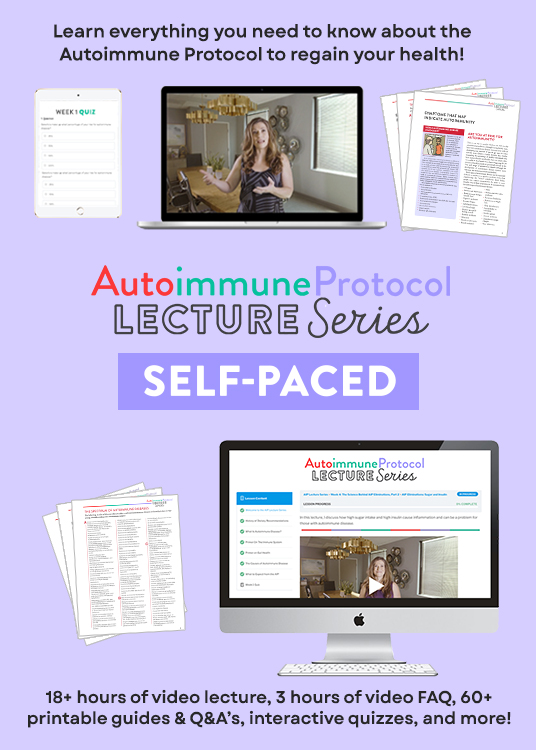 or download and listen by clicking the PodBean Player below
If you enjoy the show, please review it in iTunes!
The Paleo View (TPV), Episode 237: Self-Love, Self-Acceptance, Self-Respect
Intro (0:00)
News and Views (0:40)

Stacy's going to greet the audience instead of Sarah on the show from now on!
Sarah did 17.1 for the Crossfit Open! And she did the prescribed weight for the first time!
17.1 was:

For time: 10 dumbbell snatches, 15 burpee box jump-overs, 20 dumbbell snatches, 15 burpee box jump-overs, 30 dumbbell snatches, 15 burpee box jump-overs, 40 dumbbell snatches, 15 burpee box jump-overs, 50 dumbbell snatches, 15 burpee box jump-overs
Women use 35-lb. dumbbell and 20-in. box
20 minute time cap

Doing it at the prescribed weight is a big accomplishment! It's the same as the elite athletes!
Sarah's girls have been asking when Sarah is going to the games. Unfortunately, she is not that kind of athlete and doesn't have the muscles of Samantha Briggs.
But Sarah believes in showing that hard work and consistency leads to success and that watching her Crossfit is helping teach that to her girls.

Today's topic is Self-Love, Self-Acceptance, and Self-Respect

Some people who listen can't do hard workouts, and some do hard workouts to punish themselves or to fit into a box in their heads.
When we started Real Everything, we wanted to also talk about important emotional topics and not just food stuff.
18 months ago Stacy hurt her back and had to prematurely end, or at least put on indefinite hiatus, her StrongWoman career. It's been a long journey for her back since then.
A little while ago, we had a show (Episode 204) on how Stacy became severely depressed after her injury and went on anti-depressants to help her.
This show will serve as an update to that show from 8 months ago because Stacy is in a much more stable place.
There are two aspects to a health journey: figuring out what to actually do to become healthy, and discovering an awareness and respect for yourself.
People have a tendency to prioritize other tasks and other people first and not themselves. Going on a health journey often means confronting this fact and increasing your own priority level.
Sarah says found herself when she found her health.
Stacy had reached a health peak as a competitive athlete with a healthy diet and great happiness, and then felt herself torn back down due to a back injury.
Dwelling on the reasons and the causes and feeling bad about yourself won't help you get to a positive, healthy place.
When Stacy's brother-in-law died in December, Stacy was able to get over her last hump because she could put in perspective how she was in a great place in her life and her back was doing really well.
Acceptance of her situation and acceptance of what she can and cannot change led to Stacy embracing her own journey. You know, a secular version of the Serenity Prayer.
Most importantly, she learned to accept that she had gained weight since her injury due to no longer working out and taking a SSRI that has a weight gain side effect. Stacy felt a lot of shame about it.
When you were an obese person, you often have a lot of feeling that never go away. You fear going back to being an invisible fat person that people aren't nice to.
When Andrew died, she stopped thinking about these shameful thoughts because she realized it didn't matter what she weighed.
Stacy encourages you to be accountable to how you treat yourself. Would you tolerate it if someone else talked about you the way you talk to yourself? Are you surrounding yourself with people that will love you unconditionally?
This self-love has also improved her relationship. Her husband helped her in her darkest times and encouraged her when she started seeking help.
Stacy has gained weight, and no she's not ashamed, won't go on weight watchers, and won't go back to being bulimic.
She's just going to continue with what she knows will get her to health. Good diet, good nutrients, good sleep and good activity.
Unfortunately, walking is the best physical activity for her right now and may or may not get better than that. And that's ok!
Stacy on the show lately has been aware of different points in a health journey, which is why she's lately saying things like "you might not be ready for this step just yet" or "you might want to try a phased approach".
Stacy is focusing on being happy, accepting and loving herself, and enjoying her life.
Sarah wishes there was a way to come to a change in perspective without personal tragedy. (Yes there is a cat in the background here. It is Sarah's and it can't be removed from the audio!) What could you do to reach this point without that?
Stacy says that one of the key steps was to buy clothes in her bigger size. Often people refuse to do this either as a punishment or because it means "accepting" that you're bigger and giving up on losing the weight.
Stacy determined that no matter her weight gain, she deserved to be comfortable and that it didn't mean she would never lose weight again.
She's now able to accept that she is the size she is right now and that's okay!
Remember: being positive leads to more positivity. If you tell yourself that you are doing great, eventually you will feel like you're doing great!
Sarah has always had trouble praising herself. She likens her own self-love practice to gratitude practice. Take time out of your day to allow yourself to feel gratitude towards yourself. "I'm grateful for my commitment to exercise because now my body is stronger."
Be mindful not to fall into negative self-talk because it can spiral down and be harder to break out of.
This, too, is a journey. You're not going to magically start loving yourself. Think about how to make this into a practice and a process.
One of the things that motivated Stacy when Andrew died was a desire to be there and emotionally strong for Matt and the kids. If she was focusing on shallow, surface level stuff about herself, they wouldn't feel like they could lean on her for the support they needed.
Stacy was motivated to go on antidepressants in part because it was something she needed to do for her marriage.
And sometimes you need to take time to step away. Stacy gets her nails done every 10 days or so and takes that time to not think about problems at work or issues she has with herself or her life, but takes the time to focus on herself.
Take home message: Once you accept yourself as you are, it becomes easy to move forward towards being your best self. (and live your best life. Thanks Oprah!)

Thank you to our fans for supporting us for nearly five years (Episode 250 on June 2nd! Five Year Anniversary on July 28th)! So awesome! We love and appreciate all of you!
Outro (45:12)