In this episode, Stacy and Sarah invite Robb Wolf on to talk about his new book Wired to Eat!
Click here to listen in iTunes
*NEW* Guide to Nutrivore E-Book!
Nutrivore is the simple yet revolutionary concept:
Choose foods to meet the body's nutritional needs!
I'm very excited about the Nutrivore information! Thank you so much for all your research and hard work you put into this kind of information for all of us to use!! -Debbie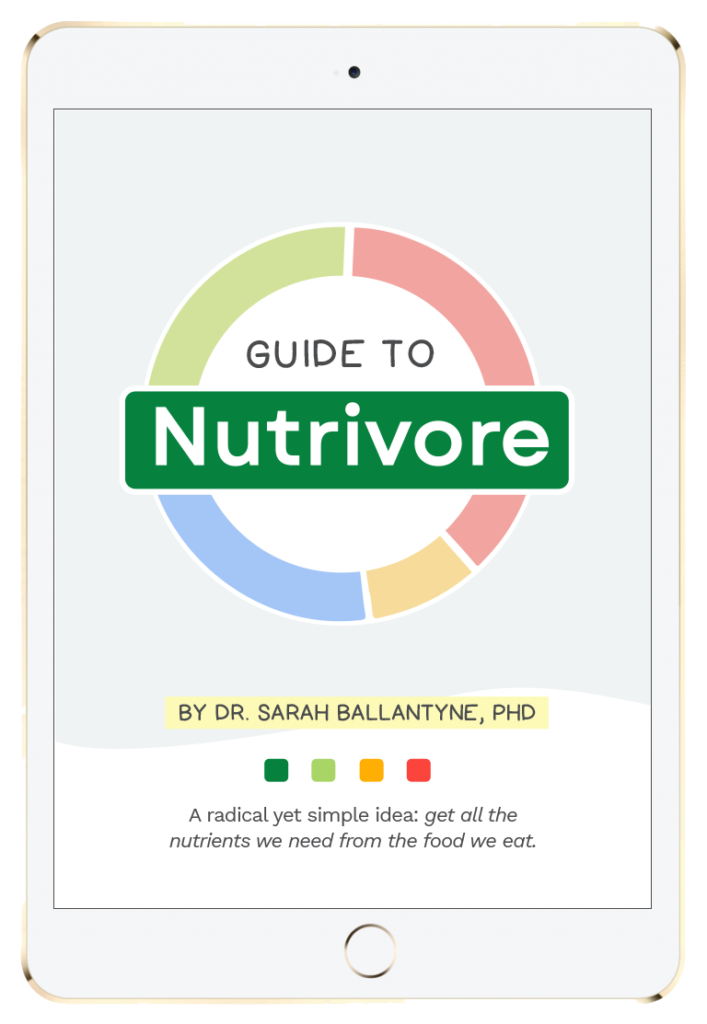 or download and listen by clicking the PodBean Player below
If you enjoy the show, please review it in iTunes!
The Paleo View (TPV), Episode 243: How Are You Wired to Eat with Robb Wolf
Intro (

0:00

)
(You can skip to Robb's interview at

12:40

!)
News and Views (

0:40

)

Sarah and her family opted for an "explore your city" approach to Spring Break.
Their goal was to do 2 new things around Atlanta.
They went to a park with a creek they've never explored—and found a super scary snake!
Then, she and her daughters went on a nearly 6-mile hike around a local "mountain."
Sarah was really impressed with how her daughters held their own during their 4-hour adventure.
She did bribe them with a gluten-free and dairy-free sandwich cookie during the last 1.5 miles, but overall they did well on double or triple their usual hiking distance!
Sarah's daughters are now really into hiking. It makes her feel like she did something great as a parent!
Meanwhile, Stacy's kids will be cleaning during Spring Break to get their house ready to sell!
Stacy's family has been getting creative in their kitchen since they're trying to keep it clean.
They're finding lots of interesting options like salads that they normally wouldn't eat much.
You can find some of Stacy's lunch box and dinner creations at @RealEverythingBlog and the #nocookPaleo hashtag.
Stacy is looking forward to selling the house!

Robb Wolf Intro(

11:20

)

Robb has been an important voice in the Paleo community for years.
Sarah says his new book, Wired to Eat, is going to advance the conversation on Paleo nutrition and provide useful tools for everyone in the community
He blogs at robbwolf.com and his first book, The Paleo Solution, is available online and in stores everywhere.

Robb Wolf Joins the Show (

12:40

)

Stacy and Sarah are super excited that Robb is back on the show!
Robb's site is RobbWolf.com
When Robb moved to Reno 5 or 6 years ago, he became involved with a medical clinic that had just finished a large scale, 2-year pilot study with Reno PD and Fire Department. The changes when they put first responders on a Paleo Diet saved the City of Reno $22 million with a 33-1 return on investment.
New scientific information is going to continue to validate findings like these.
Robb realized "this stuff really works, I'm not a crazy person."
At the same time, Paleo has become dogmatic. Robb says this is understandable because people see such amazing results, but it's off-putting for the media, public at large and especially mainstream medicine.
"Brain evolution, the determinates of food choice, and the omnivore's dilemma," one of the papers that inspired Robb's new book

Our food choices are driven by a desire to consume more calories than we expend, so eating is regulated by one of the deepest, most ancient parts of the brain. Really powerful triggers are woven into that process.
Since we now live in a time of "infinite food options," we shouldn't be surprised that it's difficult to make good choices.
This paper made a case that "it's not your fault."

Personalized Nutrition by Prediction of Glycemic Response

A groundbreaking study that showed completely individualized responses to certain carbohydrates. For instance, one person might have a normal blood sugar response with a cookie and elevated blood sugar response with a banana, while another person might find the opposite.
With healthy blood sugar levels, researchers saw healthy gut microbiota, and vice versa.

Robb realized this was an important story to tell, especially couched in the context that struggling with dietary and lifestyle change is not our fault.
Personalized nutrition made a strong case that although we need to start with general Paleo principles, the "one size fits all" approaches only meet the needs of certain people.
Stacy says some people get caught up in their own approach and forget about individualized, flexible approaches that make significant change possible—where "perfection isn't the enemy of the good."
She sees this as a way to encourage people to find a more personalized template that might make them want to try Paleo without giving up some less-damaging, favorite foods.
Robb compares the appeal of social media to the hyper palatability of potato chips, which are designed to appeal to our neurology in the same way. Sea Salt and Vinegar potato chips are an example of this type of engineered food.
Modern dietetics are still in complete denial that evolutionary models can help us, so the gatekeepers aren't doing us any favors.
Sarah's history of obesity and binge eating means adopting a Paleo diet didn't completely heal her relationship with food. She still struggles with portion control and intuitive eating doesn't work for her.
Researchers now think engaging with hyper palatable foods regularly contributes to the problem of binge eating. It's more complicated than just cutting everything out!
In Wired to Eat, Robb shares concrete strategies for identifying trigger foods
The 7-Day Carb Test

The book shares a 30-day Paleo Reset to support a healthy blood sugar response.
Afterward, the 7-Day Carb Test helps you understand where you are on the insulin sensitivity spectrum.
It involves testing blood sugar response to 50 g of several different types of carbs (gluten-free like white rice, corn tortillas, white potatoes) after they are eaten alone at breakfast.
Robb's ideal measure is under 115 mg/dl after 2 hours.
If a carb spikes the blood sugar too much, it makes sense to avoid, limit or keep the food in the post-workout period.

Robb has seen surprising results to these tests, possibly mediated by an immunogenic response to certain foods.
Researchers from the "Personalized Nutrition" study mentioned above told Robb they didn't test for immunogenic responses in this study, but they suspect this was a factor in surprising responses found in their study, like a poor reaction to hummus.
We've long thought high and low glycemic load foods were the key to managing blood sugar, but there's more to the story thanks to these immunogenic results.
These responses are tricky because they don't fit cleanly into the mold of either allergy or immune responses.
Stacy notes that many people don't believe that food affects their health, and she hopes Robb's work leads to profound results.
Robb says blood glucose control helps manage our gut micro biome too, making it a very affective control on our health.
Pre-agricultural people given blood glucose tolerance tests have fabulous glucose tolerance. This is the basis for Robb's upper level, 115 mg/dl.
Sarah had gestational diabetes during her first pregnancy, and the levels were much higher than this upper level. What her doctors accepted was much higher than what she thinks is ideal now.

Robb was very generous with his time, so he will be joining us to talk about a completely different topic soon!
Rate and Review us! Goodbye!
Outro (51:20)