In this episode, Stacy and Sarah are talking about the hazardous components of a lot of personal care items.
Click here to listen in iTunes
or download and listen by clicking the PodBean Player below
Nutrivore Weekly Serving Matrix
An easy-to-use and flexible weekly checklist
to help you maximize nutrient-density.
The Weekly Serving Matrix is very helpful! I've been eating along these lines but this really helps me know where to focus vs. which foods serve a more secondary role. It's super helpful and has taken a lot of worry out of my meal planning. Thanks!

Jan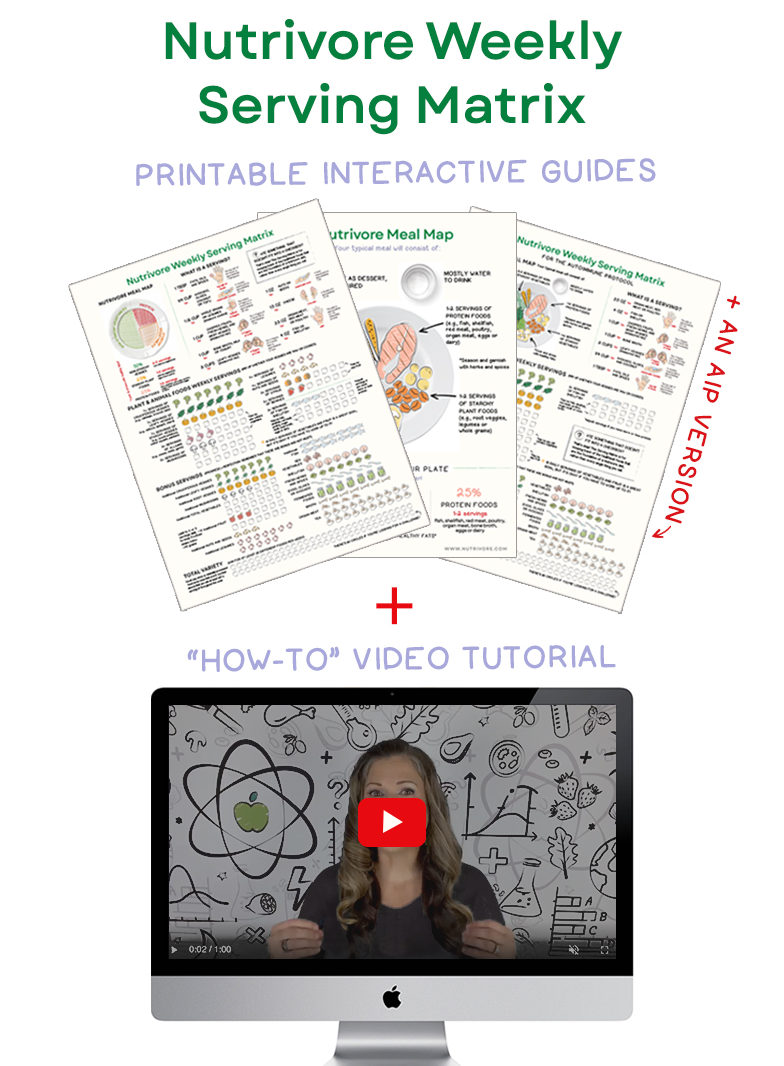 If you enjoy the show, please review it in iTunes!
The Paleo View (TPV), Episode 275: Cancer Risk from Personal Care Items
News and Views (0:41)

This episode is inspired by Stacy's post on Federal Regulations
Sarah also read State of the Evidence 2017 from the NIH
We are constantly bombarded by toxic compounds that are everywhere in the environment and can lead to bad health conditions!
But if you're feeling overwhelmed, remember the protective effects of veggies, nutrient sufficiency and sleep.
Check out the EWG app to scan items to find how toxic items you use are.
The NIH paper went over the evidence of breast cancer to determine why the rates are increasing.
These chemicals are not just about breast cancer, but can cause all kinds of chronic disease.
Hormone disruption is one of the key reasons. Extra estrogen can cause breast cancer. For example, hormone replacement and birth control
You will find issues in hormonal products as well a disrupters like BPA in plastics.
Stacy likes Beautycounter products
Sarah uses Buffalo Gal and Primal Life Organics.

Rate and review us. Goodbye!
Outro (1:08:52)

Become a Member for FREE!
The Paleo Mom Members' Area is resource central!  
You'll get FREE, unlimited access to dozens of quality resources, including introductory series, downloadable e-books, exclusive recipes, printables, videos and guides!
You may enjoy these related posts:
On this week's episode, Stacy and Sarah discuss the toxins that are hidden …