In this episode, discuss reasons why and why not to follow the Autoimmune Protocol
Click here to listen in iTunes
or download and listen by clicking the PodBean Player below
Nutrivore Weekly Serving Matrix
An easy-to-use and flexible weekly checklist
to help you maximize nutrient-density.
The Weekly Serving Matrix is very helpful! I've been eating along these lines but this really helps me know where to focus vs. which foods serve a more secondary role. It's super helpful and has taken a lot of worry out of my meal planning. Thanks!

Jan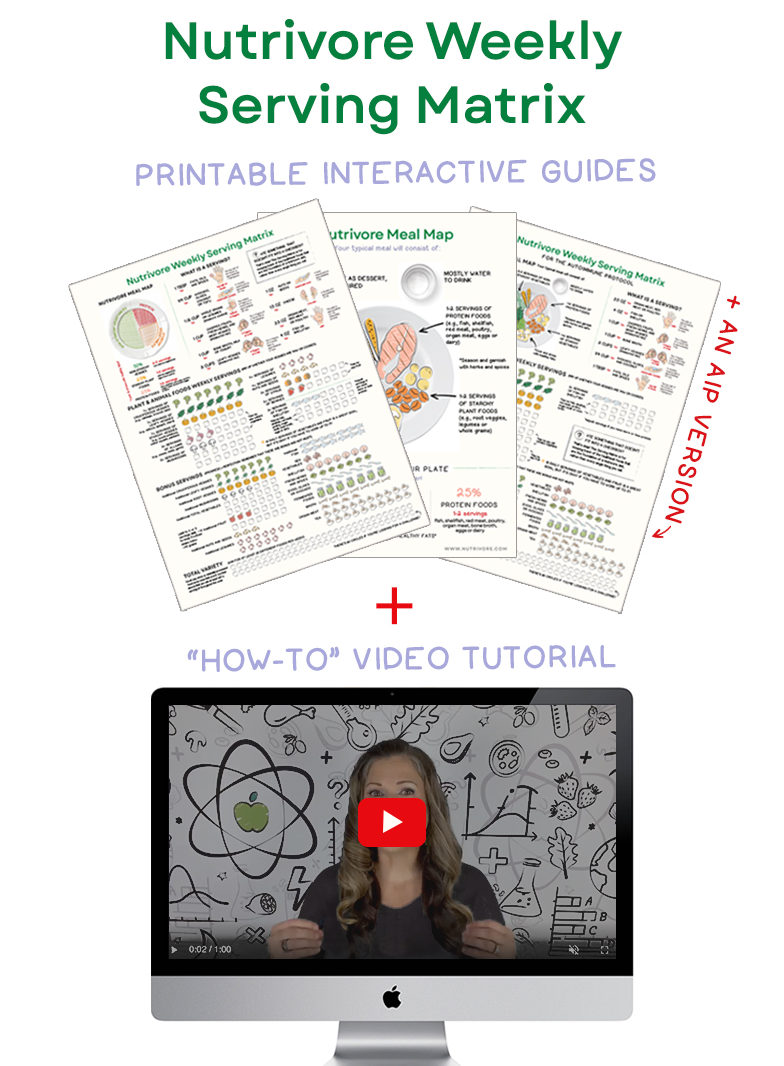 If you enjoy the show, please review it in iTunes!
The Paleo View (TPV), Episode 265: Should everyone follow AIP?
Intro (

0:00

)
News and Views (0:41)

We're recording early due to book work, travel and Stacy's Birthday!
Stacy is turning 36, which is the age she remembers her own mom.
Stacy is going to the Biltmore in Santa Barbara for a spa weekend that she earned with Beautycounter!
Send any questions you have to us! We love questions! [email protected]

Question from Karen (5:47): "My question is Would it be a good idea for me to try the Autoimmune Protocol even if I have not been officially diagnosed with an autoimmune disease? I have seen benefits of the Paleo diet but am still experiencing gastrointestinal issues and wondering if I should continue by eliminating eggs, nuts, seeds, and nightshades? Any feedback or suggestions would be greatly appreciated."

Stacy says not to look at it as necessarily an autoimmune issue, but a bad reaction to a certain food.
Everyone has different triggers, some may be nightshades, some may be starch or fat. You have to figure it out.
Keep a food log to track when and what circumstances are causing issues.
That said, the AIP wouldn't necessarily be bad, just not necessarily prescribed. Plus, you're eliminating so much it will be harder to see what you're reacting to.
Reintroduce using the reintroduction protocol.
AIP is about dialing in all aspects of health and making sure you the best, safest choice, removing all possible immune stimulators.
Autoimmune is hard to diagnose, so if you think AIP might help a chronic illness, it probably will.
And sometimes even treated autoimmune disease will benefit from AIP by reducing inflammation and treating concurrent autoimmune issues.
But AIP is not indicated for everyone. Some eliminated foods are really nutrient dense and a good choice for most people! Stuff like grass-fed dairy, nuts and seeds and pastured eggs are good for most people.
You won't know what your issue is until you do an elimination diet. Maybe you have an infection or SIBO or FODMAP intolerance, etc. Perhaps you need a probiotic.
Diet is the biggest corrective factor in GI symptoms! Eat more veggies and fruits. Your community of gut bacteria will love them.
Gut bacteria control everything! Getting them healthy is so important. Eat more veggies and fiber and low saturated fat and high Omega-3s. Seafood and veggies are magic!
Remember: AIP isn't Paleo with more eliminations, but a whole lifestyle change to have a great nutrient dense diet with healthy lifestyle factors.

Rate and review us. Goodbye!
Outro (36:29)