I am so excited to be able to share this special sneak peek recipe from The Paleo Kitchen with you today!
If you haven't heard of The Paleo Kitchen, which will be available online and in stores nationwide in just a few short weeks, it is the collaborative effort by two of my favorite Paleo food bloggers: George Bryant of Civilized Caveman Cooking Creations and Juli Bauer of PaleOMG. George and Juli have united to bring over 100 brand-new, bold, and delectable Paleo recipes straight from their kitchens to yours in their new cookbook, The Paleo Kitchen. This beautiful cookbook includes appetizers, entrees, sides, and desserts; full-color photos; and tips, tricks and anecdotes in George and Juli's signature down-to-Earth banter. The Paleo Kitchen is now available for pre-order and releases on June 10th. Until then, you can enjoy this sneak peek–a delicious recipe for Four-Layer Beef and Bacon Casserole! And the best part? If you omit the pepper, this recipe is fully Autoimmune Protocol-friendly! Woot!
Serves: 8
Prep Time: 35 Minutes
Cook Time: 30 minutes + 5 minutes
Save 80% Off the Foundations of Health
Expand your health knowledge on a wide range of topics relevant to you, from how to evaluate scientific studies, to therapeutic diet and lifestyle, to leaky gut and gut microbiome health, to sustainable weight loss, and much more!!!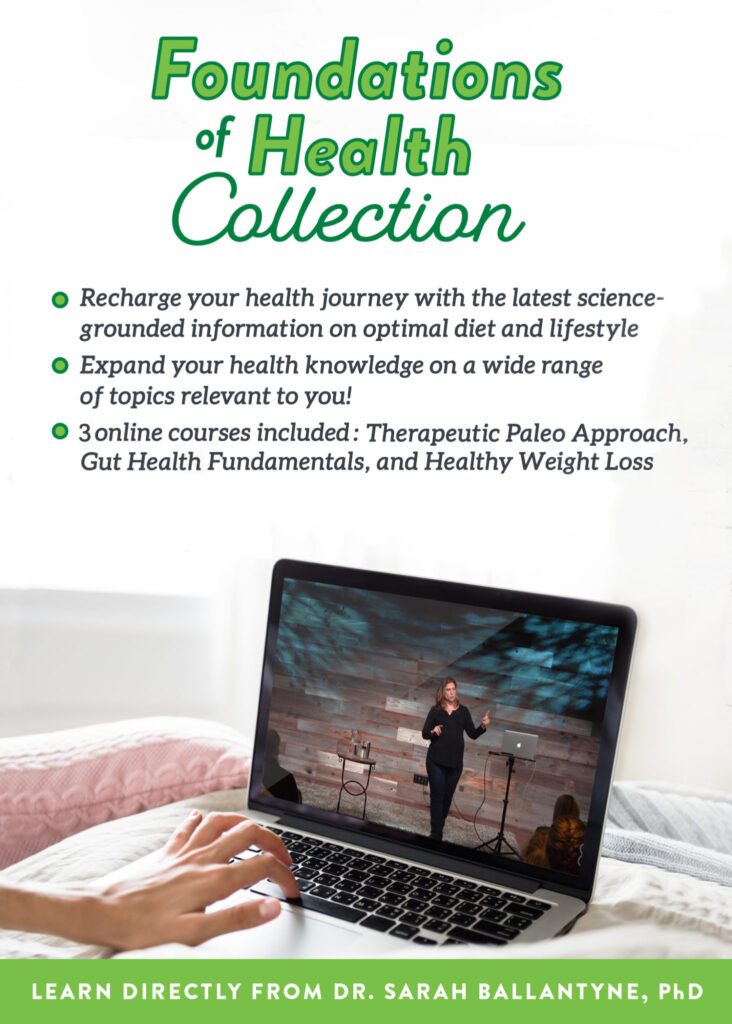 Ingredients (Four-Layer Beef and Bacon Casserole)
½ pound (225 grams) bacon
Ingredients (Sweet Potato Mash)

3 to 4 medium-sized sweet potatoes (1¼ pounds/560 grams)
¼ cup (60 mL) coconut milk
½ teaspoon dried sage
¼ teaspoon salt
Ingredients (Cauliflower Mash)

Ingredients (Ground Beef Mixture)

2 pounds (910 grams) ground beef
1 garlic clove, minced
1 medium yellow onion, diced
8 ounces (225 grams) button mushrooms, diced
coconut oil, for greasing the baking dish
Preheat the oven to 375°F (190°C). Grease a 9-by-13-inch (23-by-33-cm) baking dish.
Place the bacon on a rimmed baking sheet, place in the oven and bake for 12 to 15 minutes, until cooked through. Roughly chop the bacon. Set aside.
Turn up the oven to 400°F (205°C). Poke holes in sweet potato with a fork. Place on a rimmed baking sheet and bake for 35 to 40 minutes or until the sweet potatoes are soft and easily pieced through with a knife. The time may range depending on the thickness of the sweet potatoes.
While the potatoes are baking, steam the cauliflower. Once cauliflower is fork tender, place it in a food processor or blender and puree until cauliflower becomes soft and resembles mashed potatoes. Then add the coconut milk and salt and pepper and continue to blend until you have a smooth consistency. Remove from the blender and set aside. Clean out the blender for the sweet potato mash.
When sweet potatoes are soft, remove their skins and place in the food processor or blender. Blend until the sweet potato breaks down, then add the coconut milk, sage, and salt and pepper and puree until smooth. Set aside for later.
Lastly, place a large pan or Dutch oven over medium-high heat. Add the ground beef and break it apart with a wooden spoon. Once the meat begins to brown, add the garlic, yellow onion and button mushrooms. Sprinkle with salt and pepper and continue to cook until the meat is cooked through, then remove the pan from heat.
Create the layers: Use a slotted spoon to remove half of the meat mixture from the excess liquid in the pan and place in the prepared baking dish in one layer. Then pour the cauliflower mash mixture on top of the meat and spread out. Then, using the slotted spoon, add the other half of the meat on top of the cauliflower mash. Lastly, pour the sweet potato mash on top and spread it out on top of the meat.
Turn oven down to 350°F (175°C) degrees. Place the casserole in the oven and bake for 30 minutes, or until the casserole begins to bubble. Then turn on the broiler to high and cook for 5 minutes to brown the top of the casserole. Let rest to thicken and garnish with the bacon before serving.
---
Want more? Pre-order The Paleo Kitchen here.
George Bryant is the creative genius behind the wildly popular Paleo food blog Civilized Caveman Cooking Creations. After spending the first 20-something years of his life in a constant battle with his weight, and then nearly losing both his legs while on deployment as a US Marine, George took matters into his own hands and began his own Paleo journey. What started as a simple place to post recipes for friends has since turned into an award-winning food blog. After being in the Marines for 12 years, George has since been medically separated and is enjoying working full-time creating delicious Paleo recipes, while hoping to change as many lives for the better by making REAL food recipes simple and tasty. You can find him on Facebook, Twitter, Google+, YouTube, Instagram, and Pinterest.
Juli Bauer is a food-obsessed CrossFit enthusiast who blogs at PaleOMG to help others eat healthier and live better, whether strict Paleo or not. She is the author of OMG, That's Paleo? and you can also find her on Twitter, YouTube, Facebook, and Instagram.