This is the recipe that accidentally led to my Perfect Paleo Pancake recipe. Creating a Paleo crepe was a long time goal, and I am so happy to finally be able to share a truly delicious Paleo crepe recipe with you! This is yet another green plantain-based recipe (see my Plantain Cracker recipe and the video below for tips on cooking with and storing plantains).
Crepes were always a special treat growing up. We didn't own a crepe maker so my mom made them the old fashioned way in our old cast iron frying pan. I always liked them plain with just a dusting of powdered sugar on top. My brothers usually ate them with jam in the middle. As an adult, I rediscovered crepes while gallivanting through Paris with my then fiancé (now husband). Crepes are a standard street food in France and that's when I discovered the sheer joy of a Nutella-filled crepe (Nutella is a chocolate hazelnut spread and one of my greatest weaknesses before discovering Paleo). Two great loves thus came together into one delicious diabetes-inducing addiction. So, creating a Paleo version of this favorite treat makes me very, very happy.
*NEW* The Gut Health Cookbook!
The Gut Health Cookbook is fantastic! Thank you for researching and creating The Gut Health Cookbook! Such wonderful recipes! I'm so excited to try them all! -Sue
The Gut Health Cookbook puts the 20 Keys to Gut Health into practice with:
180+ recipes featuring 61 gut health superfoods

Gut health food lists

Why's behind each gut health superfood
Get instant digital access for $27.99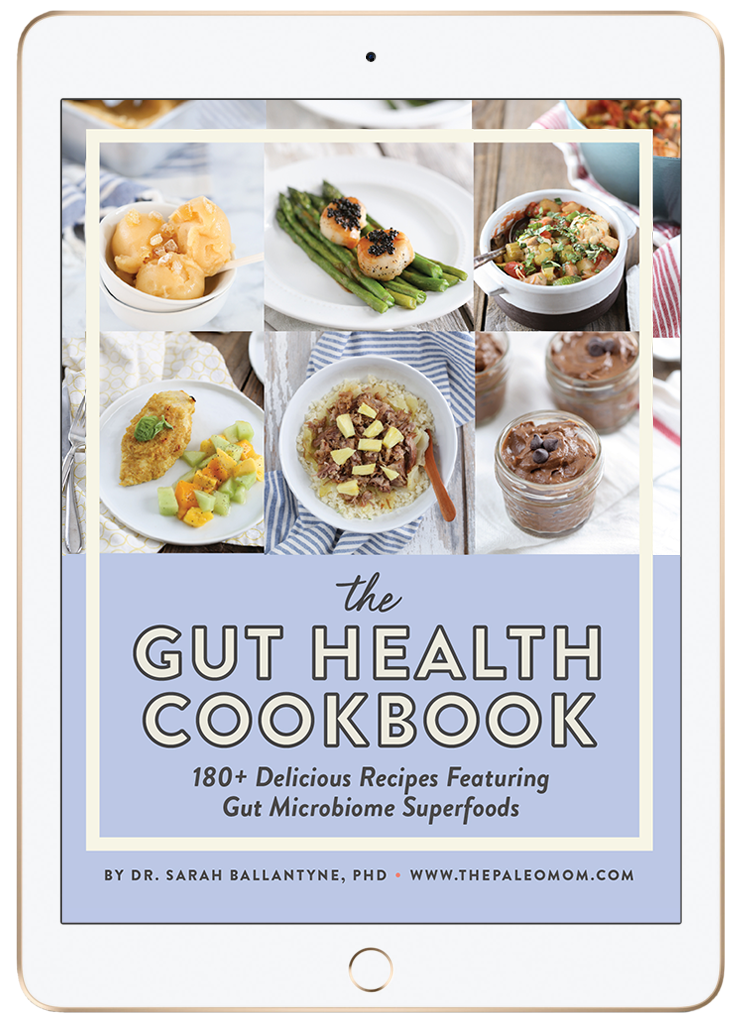 These crepes are nut-free (and coconut-free if you substitute another oil for the coconut oil), although clearly the Paleo nutella isn't. Other delicious fillings or sides for crepes are fresh fruit, fruit spreads (like jam or coulis), coconut cream (the top fatty half of a can of full-fat coconut milk), coconut cream mixed with lemon juice, and nut butters. You can also try a savory filling with these crepes or even use these crepes in place of tortillas for enchiladas. You could even roll some deli meat and Paleo mayo or mustard into these crepes for a fun lunchbox food!
Crepes are easiest to make with a crepe maker or a crepe pan. However, these specialty kitchen tools are not a necessity. I made my crepes with a 12" non-stick omelet pan (the edges are at a good angle for getting underneath the crepe to flip it). Sure, it's more work and my crepes are not as thin or even as they would be with a crepe maker, but it still works for me. But, if you find yourself wanting to make these often, investing in a crepe maker is definitely worth it. This recipe makes 6-7 crepes and is easily doubled.
Prep Time: 10 minutes
Cook Time: 10-15 minutes
The Ultimate Support for Your AIP Journey!
Dr. Sarah Ballantyne has delivered an exceptional course and I highly recommend this to anyone looking to improve their health. There is something for everyone. It was extremely helpful and worth the investment. -Marie Schlichtig
The AIP Lecture Series is the ultimate Autoimmune Protocol educational experience! Learn directly from Dr. Sarah!
6-week online course
42 on-demand video lectures
dozens of printable guides
self-discovery exercises and action steps
online forum and guided discussions
support and guidance from Dr. Sarah Ballantyne!
The next session begins January 18th, 2021.
(Use code AIPLS85 to save $85 and get bonus access to the Gut Health Fundamentals online course!)
Serves: 3-4 (Makes 7-8 crepes)
Ingredients (Paleo "Nutella"):
Blend hazelnuts in food processor or blender for 2-3 minutes until a paste begins to form.
Melt chocolate and coconut oil together (you can use a small saucepan over low heat or your microwave).
Add warm chocolate to hazelnuts and blend an additional 2-3 minutes until completely smooth. Let cool. Store at room temperature for up to a few days or in the refrigerator for a few months.
Ingredients (Nut-Free Paleo Crepes):
Peel plantains (I find it easiest to quarter them first) and place in a blender or food processor with the rest of the ingredients.
Puree batter for 2 minutes until completely smooth.
Meanwhile, heat a crepe maker, crepe pan, or omelet pan over medium to medium-high heat (I set my element to 6).
Add 1 tsp of coconut oil to the pan for each crepe (just enough that the crepe doesn't stick, but not so much that the batter can't spread out when you swirl the pan). Add 3-4 Tbsp of batter (you could use a ¼ cup scoop or just eyeball it) to the pan and immediately hold the pan up over the element while you swirl/angle the pan so that the batter spreads out into a uniform circle. (If you have a crepe pan, use the spreader to spread out the batter. If you have a crepe maker, follow the directions.)
Cook for 45-75 seconds on the first side, until the top looks dry. Flip and cook for 15-30 seconds on the second side.
Add more coconut oil to the pan and repeat with the remaining batter.
For nutella crepes, spread 2-3 Tbsp of Paleo "nutella" over one side of the crepe and roll or fold.
Enjoy!
Watch this video from my YouTube Channel to learn more about green plantains: