Many of you have expressed your frustration that you are not seeing improvement in your autoimmune disease despite following the Autoimmune Protocol. I have tried to give you a realistic timeframe for how long healing may take to help you find some patience with the process. I also thought that recounting my own experience with the Autoimmnue Protocol may be helpful for you.
As I reflect on the health conditions I suffered from in my early-twenties to early-thirties, what once seemed like disparate conditions suffered by a genetically weak me, I now clearly see as the linear progression of inflammation and autoimmune disease resulting from a gradually worsening leaky gut, developing adrenal fatigue and developing metabolic syndrome. Rather than being the result of weak genetics, I now see it as the result of poor diet, extreme stress, and a misguided exercise routine. My chief autoimmune complaint is a skin condition called lichen planus. Purple-red, ridiculously itchy to the point of painful lesions in the mucosal layer of my skin appear predominantly on my ankles and wrists, but also on my shins, forearms and even torso. Although I have never been tested, it is likely that I have lesions in internal mucosal tissues as well, namely the gut mucosa. If this is the case, this means that my leaky gut has caused inflammatory lesions in my gut which would make my gut leakier, definitely a vicious cycle.
I have had lichen planus lesions for a little over 10 years. Many (but not all) of them disappeared while I was pregnant (autoimmunity is suppressed during pregnancy) and nursing (and I was pregnant or nursing for 5¾ years straight), but they returned with a vengeance last summer when my youngest daughter night-weaned and suddenly went from nursing 12 times per day to only once or twice per day (this doctor-ordered forced night weaning is a topic for a future post). They got even worse in December when my daughter weaned completely (self-weaned, phew!). The standard treatment is potent steroid creams applied 2-4 times per day. Stubborn lesions can be injected with steroids and oral steroids are always an option. No doctor ever mentioned that this was an autoimmune condition (and I had 5 different PCPs in 5 different cities during this time).
Nutrivore Weekly Serving Matrix
An easy-to-use and flexible weekly checklist
to help you maximize nutrient-density.
The Weekly Serving Matrix is very helpful! I've been eating along these lines but this really helps me know where to focus vs. which foods serve a more secondary role. It's super helpful and has taken a lot of worry out of my meal planning. Thanks!

Jan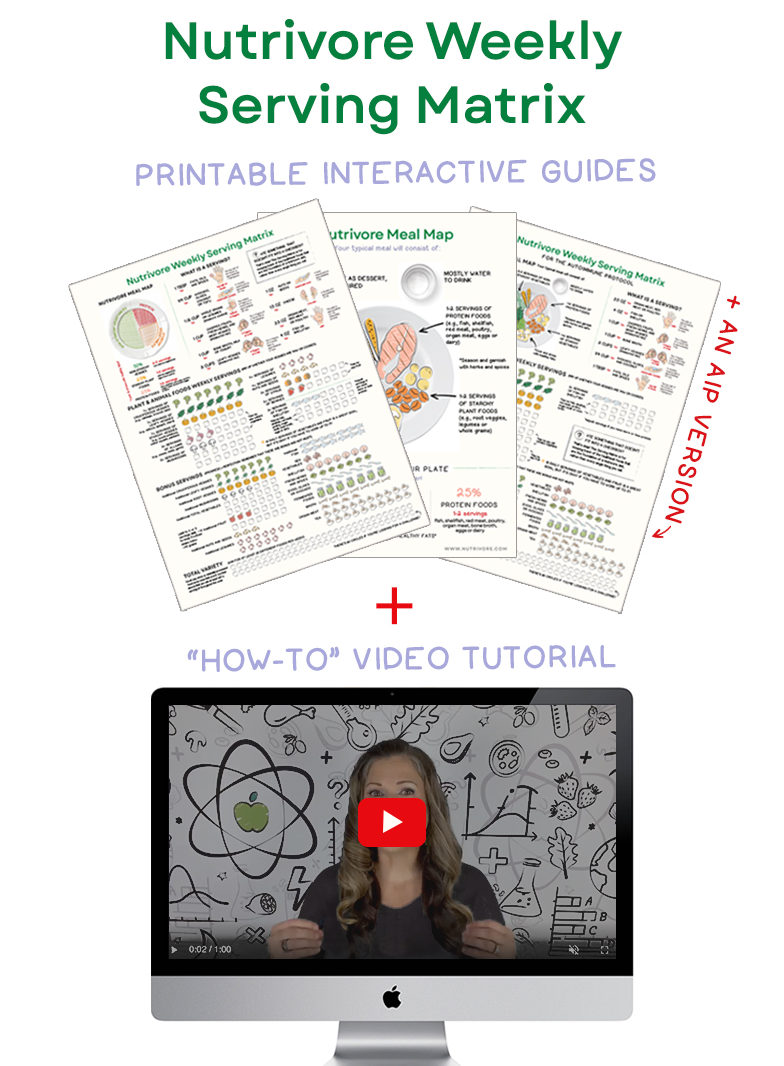 Researching solutions for my lichen planus brought me to Paleo. The dramatic improvement I saw to other health conditions inspired me to start this blog. Performing research for this blog brought me to the realization that I had an autoimmune disease and that I should be following the Autoimmune Protocol. I can't tell you how thankful I am to all of you for your part in this discovery. I am optimistic that I have finally figured out what foods and other lifestyle factors my body needs to be healthy, and that is some very powerful knowledge. Unfortunately, I suspect that I will never be able to eat eggs, almonds, or tomatoes again. I do seem to handle the occasional egg yolk, small amounts of spices that are ground seeds, small amounts of paprika which is from the nightshade family but is quite low in capsaicin, the occasional square of dark chocolate as long as it doesn't contain soy lecithin, and the occasional dose of macadamia nuts which are low in phytic acid and polyunsaturated fats.
I started the autoimmune protocol at the beginning of January, with frequent slips in my resolve over the first few months (gradually getting better at really following the Autoimmune Protocol). It's hard to be surrounded by tasty Paleo baking, even feeling compelled to continue experimenting with recipes using ingredients I can't eat. But even though I was struggling with compliance, I did see some improvement in my lichen planus lesions, albeit small and extremely slow. I also watched my weight creep up. I'm not sure if my weight creeping up was a result of not getting enough sleep during this time, mostly not eating breakfast during this time, or eating too much fat and not enough protein during this time—but I suspect that allowing myself to gain some weight was critical in also providing my body with the energy and micronutrients required to heal. And as I got better and better at avoiding eggs, nuts, seeds, and nightshades, I noticed more easily the negative effects when I did eat them. My lichen planus became an excellent litmus for foods I can't handle. These obvious reactions made it easier to avoid those foods. And as time as past, I have found more foods to eat and stopped skipping meals because I simply couldn't think of what to make.
The last 3 weeks have seen an absolutely profound improvement to my lichen planus. Other than the one lesion on my ankle that has been there the most consistently and for the longest time, which now looks like a scar (actually, it might be a scar!), you wouldn't notice anything amiss about my ankles, wrists, shins or forearms (unless you were looking really closely, but that would be weird think for you to do!). I can still see the dry, inflamed skin that still needs to heal. It's not all the way there, but it's such an amazing difference (all with no steroids too!) that I finally have that confidence that I am eating the right way. Oh, and my weight has started dropping again too. It could be that I'm sleeping better, eating breakfast, and eating more protein. But I think that reducing the inflammation in my body, which is allowing my hormones to normalize, is a critical component of this weight loss (the real test will be if my weight drops below my lightest, which is only 2 pounds away now). I should have taken a "before" photo, but who wants to document their ugly ankles? This is a current photo of my ankle though (I literally just took it!):
My husband was shocked at how great my ankles look when I pointed it out to him about a week ago. If you want to see what my lichen planus looked like before, you can check out this online pamphlet from the American Academy of Dermatology (the front photo looks like my smaller lesions; I had many lesions that were ½" in diameter and even one that was over 1").
What has changed in the last 3 weeks to account for this sudden improvement? There are a couple of other things that I think have really helped, beyond finally getting to 100% compliance with the Autoimmune Protocol. First, I started getting alot more sun exposure. I try and always at least roll up my pant legs to my shins and wear a tank top. I try and go outside with my kids at least 30 minutes per day. The beach trip for Mother's Day weekend gave me LOTS more sun exposure than normal. Our neighborhood pool is now open and I am bringing the kids for a swim at least twice per week. And I am still taking 10,000IU of Vitamin D3 a day (which my doctor thinks is extreme). I am eating a lot of organ meat, especially beef heart which is rich in collagen (which means rich in proline and glycine, those amino acids that are so vital for healing skin and connective tissues). I eat organ meat for at least one meal every day. I am drinking more bone broth (1 cup most days). I am mostly eating grass-fed meat and wild-caught fish (still some conventional poultry and pork in my diet, but I'm doing my best with my budget). I have stopped sprinting for now, thinking that it might have been too much stress on my body, but I am still walking, playing with my kids, and going to 3 yoga classes per week.
Was it all these tweaks that made everything come together for me? Maybe, but I also think that those 4 months of not seeing much improvement were actually important. I suspect that, during those 4 months, my gut was healing, my body was gradually decreasing antibody production, and inflammation was resolving. I think it took that time for my insides to heal to a point where I could see improvement on the outside. As an aside, I have noticed that my mood has been noticeably better these last few weeks too (more vitamin D or less inflammation in my brain or both?). The Autoimmune Protocol is working for me. But it's tough and it's slow. So, when I advocate patience, know that it comes from experience.