These "ice cream" bars are so ridiculously simple to make (how much simpler can you get than four ingredients and a popsicle mold!?!) and so ridiculously delicious, it feels like cheating. The secret is to use very ripe bananas, both for the sweetness they provide and the texture. When combined with smooth almond butter, they make for a completely creamy ice cream-esque inside to these treats.
You could totally make these nut-free by substituting sunflower seed butter or tahini or a mix for the almond butter (I don't know if coconut butter would work texture wise, but I bet it would be super tasty too!). And really, you could use any nut butter you want. I just like the almond-banana combo (reminds me of peanut butter and banana sandwiches when I was growing up).
*NEW* The Gut Health Cookbook!
The Gut Health Cookbook is fantastic! Thank you for researching and creating The Gut Health Cookbook! Such wonderful recipes! I'm so excited to try them all! -Sue
The Gut Health Cookbook puts the 20 Keys to Gut Health into practice with:
180+ recipes featuring 61 gut health superfoods

Gut health food lists

Why's behind each gut health superfood
Get instant digital access for $27.99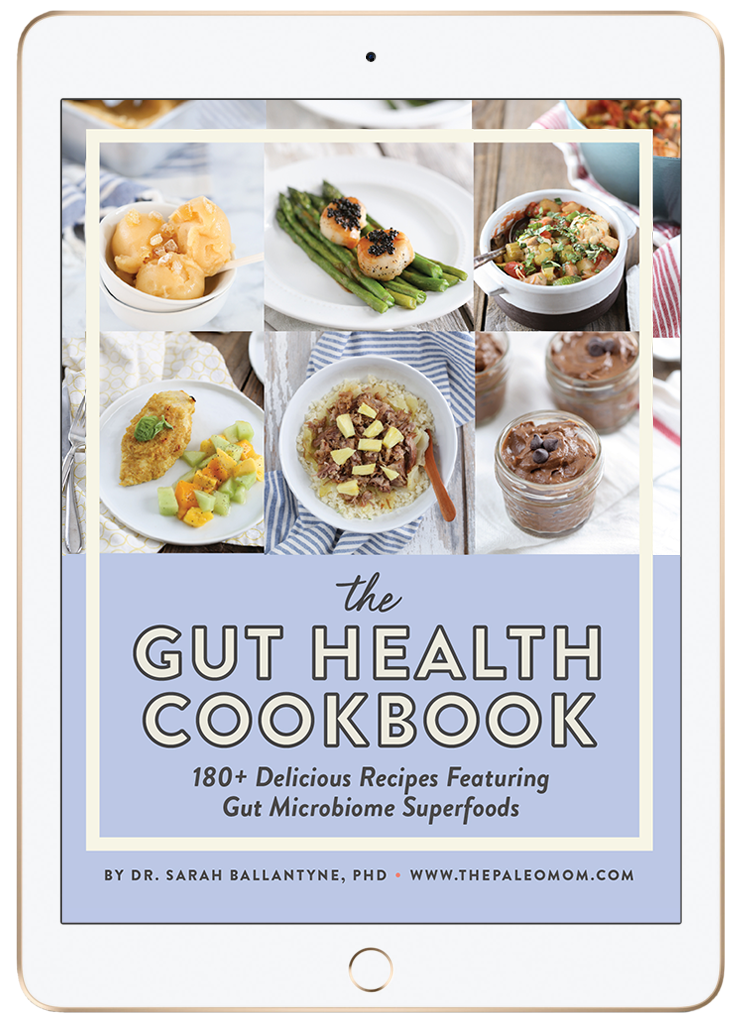 I keep the banana-almond popsicles in my freezer and then we dip in magic shell right when we're ready to eat. As a fun variation, you could immediately roll the popsicle in chopped nuts before the magic shell completely hardens.
I use classic cylindrical popsicle molds that I bought years ago (can't remember what store). They are similar to these Kidco popsicle molds. However, if I was going to buy new molds (which I may do because I can't be 100% certain that mine are BPA-free), I would either buy ones with a spout for drinking the melted liquid like these Danesco ones
or buy these super cool Norpro Silicone Ice Pop Molds
that are more like otter pops (or freezies if you're Canadian), although something like these Tovolo molds would be a more usual shape for Eskimo Pies (yeah, on second thought those Norpro ones might be a bit awkward for this recipe. I still think they're cool though) .
This recipe makes 10 ¼-cup sized popsicles (1 full mold and then two extra popsicles). My kids can't get enough of them.
Ingredients (Banana-Almond "Ice Cream"):
The Ultimate Support for Your AIP Journey!
Dr. Sarah Ballantyne has delivered an exceptional course and I highly recommend this to anyone looking to improve their health. There is something for everyone. It was extremely helpful and worth the investment. -Marie Schlichtig
The AIP Lecture Series is the ultimate Autoimmune Protocol educational experience! Learn directly from Dr. Sarah!
6-week online course
42 on-demand video lectures
dozens of printable guides
self-discovery exercises and action steps
online forum and guided discussions
support and guidance from Dr. Sarah Ballantyne!
The next session begins January 18th, 2021.
Register now to get bonus instant access to the Gut Health Fundamentals online course!
For best consistency, blend bananas and almond butter together with an immersion blender. For more fun with your kids, mash it all together with a fork until it's as smooth as you can get it.
Spoon into popsicle molds. Stick in the sticks and put it in the freezer until frozen (about 3-4 hours)
Ingredients (Chocolate Magic Shell):
Melt chocolate and coconut oil in a small sauce pot over low heat or in the microwave on medium power. Stir well. Let cool (depending on your room temperature, it may stay liquidy).
Store in a glass mason jar at room temperature (it will keep for up to several months).
Assembly:
If your magic shell solidified during storage, gently reheat (about 30 seconds in the microwave is perfect in my house).
Remove a popsicle from the mold (running hot water on the outside is helpful with this).
Dip the popsicle in the magic shell. Remove and hold over the magic shell while it drips (or immediately roll is some chopped nuts). For a thicker chocolate shell, redip after the first dip solidifies. Enjoy immediately.