Meal planning is the number one recommendation I have for anyone who 1) is having a hard time consistently following Paleo or the AIP, 2) needs to make some dietary changes but feels overwhelmed, 3) is feeling really stressed by how much shopping and cooking they're doing, 4) is having a hard time managing food budgets or time commitments in the kitchen, 5) is struggling to meet their health goals and needs help staying on track, or 6) has diverse nutritional needs to accommodate in the household (like one person who is AIP, someone else who follows a Primal diet, and maybe an extra allergy or two just to complicate things even more). Not only does planning ahead take the stress out of meals for the week, but it increases our success rate at sticking to dietary priorities, minimizes our time shopping and cooking, and makes sure we're never left in the lurch when it comes to safe, nourishing and tasty meals for ourselves and our families.
And when it comes to meal planning, you just can't beat Real Plans. Thousands of curated recipes, completely customizable meal plans, an app to help you stay on track at the grocery store, timeline to help you be efficient in the kitchen, 24-hour customer service, 30-day money-back guarantee, and starting at only $6 per month. Plus, Real Plans caters to the Primal, Paleo and AIP communities! Need I say more?
The Ultimate Support for Your AIP Journey!
Learn directly from the creator of the Autoimmune Protocol—Dr. Sarah!
Thank you for your warmth, your AIP mastery, and your dedication to answering each and every one of our questions with such kindness and attention to detail. Thank you for teaching the science behind the principles. The amount of energy you put into creating this course and responding to us in real-time is felt and APPRECIATED!!
-Nicole Wood
The next session of The AIP Lecture Series begins January 10th, 2022.
It's really no secret that I'm a huge fan of Real Plans. I think this simple-to-use, sophisticated-yet-sleek tool is a great strategy for everyone! And for those of you following the AIP, there's some great new reasons to take a closer look at this spectacular service!
I first learned about Anton and Emily's Real Plans tool last year. Since then I've been using it to keep my own family focused on tasty, nutritious meals. The truth is that even though I develop recipes, sometimes putting them together into a workable, balanced meal plan is just more than I have time for. I've saved an incredible amount of time and energy using this easy, customizable tool, plus, it's helped me stay within my budget!
Check out this video to learn more!
Real Plans Promo Video from Sarah Ballantyne on Vimeo.
I've been totally gung-ho when it comes to putting my own recipes into Real Plans because I want to make it as easy as possible for you to take advantage of this tool! I've already contributed over 100 AIP recipes to Real Plans (and more than 330 total recipes!!!), but I've recently added 50 more—that means you can now access over 800 AIP recipes on Real Plans!
The Gut Health Guidebook!
Diet and lifestyle to nurture your gut microbiome and heal leaky gut!
The depth of information, practical tips, and the accessible way Dr. Sarah shows me how to apply complex science to improve my health is truly remarkable. -Wendy
Plus, there are quite a few new tools to celebrate, too. One of my favorite features of Real Plans is its totally customizable setup. It's designed to work with our families, not set up a rigid plan we must follow. That's because it was designed by a real husband and wife team with a real family to feed!
In an effort to be even more flexible, Anton and Emily and their team developed new features that will help you save your preferences from week to week! I don't know about yours, but my family are definitely creatures of habit! We often like to eat the same things from week to week (for some reason 50/50/50 burgers and steamed broccoli never get boring in my house!), and now we no longer have to make these changes in our plan every week.
So, we can schedule a (Paleo) Taco Tuesday, make Wednesday night a weekly crockpot meal night, or even filter by main ingredients so we're always including our favorites in our plan. And as always, we can download the app and take it with us to the grocery store, meaning all our shopping lists, notes and meal prep timeline are right at hand when we need them.
So, let me break it down for you.
Real Plans includes:
Customizable meal plans
An easy-to-navigate app
Shopping lists, prep timelines and detailed instructions
The ability to include your own recipes in meal plans
Over 800 AIP Recipes, 150 from The Paleo Mom
The Paleo Mom package includes 330+ recipes from me (150 AIP and the rest standard Paleo)
Saved preferences from week-to-week
Monthly, quarterly or annual pricing plans (as low as $6 per month!)
Recipes from Autoimmune Wellness, PaleOMG, Nom Nom Paleo and Wellness Mama
24-hour support
30-day money back guarantee
The Gut Health Cookbook!
180+ delicious recipes featuring 61 gut health superfoods!
The Gut Health Cookbook is fantastic! Thank you for researching and creating The Gut Health Cookbook! Such wonderful recipes! I'm so excited to try them all! -Sue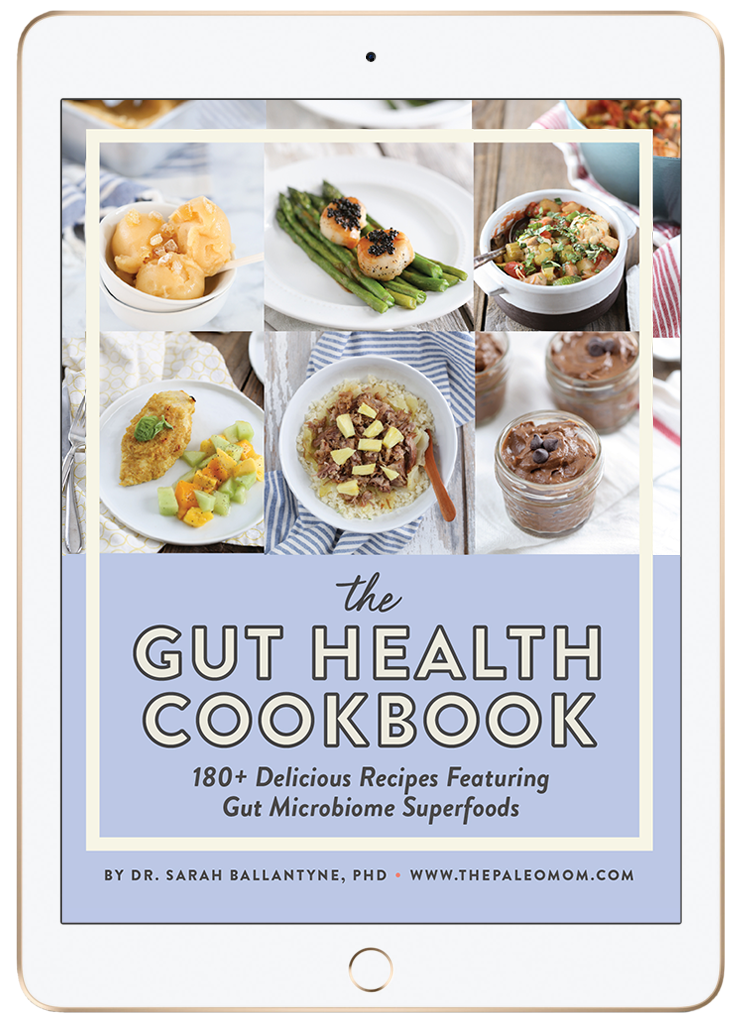 To show you just how amazing this tool is, I've included five of my favorite recipes in this post—that just happen to be options for your Real Plans menu! I hope you'll be inspired by the idea of easily putting these recipes into your weekly rotation. I use this tool myself, and I know you'll love it too!