Mashed sweet potatoes are the ultimate alternative to traditional mashed potatoes, and definitely the most popular root vegetable in the Paleo template. Apart from being a great source of starchy carbs and fiber, sweet potatoes provide a wealth of micronutrients! Per 100g, sweet potatoes contain almost all of your recommended daily value of vitamin A (from carotenoids); good amounts of vitamins B5 and B6 as well as manganese; and some amount of all the other dietary vitamins and minerals! Their sweetness pairs well with virtually any protein, and adding a little salt and pepper helps to balance out their flavor.
This is one of the recipes I developed for the Paleo Bites TV pilot. I didn't show how to make mashed sweet potato in the pilot episode but served the finished dish with mashed sweet potatoes to round out the meal and the nutrition. In the pilot episode, I served these mashed sweet potatoes with Pecan-Crusted Chicken Breast with Cauliflower Gravy and Bacon-Braised Kale.
*NEW* The Gut Health Cookbook!
The Gut Health Cookbook is fantastic! Thank you for researching and creating The Gut Health Cookbook! Such wonderful recipes! I'm so excited to try them all! -Sue
The Gut Health Cookbook puts the 20 Keys to Gut Health into practice with:
180+ recipes featuring 61 gut health superfoods

Gut health food lists

Why's behind each gut health superfood
Get instant digital access for $27.99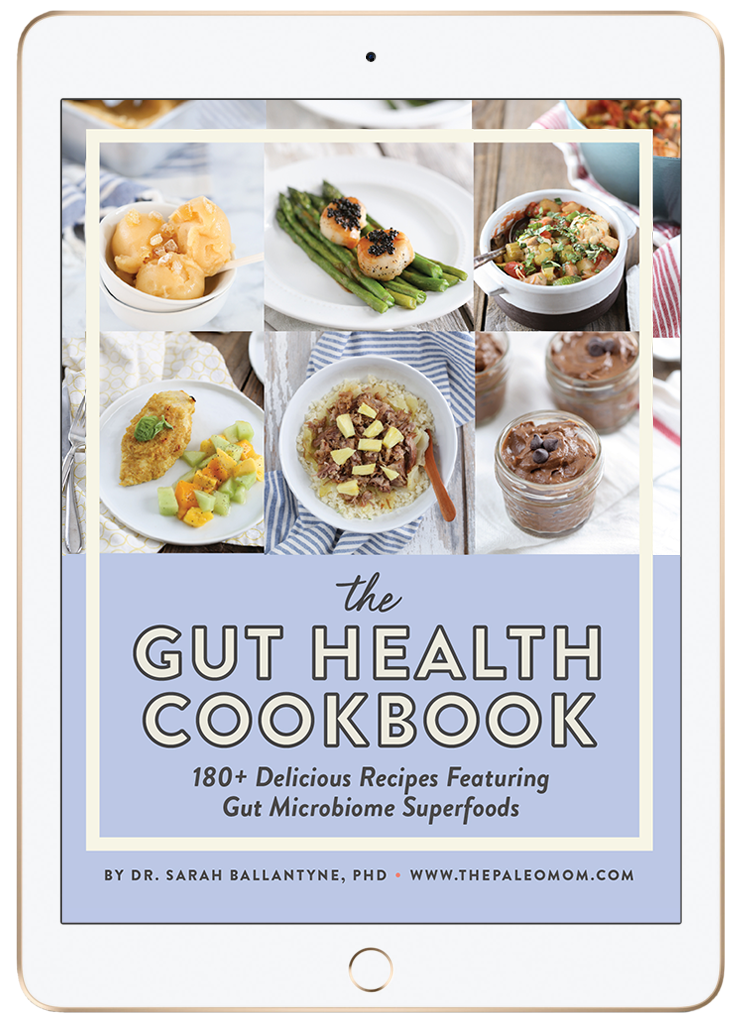 You can watch the entire pilot episode here:

This is a great recipe with which to experiment with the many varieties of sweet potatoes easily found in grocery stores these days (my Whole Foods and Sprouts both tend to have at least four varieties at any given time and my local Farmer's Market easily provides double that throughout the season). Purple and Japanese sweet potatoes tend to be less sweet whereas orange sweet potato varieties range from delightfully to overpoweringly sweet. Orange sweet potatoes also tend to have much higher water content than purple or Japanese varieties (why they tend not to make the best sweet potato fries), which is the main reason for baking these sweet potatoes before mashing rather than boiling (baking also concentrates rather than dilutes the flavor). Yes, these do take a little longer to make compared to boiling, but the hands-on time is decidedly less without all that peeling and chopping!
To make this recipe AIP-compliant, simply omit the pepper and use a non-dairy fat.
Prep Time: 5 minutes
Cook Time: 1 hour 15 minutes
Serves: 4-6
The Ultimate Support for Your AIP Journey!
Dr. Sarah Ballantyne has delivered an exceptional course and I highly recommend this to anyone looking to improve their health. There is something for everyone. It was extremely helpful and worth the investment. -Marie Schlichtig
The AIP Lecture Series is the ultimate Autoimmune Protocol educational experience! Learn directly from Dr. Sarah!
6-week online course
42 on-demand video lectures
dozens of printable guides
self-discovery exercises and action steps
online forum and guided discussions
support and guidance from Dr. Sarah Ballantyne!
The next session begins January 18th, 2021.
(Use code AIPLS85 to save $85 and get bonus access to the Gut Health Fundamentals online course!)
Ingredients:
Directions:
Preheat oven to 375F. Clean sweet potatoes with water and a vegetable brush.
Place whole unpeeled sweet potatoes on a baking sheet, and bake at 375F for 60-70 minutes, until soft when pierced with a knife.
Allow sweet potatoes to cool enough to handle. Gently peel of the skin (it should come off very easily) and discard. Place peeled baked sweet potatoes in casserole dish and mash using a wire potato masher. Stir in butter, salt and pepper.
Place mashed sweet potato back in the oven for 10-15 minutes to heat back up. Serve!