When I consider whether or not there is a place for a specific food in a Paleolithic diet, I don't think of whether or not cavemen ate that specific food. Instead, I think in terms of healthy food versus foods that cause gut irritation and inflammation (see my post Is It Paleo?). This question typically comes up when considering foods that don't squarely fit into the meat, vegetable or fruit categories. So when considering a food such as yeast (naturally occurring, but not "domesticated" until something like 9,000 years ago), I find myself scouring the internet and medical journals for information to answer: what effect does this specific food have on our digestion, the integrity of our gut, hormone balance, and inflammation? I tackled the question of yeast for two reasons: some strains of yeast are very important for healing and restoring healthy microflora in our guts (and I've been very interested in gut health lately); and, I really really miss yeast-based bread.
*NEW* The Gut Health Cookbook!
The Gut Health Cookbook is fantastic! Thank you for researching and creating The Gut Health Cookbook! Such wonderful recipes! I'm so excited to try them all! -Sue
The Gut Health Cookbook puts the 20 Keys to Gut Health into practice with:
180+ recipes featuring 61 gut health superfoods

Gut health food lists

Why's behind each gut health superfood
Get instant digital access for $27.99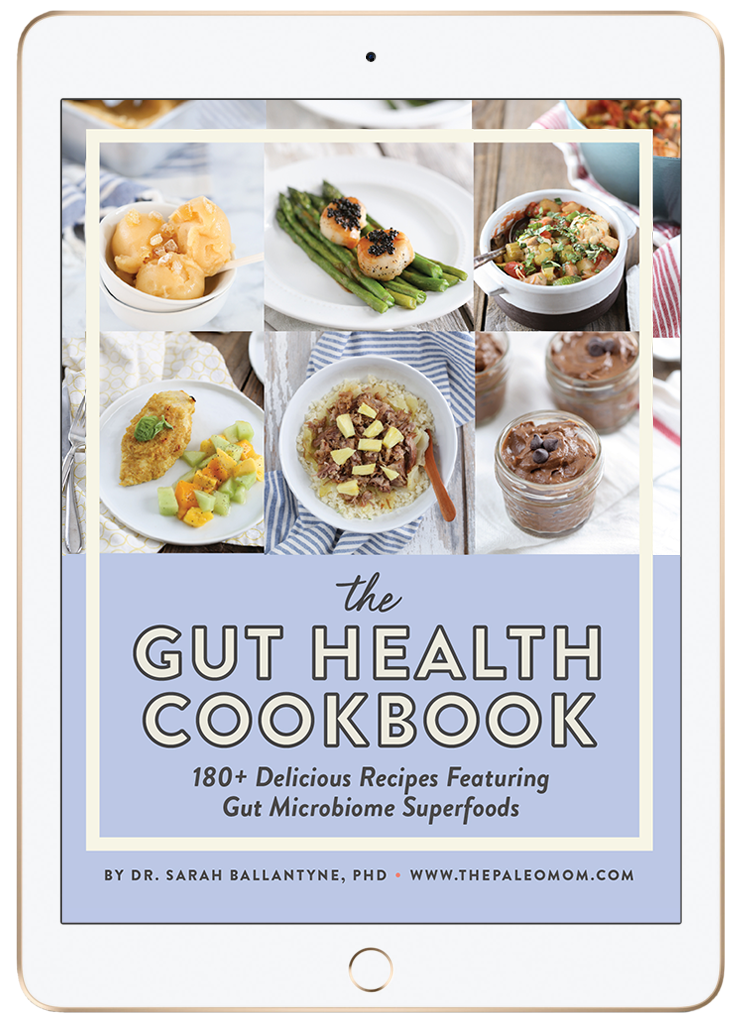 There are many, many different kinds of yeast. And it terms of our health, they fall into three categories: beneficial, harmful, and neutral. Let's talk about harmful yeast first, the kinds that grow in your small intestine during Small Intestinal Bacterial Overgrowth and that cause yeast infections (vaginal yeast infections, jock itch, athlete's foot, and thrush). These yeast are typically in the Candida genus (you may have heard of the candida diet, which typically avoids all fermented, sugary and starchy foods). These yeast cause inflammation and depending on where they are growing, can cause a lot of discomfort. And if you have an external yeast infection, chances are really good that they are overgrowing in your small intestine as well. If you are battling with candida, I recommend cutting out all sugary and starchy foods, and following the tips outlined in my post Repairing the Gut.
Now, let's talk about beneficial yeast. Yes, some kinds of yeast are a normal and healthy part of your gut microflora. These yeast are typically from the Saccharomyces genus. These yeast have been shown to have potent anti-microbial effects in the gut (they can reduce the growth of bad bacteria like Clostridium difficile) and to help reduce inflammation in the body. In fact, Saccharomyces boulardii is even available in pill form as a probiotic supplement. These yeast are typically found in fermented foods, such as kefir, kombucha and lacto-fermented vegetables likes sauerkraut. Let's also be clear: eating foods that contain Saccharomyces boulardii or other beneficial yeast do not increase your likelihood of getting a yeast infection (a common misnomer). In fact, eating beneficial yeast can help treat a yeast infection.
No, cavemen did not ferment foods either as a form of preservation or to increase their dietary intake of beneficial bacteria and yeast. The advent of fermentation came with agriculture. But, probiotic bacteria and yeast were still part of the ancestral diet. Before modern agriculture, pesticides, herbicides, clean water with which to wash our vegetables, before antibiotics for cattle and quality control for poultry feed, all food derived from plant and animal sources (um, is there any other kind of food?) contained naturally-occurring probiotics. In fact, a great way to get beneficial yeast and bacteria into your diet is to grow your own vegetables organically and eat them without washing them first. So, while our prehistoric ancestors did not consume concentrated sources of probiotic yeast, they had fewer challenges to their gut microflora (like antibiotics use, stress and high-sugar diets) and they did consume probiotics every time they consumed food. Yes, yeast is Paleo.
The Ultimate Support for Your AIP Journey!
Dr. Sarah Ballantyne has delivered an exceptional course and I highly recommend this to anyone looking to improve their health. There is something for everyone. It was extremely helpful and worth the investment. -Marie Schlichtig
The AIP Lecture Series is the ultimate Autoimmune Protocol educational experience! Learn directly from Dr. Sarah!
6-week online course
42 on-demand video lectures
dozens of printable guides
self-discovery exercises and action steps
online forum and guided discussions
support and guidance from Dr. Sarah Ballantyne!
The next session begins January 18th, 2021.
(Use code AIPLS85 to save $85 and get bonus access to the Gut Health Fundamentals online course!)
So what about Active Dry Yeast
for baking bread? Well, active yeast is the strain Saccharomyces cerevisiae. This strain of yeast is found naturally in some kefir cultures and some lacto-fermented foods. It is also the strain used to make wine and beer. It is very closely related to Saccharomyces boulardi, although from my reading it doesn't seem to possess the health benefits that Saccharomyces boulardii does. After thorough research, I have come to the conclusion that Saccharomyces cerevisiae is, at worst, neutral. So what does this mean? This means that if you allow wine and gluten-free beer in your diet, or if you make your own coconut milk Kefir
, there is no reason to avoid dry active yeast in your Paleo baking. So, dust off those Bread Machines
because tomorrow I will be posting a recipe for yeast-based Paleo bread!