The idea for ThePaleoMom Consulting arose from the overwhelming number of emails that I receive from people who need help figuring out how to transition to a Paleo diet or how to adapt it to fit their individual needs. This company is a mechanism for these people to get the expert 1-on-1 support and customization that they need to be successful in their health journeys.
Because the idea of nutrition/health consulting may be new for many of you, I'd like to introduce you to ThePaleoMom Consulting Team. Each week, I am featuring an interview with one of my consultants so that you can get to know them better. I think that as you read these amazing women's stories and their perspectives on health, life and their roles in helping others, you will quickly see why they are each such an extraordinary resource and essential part of ThePaleoMom Consulting. You can read Health Coach Angie Alt's interview here, Registered Dietitian Amy Kubal's interview here, and Licensed Acupuncturist and Functional Medicine Practitioner Anne Angelone's interview here. Finally, we have the amazing Mickey Trescott! Mickey is a Nutritional Therapy Practitioner and author of The Autoimmune Paleo Cookbook. I am thrilled to have her as part of ThePaleoMom Consulting team!
*NEW* Guide to Nutrivore E-Book!
Nutrivore is the simple yet revolutionary concept:
Choose foods to meet the body's nutritional needs!
I'm very excited about the Nutrivore information! Thank you so much for all your research and hard work you put into this kind of information for all of us to use!! -Debbie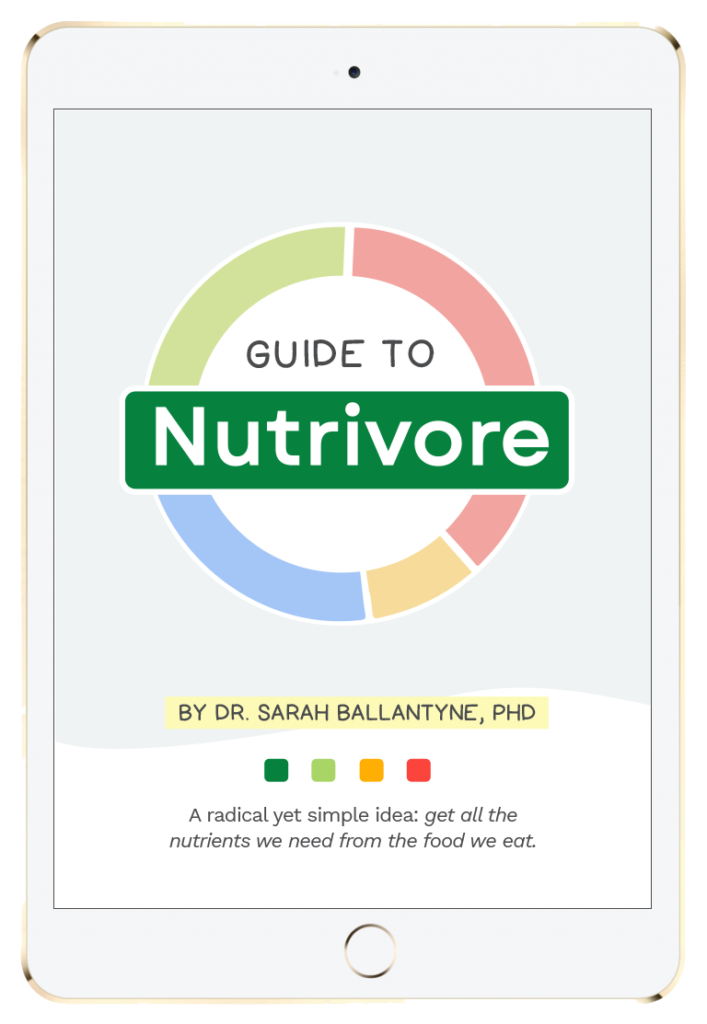 ---
Mickey, what made you want to be a nutritional therapy practitioner?
I decided to enroll in the nutritional therapy practitioner program after experiencing the profound change in my health with diet after being vegan for 10 years and then transitioning to the autoimmune protocol. Even though I regained my health with the protocol, I was still entrenched in the vegetarian nutrition dogma—the notion that saturated fat and cholesterol are the enemy and cause all kinds of disease, including cancer. I enrolled in the program because I wanted to get a more scientific perspective about why these foods are not dangerous, and how they could be used to nourish and heal, especially since I had experience that first hand
Where do you think a nutritional therapy practitioner would have helped you on your journey?
I could have used the help of a nutritional therapy practitioner to help me refine and tweak my elimination diet. Sometimes I wasn't sure if my reactions were food related, or if I was overdoing or underdoing certain things. It also would have cut down the time it took for me to heal, because it took me a long time to experiment with every new thing instead of getting an expert's advice about what to try given my background.
Does a nutritional therapy practitioner replace a doctor?
A nutritional therapy practitioner cannot diagnose or treat medical conditions and does not replace a doctor. They can be a part of your health care team, however, and help you with the foundations of nutrition and good health.
What kind of person does well working with a nutritional therapy practitioner?
I love working with motivated clients who know that they want to improve their health with diet and nutrition but need personalization and resources to help them get started or troubleshoot any road blocks that may come up.
The Ultimate Support for Your AIP Journey!
Get personalized guidance and support from Dr. Sarah in this 6-week interactive online course!
Thank you for your warmth, your AIP mastery, and your dedication to answering each and every one of our questions with such kindness and attention to detail. Thank you for teaching the science behind the principles. The amount of energy you put into creating this course and responding to us in real-time is felt and APPRECIATED!!
-Nicole Wood
The next session of The AIP Lecture Series begins January 10th, 2022.
Use code AIPLS10 to save 10% thru December 15th.
Why would a person use a nutritional therapy practitioner over doing their own research online?
I see a lot of people who have wasted time on restrictive protocols that are not appropriate for them, or those that bounce back and forth and not commit to any one protocol. Working with someone who has been there and knows how to help personalize a dietary approach will take a lot of the guesswork out of figuring out which plan is right for you.
How do you maintain a coaching relationship working with someone long-distance?
The marvels of modern technology make it possible for me to maintain contact with my clients no matter where I am! I do my consultations via skype, and keep in touch over email in the interim.
---
Want more information?
Are you interested in learning more about ThePaleoMom Consulting? Think you might benefit but still aren't sure if it's worth it? Trying to decide which consultant would be a good fit for you? Each consultant offers a free 10-minute informational consult to help you decide what the best choice is for you. For more information, see the consultant bios on the website and send an e-mail to the consultant you'd like to talk with.
The Gut Health Guidebook!
Diet and lifestyle to nurture your gut microbiome and heal leaky gut!
The depth of information, practical tips, and the accessible way Dr. Sarah shows me how to apply complex science to improve my health is truly remarkable. -Wendy