My new consulting company has finally launched! The idea for ThePaleoMom Consulting, which has been many months in the works, arose from the overwhelming number of emails that I receive from people who need help figuring out how to transition to a Paleo diet or how to adapt it to fit their individual needs. This company is a mechanism for these people to get the expert 1-on-1 support and customization that they need to be successful in their health journeys.
Because the idea of nutrition/health consulting may be knew for many of you, I'd like to introduce you to ThePaleoMom Consulting Team. Each week, I am featuring an interview with one of my consultants so that you can get to know them better. I think that as you read these amazing women's stories and their perspectives on health, life and their roles in helping others, you will quickly see why they are each such an extraordinary resource and essential part of ThePaleoMom Consulting. You can read Health Coach Angie Alt's interview here and Registered Dietitian Amy Kubal's interview here. Up this week, the fantastic Anne Angelone!
Anne is ThePaleoMom Consulting's functional medicine practitioner. As such, the services she offers are a little bit different than the other consultants. Anne can order and interpret lab tests and provide you with a detailed understanding of the root causes of your health conditions as well as help you troubleshoot roadblocks in your health. As someone who is actively benefitting greatly myself from a functional medicine evaluation and approach to health (more on this in upcoming posts), I'm super excited to have Anne as part of ThePaleoMom Consulting Team!
Nutrivore Weekly Serving Matrix
An easy-to-use and flexible weekly checklist
to help you maximize nutrient-density.
The Weekly Serving Matrix is very helpful! I've been eating along these lines but this really helps me know where to focus vs. which foods serve a more secondary role. It's super helpful and has taken a lot of worry out of my meal planning. Thanks!

Jan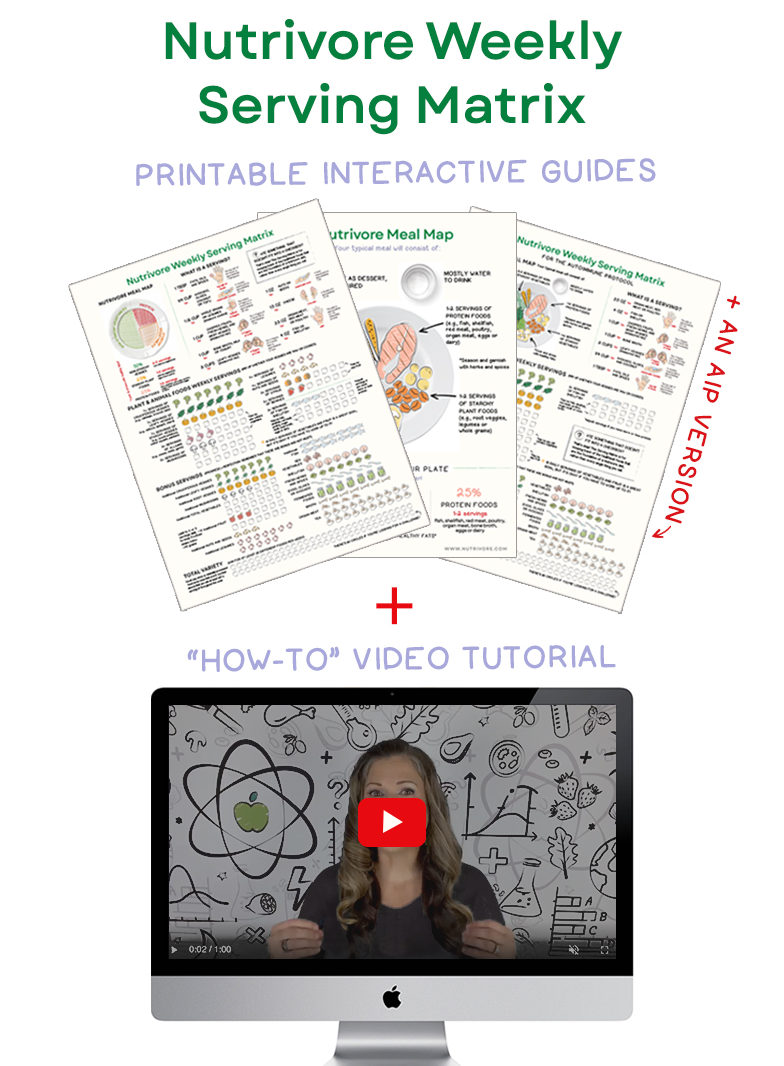 ---
Anne, what made you want to be an Acupuncturist who also Practices Functional Medicine?
Honestly, it was my own experience of being a patient in the US healthcare system. Without a sustainable treatment plan for autoimmune disease, I decided to find my own answers in order to quell the fire of Ankylosing Spondylitis. After receiving tremendous relief from my first acupuncture treatments while living in Taiwan, I decided to study Traditional Chinese Medicine, which is a combination of Acupuncture and Herbal medicine. As a licensed practitioner who has seen thousands of patients over the past 20 years, I recognized the limitations of both Chinese and Western medicine and searched for the next best model. Inspired by the Functional Medicine approach promoted over the years by leaders like Dr. Jeffrey Bland, I continued gathering information about the underlying triggers of autoimmune disease. The Functional Medicine approach is actually derived from Chinese Medicine concepts of looking at the root causes of disease and preserving organ function. The difference is that now we can use modern lab tests to investigate these things. I was fortunate to study with both Dr. Tom O'Bryan and Dr. Datis Kharazzian about the triggers and best treatments for autoimmune disease. Since applying a refined Paleo autoimmune protocol, along with this powerful natural treatment model for myself and in my practice, I've found this to be the most expedient way to recover health and feel it's imperative to share this info with anyone who is still suffering with autoimmune reactions.
How do you think an Acupuncturist and/or Functional Medicine practitioner could have helped you on your journey? Acupuncture would have provided pain relief as well immune balance and peace of mind. A Functional Medicine practitioner would have helped me use labs to target and resolve the underlying causes of my symptoms right away versus going to multiple practitioners for symptomatic treatment over many years. I would have received a sustainable natural treatment plan that empowered my progress versus relying on more drugs and surgery for my assumed decline. A Functional Medicine practitioner trained in the Paleo approach for reversing autoimmunity would have been even more perfect since they would have suggested removing grains, dairy legumes and nightshades right away to heal my leaky gut. They also would have recommended nutrient density as the key to immune restoration. Health comes from knowing the truth about what's going on in our bodies so that we can take responsibility more immediately. If I had known this crucial information right away, I could have recovered my health earlier on and saved myself years of inflammation. My mission is to help people recover their health sooner than later and to see progress along the way.
Does the Functional Medicine approach replace seeing a Doctor?
No, but your MD may be interested in learning more about it. Many practitioners are already using a Functional Medicine approach, which simply looks at the underlying causes of symptoms. In the state of California, Licensed Acupuncturists are considered primary care physicians and have training in Western diagnoses as well as in Chinese medicine treatments, yet we do not prescribe medicine. Under our scope of practice in CA we can diagnose patients so as to refer appropriately. We are also trained to order Laboratory tests and to recommend nutrition and dietary advice along with supplements and herbal medicine to promote wellness.
What kind of person does well working with a Functional Medicine practitioner?
Anyone who needs a fresh approach to diagnosis and treatment and who is interested in treating chronic disease via looking at the underlying causes of disease expression is a great candidate. My mission is to shine a light on the best health choices and empower you to enjoy vibrant health.
Why would a person use a Functional Medicine practitioner over doing their own research online?
Practitioners trained in Functional Medicine can order and analyze lab work to detect current issues related to blood sugar, hormones, gut dysbiosis, impaired detoxification etc.. This personalizes your approach immediately and helps bypass the need to sort through the endless downward spiral of conflicting health information online.
How do you maintain a consulting relationship working with someone long-distance for an extended period of time, say 3-6 months?
Staying in touch via email, phone and Skype has never been easier. For simple questions between appointments, e-mail works great. For scheduled appointments, people generally send me their history forms via e-mail prior to a phone or Skype appointment. For the appointment, I request to meet in front of your computer with all of the forms for each appointment. Phone is great but if you know how to Skype, this actually feels more like an office visit since we have the option to see each other while even being able to share screens to review labs etc.. Either way works well and people have been excited about the fact they don't have to travel to get the care and guidance that they are seeking. Overall, I'm thrilled that we have the technology to connect worldwide and have been enjoying speaking with folks from e.g. Canada to Australia, the UK and Brasil!