Are you new to Paleolithic nutrition? Are you sifting through recipes and trying to find one that you have the ingredients for? Are you wondering where to buy all these different specialty items? I've tried to make a list of the most commonly used ingredients for Paleo baking. You can find most of these at Whole Foods or other healthfood stores. My local grocery store carries some of these in their organic food aisle. But generally, all of these ingredients are cheaper online.
Blanched Almond flour: This is one of the most important staples of the Paleo baker. Blanched almond flour is very, very finely ground blanched almonds. It is very difficult to make yourself (processing almonds in a food processor is more likely to make almond butter than almond flour). Plus, good quality blanched almond flour is difficult to find in stores. And when you do find it, it's typically 3-4 times the cost of purchasing it online. This is definitely a Paleo baking staple and one that I highly recommend purchasing online. My favorite two brands are Honeyville Farms Blanched Almond Flour
and JK Gourmet Almond Flour
, both of which are available direct from the manufacturer and at amazon.com. Store your almond flour in the fridge or the freezer for extra shelf life.
The Ultimate Support for Your AIP Journey!
Thank you for your warmth, your AIP mastery, and your dedication to answering each and every one of our questions with such kindness and attention to detail. Thank you for teaching the science behind the principles. The amount of energy you put into creating this course and responding to us in real-time is felt and APPRECIATED!!
-Nicole Wood
The next session of The AIP Lecture Series begins January 10th, 2022.
Almond Meal: Almond meal is more coarsely ground than almond flour and is great for breading meat or fish and in some baking where a coarser texture is desired. Note that in many recipes you can not substitute almond meal for almond flour. Almond meal can be made from whole raw almonds (like Honeyville Farms Natural Almond Meal Flour
) or from blanched almonds (like Bob's Red Mill Almond Meal/Flour
). You can also grind your own whole almonds
to make almond meal. Trader Joe's also has very good almond meal made from whole, raw almonds in their baking aisle.
Coconut flour: Coconut flour is just as important as almond flour in the Paleo baker's pantry. It has very different baking properties to blanched almond flour so often Paleo baking recipes use a combination of both flour substitutes. Bob's Red Mill Organic Coconut Flour
is often available in grocery stores (but typically cheaper online). I also really like Tropical Traditions Coconut Flour.
Extra virgin Coconut Oil: Extra virgin coconut oil has a strong coconut aroma and flavor. This is my preferred oil for baking (since that flavor typically enhances the flavor of whatever your making plus it's exceedingly healthy) but also for many other cooking applications. My favorite is Tropical Traditions Gold Label Coconut Oil but another great option is Nature's Way Organic Coconut Oil
.
Refined Coconut Oil: Refined coconut oil has almost no flavor whatsoever. This is great for cooking applications where the flavor of coconut just doesn't work. I suggest Tropical Traditions Refined Coconut Oil or Spectrum Naturals Organic Refined Coconut Oil
. Trader Joes also carries an inexpensive refined coconut oil.
Palm Shortening: This is a great substitute for butter in baking and is also my favorite fat for greasing muffin tins and other baking pans. It really doesn't have much flavor at all. In some recipes, it can be used interchangeably with coconut oil (especially muffins and cookies). I suggest either Tropical Traditions or Spectrum Naturals
brands.
Arrowroot Powder/Tapioca Starch: Arrowroot Starch/Flour
and Tapioca Starch/Flour
are starches and can be used to thicken sauces and provide a lighter texture to Paleo baking. They behave slightly differently and have different flavors, so both are typically required in your pantry
Ground Flax meal: Ground flax seed is often included in Paleo baking recipes as a binder (it helps holds things together). You can buy Regular Flaxseed Meal
or Golden Flaxseed Meal
. Other than the color that these lend your baking, they are basically interchangeable.
The Gut Health Guidebook!
Diet and lifestyle to nurture your gut microbiome and heal leaky gut!
The depth of information, practical tips, and the accessible way Dr. Sarah shows me how to apply complex science to improve my health is truly remarkable. -Wendy
Coconut Milk: Coconut milk has a strong coconut flavor which works very well in a lot of baking applications as well as curries and soups. Look for one without guar gum as an ingredient. Most Paleo recipes call for Regular Coconut Milk
(not light) but Trader Joe's carries an inexpensive light coconut milk for applications where that will work.
Creamed Coconut: Creamed coconut is very finely pureed fresh coconut. It can be mixed with a little water to make something the consistency of crème fraiche or with more water to make coconut milk. It's also a useful ingredient for curries and soups. I like Tropical Traditions Coconut Cream Concentrate or Let's Do Organic Creamed Coconut
.
Unsweetened Coconut Flakes: This is one of my favorite snacks right out of the bag. It's also a fabulous ingredient for many baking applications, giving both coconut flavor but also texture. It's even good in stir-fries and curries! I recommend Let's Do Organic Unsweetened Coconut Flakes
or Tropical Traditions Organic Coconut Flakes.
Unsweetened Shredded Coconut: Finely shredded coconut finds its way into many Paleo baking recipes and is definitely a pantry staple for the Paleo baker. Again, I like Let's Do Organic Shredded Coconut
and Tropical Traditions Shredded Coconut.
Nuts: I buy most nuts whole and raw (and unsalted of course!). Nuts have a very long shelf life, which means you can take advantage of bulk discounts. The nuts most commonly used in Paleo baking recipes are Whole Almonds
, Pecan Halves
, Walnuts Halves
, and Macadamia Nuts
. In addition, Hazelnuts (Filberts)
, Pistachios
, Cashews
, and Brazil Nuts
are also nice to have around. I also suggest having Raw Sliced Almonds
(also fairly inexpensive at Costco and Trader Joe's) in addition to whole almonds in your pantry.
Seeds: It can be a bit tricky to some seeds in a raw, unsalted form. The most commonly used seeds are Pepitas (hulled pumpkin seeds)
, Sunflower Seeds
, Brown Sesame Seeds
, Black Sesame Seeds
, and Whole Flax Seeds
.
Dried Fruit: Dried fruit is a great way to sweeten baking without adding sugars. I am especially fond of Medjool Dates
but also like to keep Dried Apricots
, Raisins
, Dried Cranberries
, and banana chips (either sweetened
or unsweetened
) on hand at all time.
Almond Butter: Natural Almond Butter
is not only the peanut butter substitute for the Paleo baker, but finds its way into many baking recipes as a butter substitute as well. Stir the oil into it when you first open the jar, then store in the fridge. Costco and Trader Joe's also carry inexpensive almond butter. I also encourage you to experiment with other nut butters.
The Gut Health Cookbook!
180+ delicious recipes featuring 61 gut health superfoods!
The Gut Health Cookbook is fantastic! Thank you for researching and creating The Gut Health Cookbook! Such wonderful recipes! I'm so excited to try them all! -Sue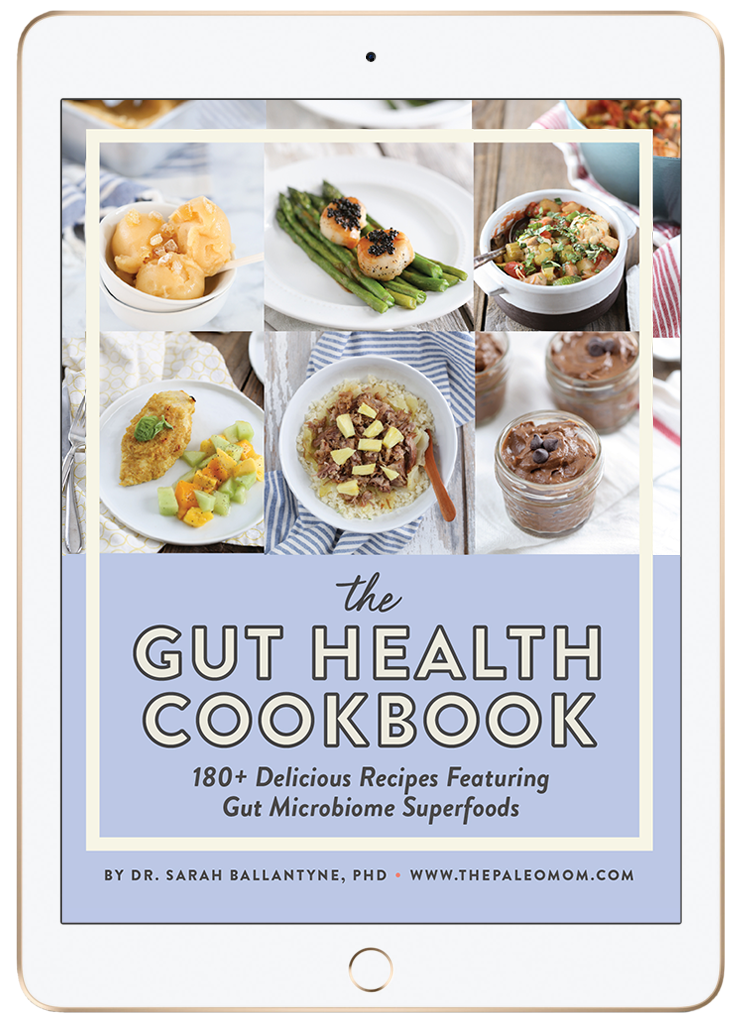 Chocolate: Chocolate is one of those ingredients where label reading is necessary. Often even semi-sweet chocolate will contain some milk ingredients and some cheaper brands can even contain gluten ingredients. I recommend Baker's chocolate, both Unsweetened
and Semi-Sweet Baking Chocolate Squares
, although it does contain some soy lecitin (most people tolerate this reasonably well). I really like Enjoy Life brand Semi Sweet Chocolate Mega Chuncks
and Mini Semi-Sweet Chocolate Chips
, which are dairy, gluten and even soy free! It's also good to have a Raw
or Natural (non-alkalized)
Cocoa Powder in the pantry.
Honey and Sugar: There are many recipes out there that use sugar substitutes, but I prefer to use real sugar in my recipes to avoid fructose overload or the hormonal effects of non-glucose sweeteners. Raw honey is best found at your local farmer's market, but can also be purchased online
. For a nice, unprocessed sugar, try Tropical Traditions Organic Whole Cane Sugar. For an amazing, unprocessed dark brown sugar, try Dark Muscovado Sugar
.
Leavening and Spices: These are maybe the easiest ingredients to find in your local grocery store. I do not use any baking powder in my recipes (it contains corn starch). Instead I use Baking Soda
and Cream of Tartar
. Even if you are avoiding Salt
, it is often required for leavening ingredients to work in baking. My most commonly used spices for baking are: Allspice
, Cinnamon
, Cloves
, Cardamom
, Ground Ginger
, Nutmeg
, Vanilla Extract
, Vanilla Bean, Lemon Juice
, and Cayenne
.
Don't be intimidated by this long list. You don't need to buy everything all at once. And you might want to buy a smaller quantity (even it's more expensive) at your local grocery or healthfood store to try some recipes out before you commit to larger quantities. I've tried to find the best prices for the quality (and lowest shipping costs) for all my direct links above, but it's always good to shop around!