(Created as a guest post for Fresh4Five)
As your child's birthday approaches, you may start feeling some anxiety.  Not only can the anniversary of their birth get you all freaked out about how quickly they are growing up, but then there's the whole party thing to consider!  Throwing a kid's birthday party can be intimidating at the best of times, and when your priority is to keep that party Paleo, it can feel overwhelming.  It helps to remember something very important:  this is your [kid's] party.  You have control.  You get to make the decisions [with your child's preferences in mind].  It is still a balancing act.  You want to provide a great time for your kid.  You want your kid to "fit in" so you want his or her friends to have a great time too.  You want to do this while keeping the food healthy.  You don't necessarily have time to do everything yourself.  You want to stay sane.  And, you don't want to break the bank.
If you are fretting about keeping an upcoming birthday party Paleo, I want to remind you about something.  It's not actually about the food.  Okay, it might be a little bit about the cake.  But the rest of it is about FUN.  What would be fun for you and your child?  Notice I included you in that question?  If you are having fun getting ready for a party, it's not going to feel like so much work.  I have compiled a bunch of ideas and questions to consider to help take the stress out of the planning.  This way, you can focus on what is most important: celebrating your little guy's or girl's special day!
Nutrivore Weekly Serving Matrix
An easy-to-use and flexible weekly checklist
to help you maximize nutrient-density.
The Weekly Serving Matrix is very helpful! I've been eating along these lines but this really helps me know where to focus vs. which foods serve a more secondary role. It's super helpful and has taken a lot of worry out of my meal planning. Thanks!

Jan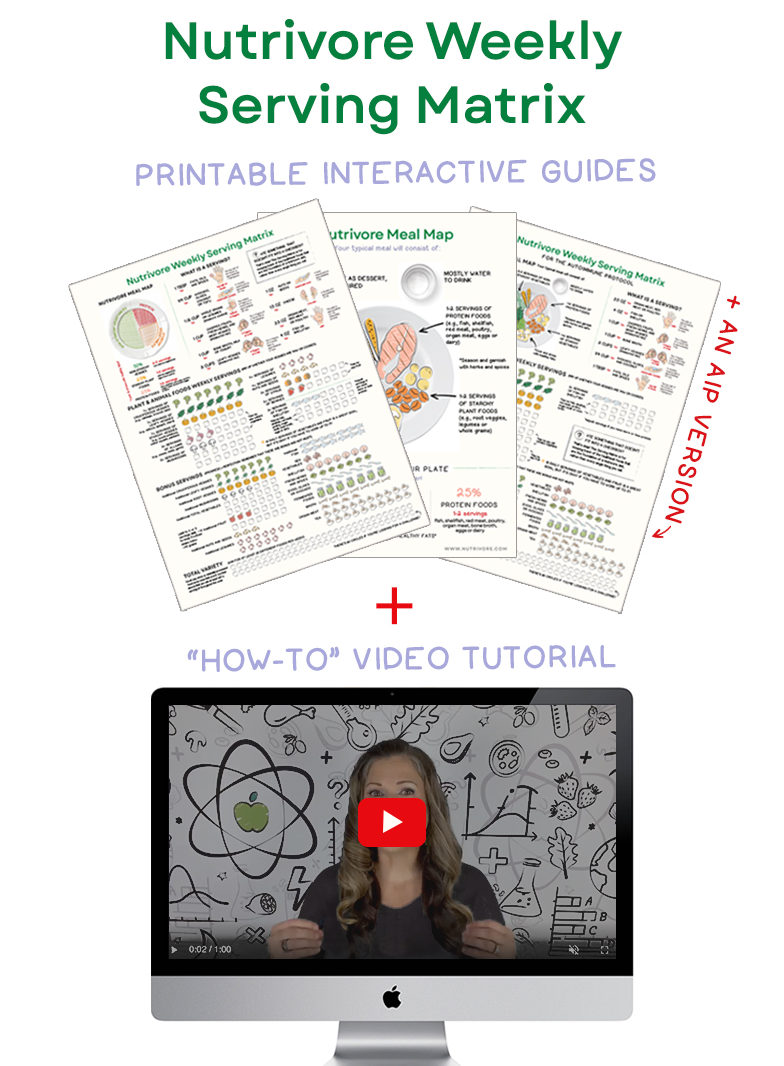 Location:  I'm not sure when it became such a fad to have your child's birthday party at a gymnastics place, bouncy castle place, indoor playground, bowling alley, beauty parlor, arts and craft place, build-a-bear, arcade, museums, movie theater, puppet show, mini-golf course, restaurant (can you even call Chuck E. Cheese a restaurant?)… but I'm not a big fan.  Yes, it's nice not to have to clean your house, but you pay such a premium price to use the facilities and you tend to forfeit control over the menu in the process.  I also find those types of party very hectic, over-stimulating, loud, and impersonal.  If you really don't have enough space in your home and/or yard, consider reserving a ramada at a local park (or maybe you're lucky enough to have a park you can use for free).  If weather is not likely to be conducive to an outside birthday party, ask a friend or family member to volunteer their home.  But, if you feel like you absolutely have to have an activity for the kids and have decided that the simplicity of reserving the bouncy castle place is your best option, remember to ask for a discount if you bring all your own food and goodie bags.
Time:  I suggest putting an end time on your birthday party invitations.  While there are always some good friends or family who tend to hang around afterward (hopefully helping you clean up!), it's nice to be able to predict how long a party will be (for both you and your guests).  When it comes time to consider what time of day to have your party, here are some important things to consider:  do you need to work around nap time? How much time in the morning will you need to get ready?  How much time will you need afterward to clean up?  Will anyone (like grandparents) be traveling from a significant distance?  Are you prepared to provide more food if the party is scheduled at a meal time?  If your party is outside, is the weather likely to be better in the afternoon or morning?
Theme:  Not every party needs a theme.  Your theme can be "birthday".  But sometimes a theme will help you focus your decisions regarding how to decorate a cake, what to put in the goodie bags, and what games to play.  Whatever your child likes these days is a good theme.  And you don't need to go overboard.  My daughter had a "prince and princess" themed birthday party two years ago and there was not a single Disney princess in sight.  All the craft supplies and decorations were generic and/or homemade, which was much simpler and much cheaper.
Entertainment:  If you have opted to have your child's birthday party in your home but feel you need an activity for your child, you may be able to tap into some local talent.  Hiring clowns, magicians, musicians, ballet teachers, gymnastics teachers, and even science teachers to entertain your child and his/her guests are an option.  You can also rent your own jumpy castle or trampoline.  However, I would urge you to consider keeping it simpler than this.  Birthday parties do not need to be entirely structured.  Just like I'm a big fan of just throwing kids into the backyard to play, I am also a big fan of just allowing a birthday party to happen organically.  That being said, one or two structured activities can help things from getting a little too crazy.  This brings me to crafts.
Crafts:  Crafts can be a wonderful way to entertain the kids and also send them home with something special.  Clearly this is more relevant to those of you planning a party in your home or a nearby park. Simple crafts that work well for younger kids are things like decorating a crowns
, mask
, fairy wings
, birthday hats
, flower pot
, mug
, T-shirt
, toy car
or pencil holder
.  For very young kids, sticker crafts work very well (sticker scenes
, sticker dress-up dolls
, or foam sticker decorations like fridge magnets
, dinosaurs
or photo frames
are great).  Other good crafts for younger children are assembly type crafts, such as kites
, paper/foam airplanes
, toy cars
, and dinosaur skeletons
.  Older kids can handle crafts that use acrylic paints or non-washable markers, which opens up dozens of possibilities.  When I turned 10 years old, we made twist paper angel Christmas tree decorations at my birthday party (my birthday is in November).  Most of us were in tears with frustration at some point during that party, but every single one of us had our angel at the top of our tree for years (in some cases, decades).  If you are not a crafty person by nature, you can very easily buy kits at a local craft store or online (see links above for ideas).  You can also opt to skip the goodie bags if you are going "all out" with a craft (maybe just buy some nice bags
for each kid to put the finished product in to take home with them).
Games:  One to three structured games can be a life-saver at a home birthday party.  Even very young kids (say 2 years and older) get a kick out of acting games.  And by 3 years old, kids can do guessing and acting games like versions of charades ("guess what animal Joey is pretending to be").  You can print out words or pictures onto paper to cue the kids what they are supposed to act like and then whoever guesses right gets to go next.  You can add layers of complication as the kids get older and migrate into something that's more 20 Questions-like (much older kids can wear a hat or a name tag on their back with the name of a character or creature and have to spend the party asking yes or no questions to figure out who they are).  Pin-the-tail-on-the-donkey
is another classic game that can be easily adjusted to suit whatever theme you might be going with.  We have seen pin-the-nose-on-the-clown
,pin-the-eye-patch-on-the-pirate
, pin-the-hat-on-the-cowboy, and we played pin-the-crown-on-the-princess at my daughter's "prince and princess" themed party (a hand drawn and colored princess, and handmade crown and some painters tape).  Other good games are obstacle courses, races, scavenger hunts, musical chairs, duck duck goose, telephone (kids whisper into each other's ear down the line and you laugh at how a simple phrase gets distorted by the time the last kid says it aloud), freeze dance (maybe you have to freeze with a silly face or in character that goes with the party theme), red light green light, Simon says, musical walks (you walk on numbers on the ground and stop when the music stops and someone wins) and pretty much anything you can think of that fits in your space.
Prizes:  I don't think birthday party games need prizes, but if you find yourself planning a game that typically does end in a prize (like musical chairs), be creative.  Maybe the prize is wearing a silly hat.  Maybe the prize is getting the first piece of cake (after your child, of course).  Maybe the prize is a sticker or an item that you bought for the goody bags that didn't fit.  Also keep in mind that, depending on the age of the child and what your prize is, you may have to figure out how to rig the game so that everyone is a winner and gets a prize.
Food:  When did pizza become the quintessential birthday party food?  I get it.  It's easy (especially when delivered to your door) and most kids like it (mine never did).  But you do not have to have pizza to have a good party.  We typically set up our birthday parties with a table laden in appetizer-type foods for kids and grown-ups to snack on throughout the party (and because our parties have lots of unstructured time, everyone typically gets some healthy food before the cake is served).  I would typically make a fruit platter, a veggie platter with some dip, and a meat platter with different types of fresh and nitrate-free deli meats.  Meatballs are always a favorite as are cut-up (grass-fed, natural) hotdog pieces, speared with toothpicks, and a mix of (natural, no sugar added) ketchup and mustard to dip them in.  Whatever your child's favorite snack is, that is a good thing to have at a party.  It could be apple with almond butter
to dip.  It could be meat sticks.  It could be your favorite recipe for Paleo crackers with pate!  I generally find that a no sugar added juice-box is a very popular beverage at parties, but if you really don't like having juice in your house, there is nothing wrong with just serving water!  The best part is that most of these foods can be made in advance and some of them you can even buy pre-made from your local grocery store's deli.  A quick note here on plates, cups, bowls, and cutlery.  I suggest investing in a colorful yet generic set of dishwasher-safe plastic dishware
that can be used for picnics, eating outside on the patio, and birthday parties.  They are usually inexpensive and will save you plenty of money in the long run while being much more environmentally friendly than paper plates.  And what is one extra dishwasher load after the party for clean-up?!
The cake:  This is arguably the most important part of your child's birthday party.  Something about birthday cakes sticks in our memories.  And especially if your child is not used to eating many sweet foods, actually having cake can be ridiculously exciting!  Before you start trolling the internet for Paleo-friendly cake recipes (and there are lots to choose from!), decide on what your priorities are.  Do you need something easy?  How sweet are you willing to let it be?  What are your decorating skills like?  How much time can you devote?  Do you need your recipe to be egg-free or nut-free too?  Is there a favorite flavor your child has requested?  I find it easier on my stress level to bake the cake in advance and freeze it until the evening before the party when I'm ready to decorate it (and that way, if the cake doesn't turn out the way I want it to, I have time to make another one).  And let me just say that you don't even need to mention that your child's birthday cake is Paleo!  There are so many amazing recipes out there (like my chocolate cupcake recipe!) that your guests probably won't know the difference!
Let's talk about Paleo-friendly birthday cake decorations.  You can pipe icing decorations, but it can be tough to find Paleo icing recipes that will hold up to this treatment.  You can also use natural, gluten-free, dairy-free, soy-free candies
or sprinkles
to decorate, some of which you can even find in vibrant colors
and fun shapes
.  Paleo cookies, marshmallows, fresh or dried fruit, and even little toys
can make fun decorations too.  I really love to decorate my cakes with fresh edible and/or fake flowers
.  If you are going to go the edible flower route, you'll want to make sure they weren't treated with pesticides.  The easiest way to do this is to plan in advance and grow your own (think of things like pansies, nasturtiums and flowering herbs, all of which are easy to grow).  Otherwise you can ask a good bakery, local restaurant, or florist if they can order some for you.
If you are really pressed for time or are not confident in your cake decorating skills, you can ask a family member or friend if they would like to be in charge of baking a Paleo cake.  Another great option is to find a local gluten-free bakery (some traditional bakeries will have gluten-free options too).  Often some of the gluten-free recipes will happen to be Paleo as well (my local gluten-free bakery has some recipes that are coconut flour
based).  If you call them well in advance, they may even be able to bake a special cake just for you using a recipe that you provide them (you just need to be fairly confident in the quality of the recipe).
Goodie Bags:  Again, I'm not sure when it became so standard for goodie bags to contain candy?!  True that it's cheap and kids get excited by it, but do we really need to feed kids cake and then send them home with more sugar???  I like to put small toys (typically something that goes with the theme) and/or craft kits in my goodie bags.  Little boxes of crayons
and coloring
or note
books are one of our favorites.  We had one birthday party where our craft was decorating flowerpots
so the goodie bags contained soil and seeds to plant in them.
Like everything about living Paleo, throwing a kid's Paleo party just takes some thought and some planning.  And just like everything else about living Paleo, it can be a great deal of fun!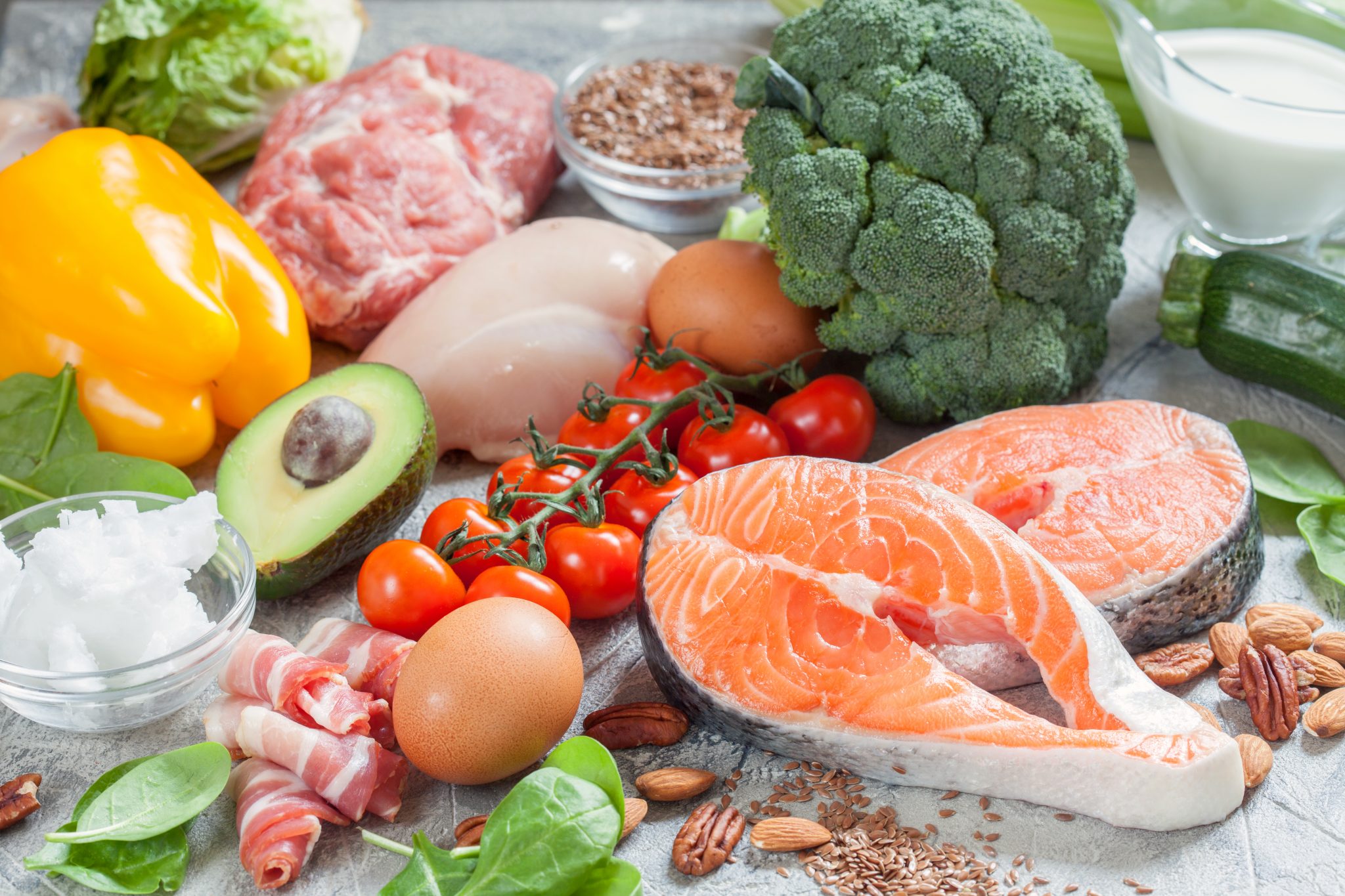 Paleo Principles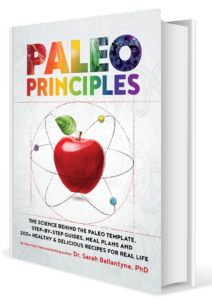 Paleo Principles is the most comprehensive Paleo guidebook ever:
The complete scientific foundation behind the Paleo diet and lifestyle
Tons of visual guides, practical strategies and tips!
220+ healthy & delicious recipes for real life
20 meal plans for a variety of health goals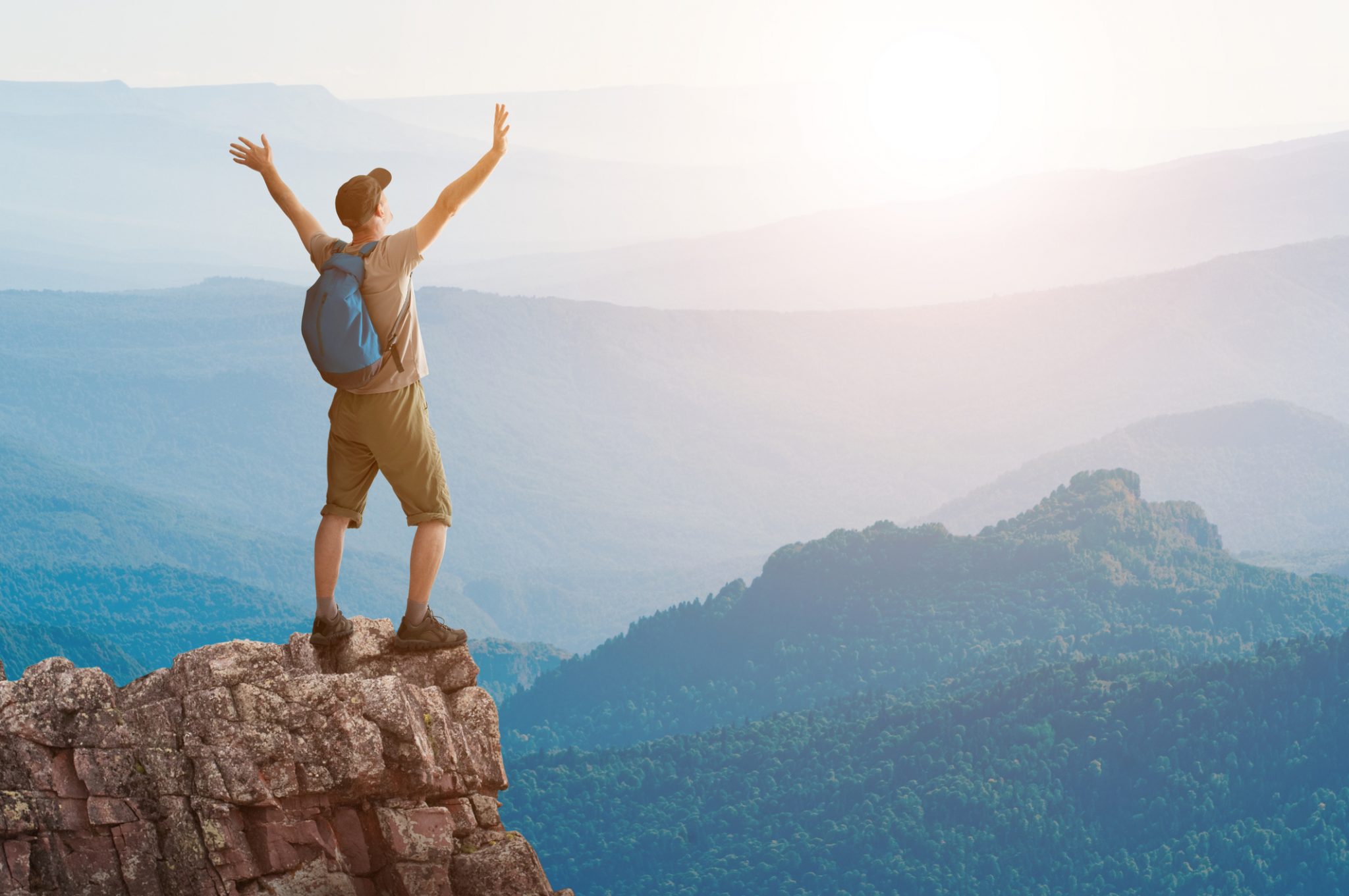 Get the Definitive AIP Resource
The Paleo Approach is the New York Times bestselling epic guidebook that explains all of the detailed WHYs behind every facet of the Paleo Autoimmune Protocol.
You may enjoy these related posts:
About five years ago, I decided that I really wanted my family to join me on my …