I have heard this question a few dozen times lately. Often followed by a statement of "and I couldn't possibly give up my [insert gut-damaging food here]!". The reply that I refrain from making is: "You start by just doing it. You eat Paleo foods and you stop eating [expletive deleted] stuff that hurts you." And while this flippant reply is tempting (and valid), it's also disrespectful of each individual's challenges when it comes to major diet and lifestyle changes and it doesn't answer the real question lurking in the background. I understand the real question to be: "I am overwhelmed with making so many changes all at once, so please give me a list of priorities that I can tackle one step at a time.".
*NEW* Guide to Nutrivore E-Book!
Nutrivore is the simple yet revolutionary concept:
Choose foods to meet the body's nutritional needs!
I'm very excited about the Nutrivore information! Thank you so much for all your research and hard work you put into this kind of information for all of us to use!! -Debbie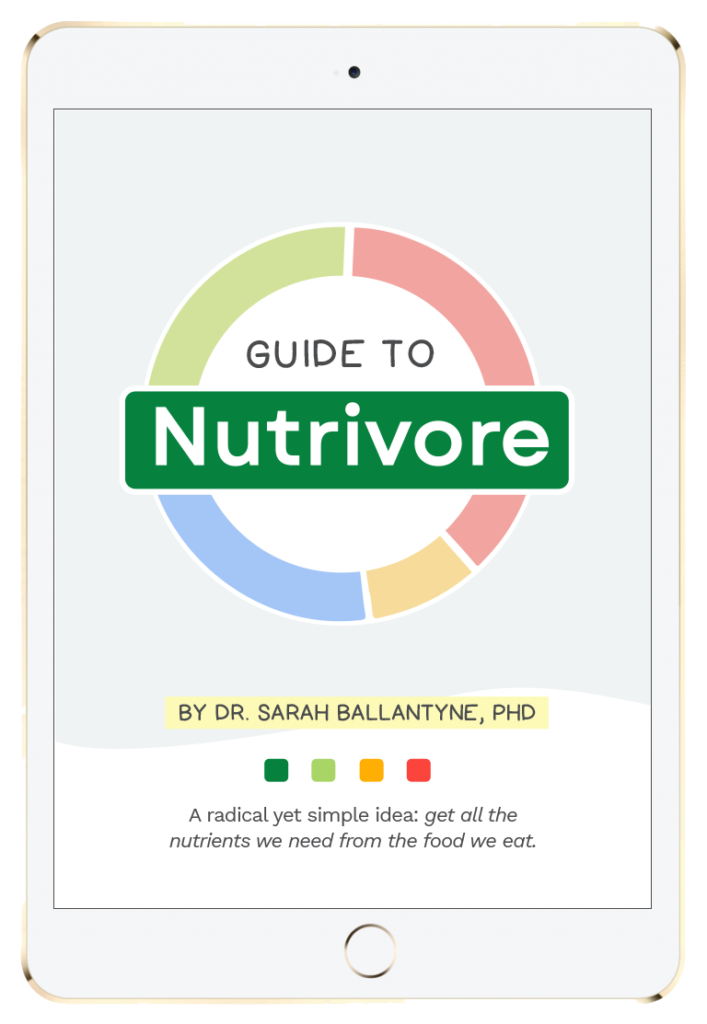 So then, where do you start? The first step is to understand what a Paleo diet is and how you can expect to benefit from one. Even if you chose to tackle your transition in small steps, you need to know what the goal is: grain-free, dairy-free, legume-free, modern vegetable oil-free, refined sugar-free, and processed food-free. Eating this way can completely resolve (or at least dramatically improve) dozens of health conditions (some of which you may not even realize that you have!). I have written a collection of posts that address the why's of the Paleo diet (and continue to expand on these topics weekly). They will help you understand why each aspect of this diet is important. I suggest starting with the following posts:
Now, that you understand a bit more about why we make these food choices when following a Paleo diet, you may feel that you can just dive right in, throw out all the neolithic foods in your house and just start eating Paleo. But if you still feel a little overwhelmed, here's a step by step (these steps can overlap) guide to tackling the transition:
1. Get the gut-irritating foods out of your diet. This can be done as a multi-step process while you tackle the other steps. I suggest focusing on gluten first. This means cutting out all foods that contain wheat, oats and barley (as well as hidden gluten ingredients like malt). As you cut these out though, don't replace them with gluten-free alternatives unless they are also Paleo (So don't go buy rice-, potato-, or sorghum-based gluten free bread. If you really want bread, make Paleo bread. Better yet, get used to not eating bread). Next, focus on other grains (like rice) and pseudo-grains (like quinoa). Next, cut out legumes. You can switch to almond butter or other nut butters instead of peanut butter, but there really aren't good replacements for soy products or dried/canned beans, so it's really just a matter of getting used to life without them (note that even though green beans, sugar snap peas and snow peas are legumes, most people can tolerate them on a Paleo diet since the majority of what you are eating is the pod). Last, cut out dairy products. Many people can tolerate ghee, butter and maybe even small amounts of heavy cream, but see if you can get these from grass-fed sources (better yet, cut them out for a month and see how you feel).
2. Start cooking all your own food. Unfortunately, it's really hard to get meals consistent with Paleo diet principles from restaurants, take-out, delivery, or as pre-packaged meal options. This can be one of the hardest aspects of Paleolithic nutrition for people because we are so used to convenience foods. Start collecting recipes for quick meals that can be prepared mid-week. Start making large meals that can provide lots of leftovers. And start filling your freezer with your own homemade meals that can be thawed and reheated for a quick, easy meal when you're too busy or too tired to cook. I very rarely cook one meal's worth of anything anymore (unless it's something that just really doesn't reheat well).
3. Get used to your meals consisting of some kind of protein (meat, fish or eggs) and some vegetables (maybe a few different vegetables). This should be what every meal looks like, even breakfast. Some fruit and nuts are okay, but they shouldn't be the foundation of your diet. This would be a good time to try some new vegetables or types of meat and fish and some new ways to mix them together and cook them.
4. Start thinking about carbohydrates, especially added sugars. Chances are that just by cutting grains, legumes, and dairy out of your diet, you have dramatically reduced your carbohydrate intake. Once everything else is in place, have a look at what sugars and starches remain in your diet. A Paleo diet is not necessarily a low-carb diet and you may choose to include lots of starchy vegetables and fruits in your diet. But, you still want to cut out the added sugars in your diet. If you have been relying on Paleo baked goods to get you through cravings, now is the time to cut back. If you still add sugar or sweetener to your tea or coffee, try weaning yourself off or finding a different beverage that you like unsweetened. Cut out juice, soda, and other high-sugar/high-sweetener drinks entirely (even diet soda!).
5. Start thinking about fats. Switch to using tallow, lard, bacon fat (all preferably pastured), and coconut oil as your main cooking fats. Use olive oil, avocado oil and macadamia nut oil as your raw fats (like salad dressings). Also start thinking about your omega-3 to omega-6 intake. If you're still eating alot of conventional meat, maybe you want to take a fish oil supplement. Better yet, go straight to the next step…
6. Address food quality. You've probably already cut out all of the processed food from your diet just by cutting out sugars and pre-packaged foods. If there are any remaining processed food chemicals in your diet (like bacon or deli meats with nitrates), now is the time to cut them out. It's also time to start thinking about where your food is coming from. Budget permitting, start eating grass-fed meat, wild-caught fish, pastured eggs, and organic, locally-grown and in-season fruits and vegetables.
The Ultimate Support for Your AIP Journey!
Get personalized guidance and support from Dr. Sarah in this 6-week interactive online course!
Thank you for your warmth, your AIP mastery, and your dedication to answering each and every one of our questions with such kindness and attention to detail. Thank you for teaching the science behind the principles. The amount of energy you put into creating this course and responding to us in real-time is felt and APPRECIATED!!
-Nicole Wood
The next session of The AIP Lecture Series begins January 10th, 2022.
Use code AIPLS10 to save 10% thru December 15th.
7. Purge your pantry. As you go through each step, throw out foods you have in the house that you don't eat anymore (or compost, or feed to some ducks, or give to a food bank or a non-Paleo friend).
8. Find support. One of the toughest things about switching to a Paleo diet can be the lack of understanding from friends and family. I suggest finding some blogs (like mine!) and/or podcasts to follow, some forums where you can post questions, and see if any of your friends/acquaintances have restricted diets (someone who eats gluten-free will be fairly understanding of your choices even if they don't eat Paleo). Feeling like you are part of a Paleo community will help you find ways to cope with questions and uninformed judgments from those around you.
9. Address other lifestyle factors. Once you have transitioned to a Paleo diet, make sure that you don't ignore the other aspects of a Paleolithic lifestyle, especially sleep, managing stress, getting sun exposure and getting exercise.
10. Celebrate! You've done it! Appreciate how far you've come and revel in how great you feel.