Facebook has been in the news a lot lately, and not in a good way; but I have to admit that I fell out of love with Facebook long before the current controversies.
I started blogging almost seven years ago, and built a large, loyal following completely organically using the most popular social media platforms (I'm on Facebook, Twitter, Instagram, and Pinterest).  I am blessed to have attracted such a huge community of supportive, enthusiastic (dare I say nerdy?), positive and well-meaning people (yes, that's you, dear reader!).  In ye olden days of 2011 to 2013, I personally replied to every comment, to every DM.  I got ideas for what to research next based on your questions and found inspiration and motivation in your stories.  I loved connecting!  In those days, my audience was small enough that I even got to know many of my followers.  Some I even met up with in person and formed lasting friendships.  My social media pages were like hanging out at the water cooler, chatting with my pals. I'd recognize a name on a blog post comment from a Facebook post, and the conversation could cross platforms.  It was awesome.
Unfortunately, that level of connection didn't scale. Soon, the volume was far too much.  I hired my first assistant when it would take me 8 hours each day just to reply to questions on social media (and I was writing my first book at the time!).  She talked me into turning off direct messaging and started taking over answering easy questions while saving the more technical ones for me.  And then, in early 2013, my audience started to grow exponentially.  I loved how dynamic my social media pages were becoming. Instead of being a conversation between me and one other person, it was ten people or twenty or a hundred all sharing their experiences.  No longer a water cooler, but a community!  This burgeoning, interactive and inspiring community became so big that I could no longer connect with individuals in the same meaningful way that I did in the beginning.  At this point, I had several assistants, including a social media manager, hired to answer most of the questions across social media platforms (still sending the tough ones to me). But, that was okay! I continued to contribute to overarching themes, bringing scientific validity to every topic, and diving into the research when I encountered thought-provoking questions.  And I felt like I was building something really special: a safe place for people to connect, to share, to learn, and to find health.
Nutrivore Weekly Serving Matrix
An easy-to-use and flexible weekly checklist
to help you maximize nutrient-density.
The Weekly Serving Matrix is very helpful! I've been eating along these lines but this really helps me know where to focus vs. which foods serve a more secondary role. It's super helpful and has taken a lot of worry out of my meal planning. Thanks!

Jan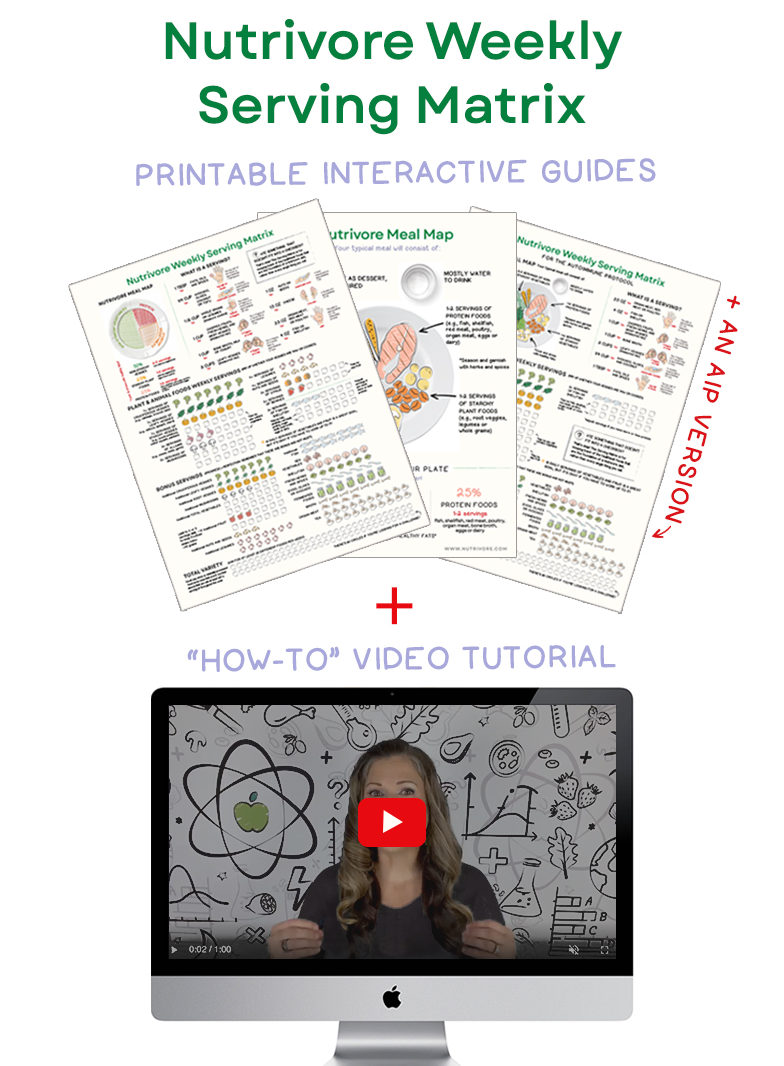 And then the trolls arrived.  I don't know if my audience just got big enough to attract pre-existing trolls or whether it timed with the internet becoming a more hostile place, where a small but very vocal minority hide behind anonymity to vent, argue, demean, and abuse.  Either way, they were there.
One of the reasons why my audience has grown so large is because the person you think I am is who I really am.  On the internet, I'm still just me. It's what a marketer would call "being authentic", but it's something I just always did because I never saw a point in pretending to be someone I'm not.  As such, I wear my heart on my sleeve.  I could read a hundred lovely, interesting, thoughtful comments and the one trollish remark would have me upset for hours.  But, I also believe strongly in freedom of speech.  I didn't want to do what some other bloggers do: block everyone who disagrees with me. Besides, I think debate is healthy and awesome!  Polite, respectful, constructive debate, that is. Fortunately, I have a wonderful group of loyal followers who always jump in, responding in ways that I never felt I could.  Thank you to each and every one of you for this.
Still, the appearance of trolls removed most of the enjoyment I experienced in the hours I set aside for social media. It was wearing on me at a time when I was writing my third and fourth books.  I created ThePaleoMom Community Facebook Group, which has become such an enormous group that member posts are almost like a twitter feed!
And then, the algorithms arrived.  In ye olden days, if you followed my social media account, anything I posted would pop up in your news feed or notifications.  Not so any more!  Social media algorithms make it next-to-impossible to reach everyone who follows my accounts (and if you suspect you're not seeing my daily social media posts, I'd recommend signing up for my weekly newsletter to stay in the loop instead) in order to coerce bloggers like me into forking out for paid reach (which I don't do).  Facebook has led the way with these algorithms, but other social media platforms are following in their footsteps.  And, because of the way the algorithms reward certain types of posts, it feels like only the controversial, anger-inducing, troll-feeding posts and articles ever get seen.  The algorithms have throttled the conversation more than any troll could.
I'm not the only blogger finding the current social media landscape to be an enormous challenge. And, it's a challenge I'm still willing to take on.  But, I've also found something else in social media that has revitalized it for me.
So, how did I find joy again in Facebook?
The quick answer is with The AIP Lecture Series.  The fourth session of my 6-week online course all about the Autoimmune Protocol is coming up September 10th and I have absolutely been LOVING teaching this course!  The course itself is self-directed with 42 video lectures that stream on-demand and a huge collection of companion resources.  But, I also run a private Facebook Group for each session of the course and this has been AMAZING!
Interacting, answering questions, being inspired to dive into the scientific research to find some missing piece of information, getting to know you, providing support and guidance, brainstorming with you, connecting, bonding over shared experiences… all of this has come with each session of The AIP Lecture Series.  It's like how social media was for me in the beginning but better, because each group is so dynamic, curious, attentive, and engaged.
This would be a good time for me to mention that early-bird pricing for the September 10th session of The AIP Lecture Series ends this Sunday!  Learn more here and save $100 off tuition when you enroll this weekend.
Learn More about The AIP Lecture Series
In fact, enjoying the private Facebook Group aspect of The AIP Lecture Series so much is what inspired me to create Insider Connection.  While the course is for six weeks only and geared towards autoimmune disease sufferers, Insider Connection isn't limited by your health goals or by time.  This limited-availability paid membership grants you direct access to me via a secret Facebook Group plus access to all kinds of cool exclusive content (video, articles, sneak peeks, works-in-progress, research notes, etc.), invitations to beta test new online courses and programs, and the opportunity to provide feedback and guidance on ongoing projects.
Learn more about Insider Connection
I don't think I realized how much I was missing by no longer having meaningful, personal connection with my followers. Now that I've found it again, it's such a tremendous motivator!  And I feel more in touch with what resources I can work to create that will best help people.  And, I can truly see how my work is changing lives.   I love that I now have these two, complimentary mechanisms to regain that connection and once again truly love spending time on Facebook!  Will you join me?

Become a Member for FREE!
The Paleo Mom Members' Area is resource central!  
You'll get FREE, unlimited access to dozens of quality resources, including introductory series, downloadable e-books, exclusive recipes, printables, videos and guides!
You may enjoy these related posts:
My 8 year blogiversary was last week, eight (!) whole years since that fateful …