Bone broth is a flavorful liquid made by boiling the bones of just about any vertebrate you can think of (typically poultry, beef, bison, lamb, or fish) in water for an extended period of time (typically anywhere from 4 hours to 40 hours!). Often vegetables and herbs are added (typically carrots, onion, celery, garlic and I like to add bay leaves too). The bones from mammals need to be sawed open, whereas fowl and fish bones don't. The used bones and vegetables are strained from the liquid and typically discarded. The resulting liquid is called "broth" or "stock" and is rich in numerous vitamins, minerals, and antioxidants (especially calcium, magnesium and phosphorous, which are essential for bone health) . Most importantly, bone broth is also particularly rich in two very special amino acids: proline and glycine.
*NEW* The Gut Health Cookbook!
The Gut Health Cookbook is fantastic! Thank you for researching and creating The Gut Health Cookbook! Such wonderful recipes! I'm so excited to try them all! -Sue
The Gut Health Cookbook puts the 20 Keys to Gut Health into practice with:
180+ recipes featuring 61 gut health superfoods

Gut health food lists

Why's behind each gut health superfood
Get instant digital access for $27.99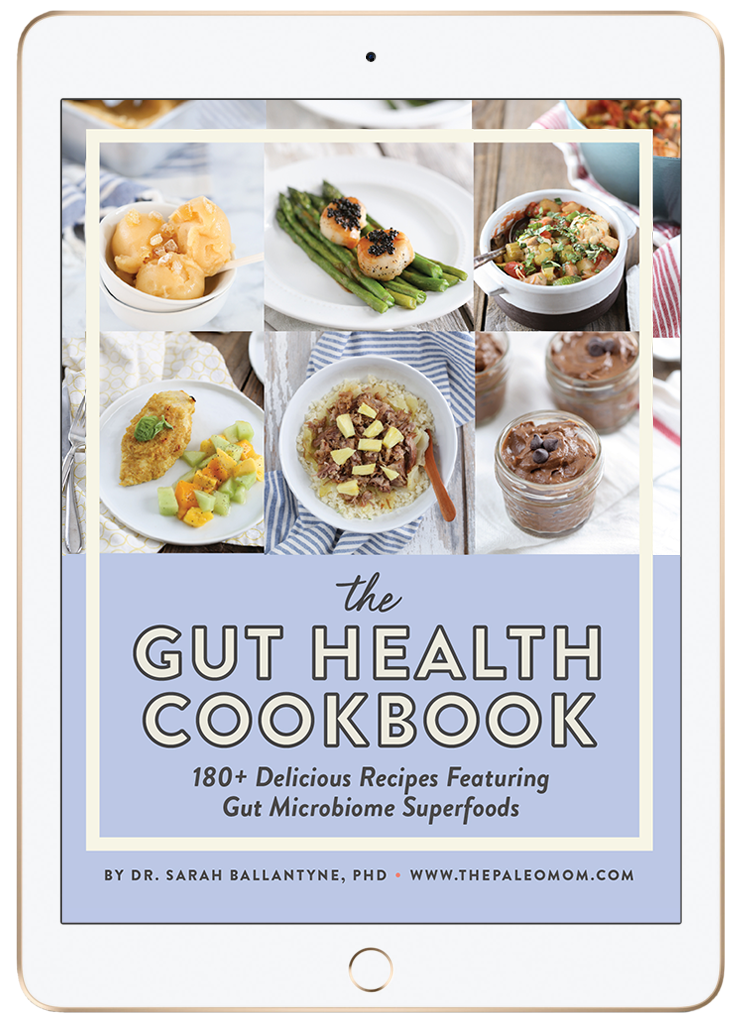 Glycine and proline are two key components of connective tissue, the biological "glue" that holds our bodies together. There are many types of connective tissue and these two amino acids feature prominently in most of them, from the cartilage that forms our joints to the extracellular matrix that acts as a scaffold for the cells in our individual organs, muscles, arteries etc. Without these two amino acids, we would literally fall apart. So, it is no surprise that we need these two amino acids to heal, not only gaping wounds, but also the microscopic damage done to blood vessels and other tissues in our body caused by inflammation and infection. In fact, glycine is known to inhibit the immune system and reduce activation of inflammatory cells in your body. Whether you are trying to heal from an infection, address an auto-immune disease, or reduce inflammation caused by neolithic foods or Small Intestinal Bacterial Overgrowth, high levels of dietary glycine are critical.
In addition, glycine is required for synthesis of DNA, RNA and many proteins in the body. As such, it plays extensive roles in digestive health, proper functioning of the nervous system and in wound healing. Glycine aids digestion by helping to regulate the synthesis and of bile salts and secretion of gastric acid. It is involved in detoxification and is required for production of glutathione, an important antioxidant. Glycine helps regulate blood sugar levels by controlling gluconeogenesis (the manufacture of glucose from proteins in the liver). Glycine also enhances muscle repair/growth by increasing levels of creatine and regulating Human Growth Hormone secretion from the pituitary gland. This wonderful amino acid is also critical for healthy functioning of the central nervous system. In the brain, it inhibits excitatory neurotransmitters, thus producing a calming effect. Glycine is also converted into the neurotransmitter serine, which promotes mental alertness, improves memory, boosts mood, and reduces stress.
Proline has an additional role in reversing atherosclerotic deposits. It enables the blood vessel walls to release cholesterol buildups into your blood stream, decreasing the size of potential blockages in your heart and the surrounding blood vessels. Proline also helps your body break down proteins for use in creating new, healthy muscle cells.
Now, let's be clear: proline and glycine are not technically essential amino acids. Your body can actually make them if it needs more than is supplied by your diet. But building our own amino acids is much less efficient than consuming them from foods, and scientists believe that we probably can't make proline or glycine efficiently enough to keep up with our body's demand in the absence of dietary sources. And while meat of all kinds does supply both of these amino acids, you just can't beat the quantity or absorbability of proline and glycine in bone broth, hence bone broth's superfood status.
See my recipe for chicken bone broth. Looking for high-quality shelf-stable broth? I use Kettle & Fire!
The Ultimate Support for Your AIP Journey!
Dr. Sarah Ballantyne has delivered an exceptional course and I highly recommend this to anyone looking to improve their health. There is something for everyone. It was extremely helpful and worth the investment. -Marie Schlichtig
The AIP Lecture Series is the ultimate Autoimmune Protocol educational experience! Learn directly from Dr. Sarah!
6-week online course
42 on-demand video lectures
dozens of printable guides
self-discovery exercises and action steps
online forum and guided discussions
support and guidance from Dr. Sarah Ballantyne!
The next session begins January 18th, 2021.
(Use code AIPLS85 to save $85 and get bonus access to the Gut Health Fundamentals online course!)