'Tis the season for merriment, spending time with family and friends, and exchanging gifts as signs of appreciation for our loved ones. Did you know that this connection has a huge positive influence on your health?
Diet is but one component of healthy living. And there are many other factors, which can be broadly categorized as lifestyle factors, which also contribute to health and well-being. It's one of the enormous strengths of the Paleo diet (or more accurately, the Paleo lifestyle), that this is well recognized within our community and that we invest effort into lifestyle factors as well. You've very likely read/heard discussions about activity and stress management. If you spend time on my site, you'll also know how important it is to get enough sleep. But, there's one lifestyle factor that has been well proven to greatly impact physical health that has gone under-recognized both in conventional medicine and in the Paleo community: connection.
Research has proven the role that connection plays in health through two extremes:
social isolation and loneliness corresponds with increased risk of morbidity and mortality; and
a strong social support network corresponds with decreased risk of disease and increased longevity.
Save 80% Off the Foundations of Health
Expand your health knowledge on a wide range of topics relevant to you, from how to evaluate scientific studies, to therapeutic diet and lifestyle, to leaky gut and gut microbiome health, to sustainable weight loss, and much more!!!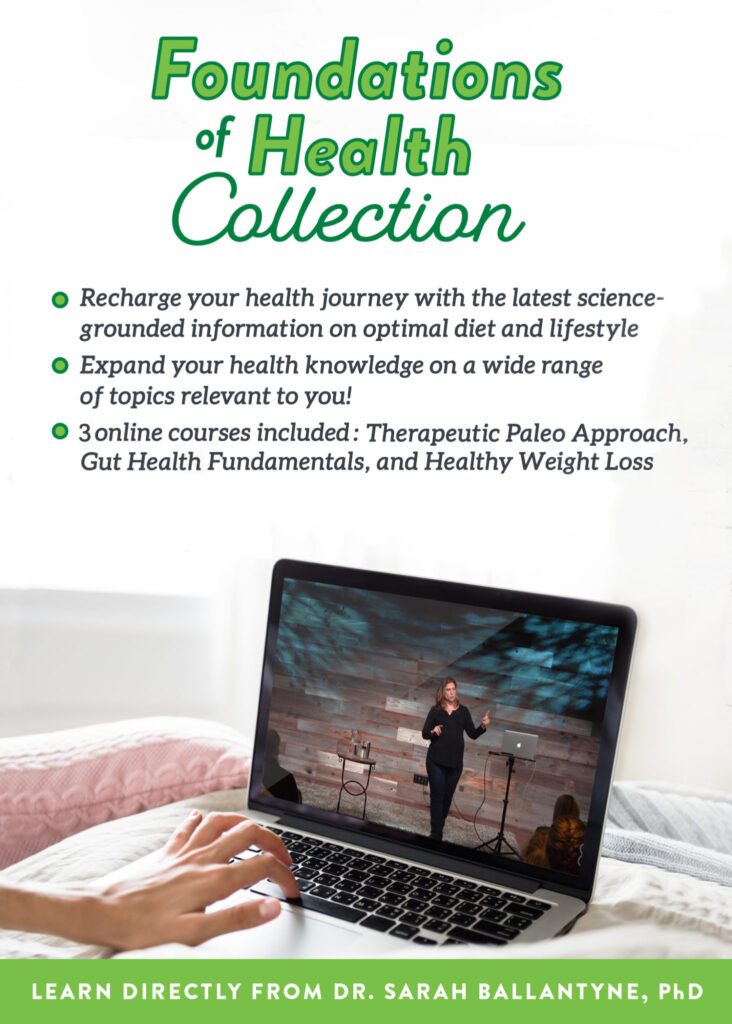 Having a social support network improves your health, and not having one pretty dramatically increases risk of disease. How does this work? We are hardwired to be social creatures. Positive social interactions stimulate changes in hormones that affect nearly every system in the body. So, how large is the impact to our health of feeling connected and having a sense of community? This quote sums it up well:
"Social relationships, or the relative lack thereof, constitute a major risk factor for health—rivaling the effect of well established health risk factors such as cigarette smoking, blood pressure, blood lipids, obesity and physical activity"

—House, et al; Science 1988
Did you catch that? Connection is just as important for your health as not smoking, being a healthy weight, and being active. That's great news if you are close with your family, have an awesome group of friends, and live in a tight-knit community. Not so cool if you're like a growing number of us who live far from home, feel like we have friendly acquaintances in our lives moreso than true friends, and generally have a sense that life would be better in a different city or region. Sound familiar? Did you also catch the part where this has been well established in the scientific literature for more than 25 years????
Having a strong social network provides a huge range of benefits. It can make all the difference to have someone you can count on to watch your kids, pick something up at the grocery store for you, or talk to when you've had a bad day. And I don't just mean your spouse. Research actually shows that having a closer inner circle of 8 to 10 people that you can depend on and confide in is optimal.
If you are making diet and lifestyle changes to mitigate chronic disease, social connection plays a very significant role. Your friends, your family, your col­leagues, and even your neighbors are all important members of your support network. Having a strong so­cial network of people you can ask and count on for help is vital to making the lifestyle changes you need to make to heal your body. Whether they are immedi­ate or extended family, friends, members of your house of worship or other spiritual organization, members of your gym, pals from your knitting group, parents of kids in your child's class, neighbors, or colleagues at work, these people can support you in your effort to simplify your life and prioritize sleep, activity, and stress man­agement. They can also commiserate with you, give you a shoulder to cry or lean on, and provide moral and emotional support, even when they can't provide tan­gible support, like babysitting your kids so you can take a nap.
However, a support network goes beyond the practical. Just knowing that you have people who are there for you, just feeling connected to even a small handful of people whom you trust and love, can make a huge difference in your ability to cope with, and heal from, chronic disease.
Connection and Cortisol
The benefits of connection go beyond knowing who to call at 3am when one of your kids needs to be taken to the ER on the very same day that your spouse is out of town on a business trip. A social network is important for hormone regulation. Research has shown that connection and social interactions reduce the secretion of cortisol.
Cortisol is the master stress hormone. It is synthesized from cholesterol by the adrenal gland and is involved in diverse essential functions in the human body.
As part of the fight-or-flight reflex, cortisol's primary action is to redirect fuel to the organs that need it most (basically, the brain and muscles for enhanced decision-making, reflexes, and speed). Cortisol does this by stimulating gluconeogenesis, the production of glucose from fatty acids and amino acids in the liver. Under normal con­ditions, this rapid rise in glucose would cause increased insulin secretion, which would shuttle the glucose into storage. However, cortisol also counteracts insulin, cre­ating a state of hyperglycemia (high blood sugar). Cor­tisol takes over control of blood-glucose concentration by simultaneously stimulating glycogen synthesis in the liver and glycogenolysis, the breaking down of gly­cogen to glucose (and glucose-1-phosphate) in the liver and muscles (this is achieved by increasing the activity of the hormone glucagon, which is basically the op­posite of insulin; discussed in this post). The increased glucose provides quick fuel for the body. By interacting with different receptors in different tissues, cortisol is also able to control which tissues can utilize this glucose and which tissues are low priority. Cortisol increases circulating ketones (which can be used as energy by the brain) by stimulating lipolysis (the breakdown of triglycerides into free fatty acids). Cortisol also raises the level of free amino acids in the blood, probably in preparation for healing damaged tissues.
Cortisol also shuts down nonessential processes to reserve resources for immediate survival needs. This means that increased cortisol suppresses the digestive system, the reproductive system, growth, the immune system, collagen formation, amino acid uptake by mus­cle, and protein synthesis, and it even decreases bone formation. Cortisol release also communicates with re­gions of the brain that control mood, motivation, and fear. In the context of surviving immediate danger, this has a negligible effect on overall health, but in the con­text of chronic stress, these "other" effects of cortisol become a very big problem.
While best known for its contribution to the fight-or-flight reflex, cortisol has many other essential roles in the body. The best-known other functions of cortisol include an important regulator of circadian rhythms, regulating blood pressure, regulating cardiovascular function, controlling carbohydrate metabolism, and regulating inflammation and the immune system.
Chronic stress increases risk of chronic disease through the actions cortisol. Once you understand how cortisol interacts with so many different systems in the body, it's easy to understand just how detrimental chronic stress can be. In fact, chronic stress is thought be the biggest contributor to cardiovascular disease (that's right, stress and not diet), but because chronic stress is itself inflammatory, it can contribute to every non-infectious disease.
The link to connection? Feeling socially connected lowers cortisol and makes us more resilient to psychological stressors, meaning that our body produces less cortisol when we're stuck in traffic and late for a meeting. Having positive social interactions in your life, reduces the effects of chronic stress, and that leads to improved health over the long term.
Connection and Oxytocin
Physical touch may be even better. Research has shown that physical connection—wheth­er hugging a family member, enjoying sexual relations with your partner, cuddling with a pet, or receiving ther­apeutic touch or massage—reduces cortisol. A variety of studies have shown that therapeutic touch, when added to hospital care, improves patient outcomes in a variety of ways.
Touch, love, and positive social interactions increase the hormone oxytocin, what is sometimes referred to as the "love hormone." Oxytocin is produced by spe­cialized neurons in the thalamus and then stored and released by the posterior pituitary gland. Upon release, oxytocin is associated with feelings of contentment and calm, reductions in anxiety, and increases in human bonding and trust. It also inhibits fear and nervousness. You may recognize oxytocin as the hormone released during childbirth and breastfeeding. Like most hor­mones discussed, it has many roles in the body.
Importantly, increased oxytocin levels lead to a decrease in activity in the hypothalamic-pituitary-adrenal axis (the HPA axis controls the production of cortisol!) and enhanced immune function. Essentially, increasing oxytocin protects against stress. In fact, positive social interaction has been shown to have a direct impact on wound healing, attributable to increased levels of oxytocin. Oxytocin also modulates inflam­mation by decreasing some proin­flammatory cytokines (chemical messengers of the immune system). Whether the effects of oxytocin are completely owing to direct interactions with the immune system or to effects on cortisol and the HPA axis remains unknown. Either way, the feeling of connection is important for general health and well-being.
Take-Home Message
A recent study established that the influence of social relationships on health are comparable with well-established major risk factors for mortality such as smoking and alcohol consumption. You get as big a boost to your health from social connection as you do from quitting smoking! Even more astounding, this study showed that social relationships are bigger contributors to your health than risk factors such as physical inactivity and obesity, meaning that social isolation is more detrimental than being a morbidly obese couch potato. Yes, connection is that important.
The take-home message is this: it's important to nurture relationships and feel connected to people in your life. This time investment is worth every minute when you think of not only the increased quality of life when that life is shared with wonderful people, but also the direct health benefits you can experience!
---
Citations
Gouin, J.-P., et al., Marital behavior, oxytocin, vasopressin, and wound healing, Psychoneuroendocrinology. 2010;35(7):1082-1090
Holt-Lunstad, J., et al., Influence of a "warm touch" support enhancement intervention among married couples on ambulatory blood pressure, oxytocin, alpha amylase, and cortisol, Psychosom Med. 2008;70(9):976-85
Holt-Lunstad, J., et al., The influence of depressive symptomatology and perceived stress on plasma and salivary oxytocin before, during and after a support enhancement intervention, Psychoneuroendocrinology. 2011;36(8):1249-56
Holt-Lunstad J, et al., Social Relationships and Mortality Risk: A Meta-analytic Review. PLoS Med 2010;7(7):e1000316. doi:10.1371/journal.pmed.1000316
House JS, Landis KR, Umberson D (1988) Social relationships and health. Science 241: 540–545.
Lee, H. J., et al., Oxytocin: the great facilitator of life, Prog Neurobiol. 2009;88(2):127-151
Shankar A, et al., Loneliness, social isolation, and behavioral and biological health indicators in older adults. Health Psychol. 2011 Jul;30(4):377-85. doi: 10.1037/a0022826.
Steptoe A., et al., Social isolation, loneliness, and all-cause mortality in older men and women. Proc Natl Acad Sci U S A. 2013 Apr 9;110(15):5797-801. doi: 10.1073/pnas.1219686110.
Thoits PA. Mechanisms linking social ties and support to physical and mental health. J Health Soc Behav. 2011;52(2):145–161. doi: 10.1177/0022146510395592.
---